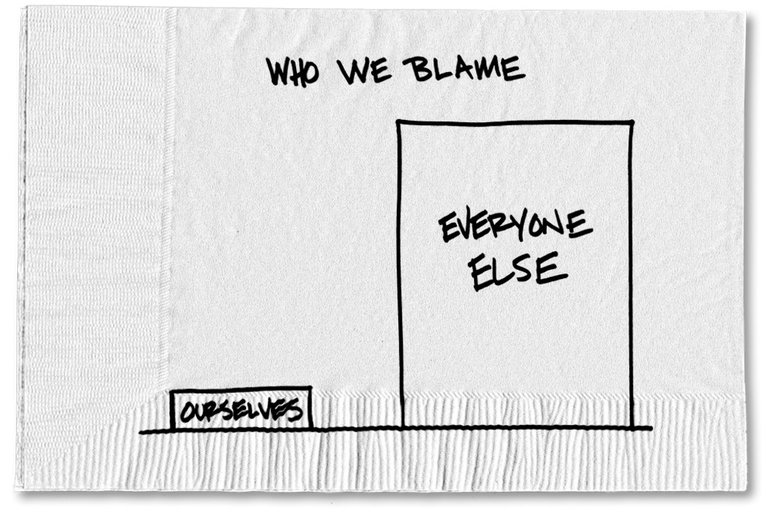 "I'm never getting married! Everybody who does just ends up miserable!"
Sometimes you'll hear people call marriage a contrived social or religious construct that goes against our human "instincts" to pursue hedonism and carnal depravity.
"Monogamy is unnatural!"
You've heard it all before, too. The cynicism from jaded people in unhappy marriages. From those on the other side of divorce. From children of divorced parents. From those experiencing the fallout of a failed relationship within their family or social circle.
The numbers are the numbers. Divorce happens often, and even when it doesn't, many couples are extremely unhappy.
According to Ty Tashiro, who wrote The Science of Happily Ever After, 70 percent of marriages end in divorce, or feature two people who resent the hell out of one another.
I'm calling that a 7-out-of-10, or 70% failure rate.
And while some of these people may represent the lowest common denominator of human intelligence and behavior, millions of that 70% represent the very best of us.
Good people. Kind people. Successful people. Smart people.
People who generously start up non-profits to feed the hungry, or brilliantly invent something that changes the way society functions, or just that incredibly nice and funny person you know from work or church or the neighborhood.
And when the rest of us watch these people get married, have children, and appear from the outside looking in to "have it all," only for us to discover later that he drinks himself into stupors just to cope at home, or that she's banging Jim in Corporate Accounting. And when we realize the Perfect Marriage we see is a façade—a David Blaine illusion—we feel the sting that comes when Life makes another surprise-withdraw from our Hope bank accounts.
You feel a little bit like an asshole when you first realize you were naïve enough to believe the Tooth Fairy flew into your bedroom in the middle of the night, took your nasty unbrushed lost tooth, and in exchange, left you some arbitrary amount of money.
And maybe we feel that same sense of loss and self-doubt creep in each time Life lands another Adulthood sucker punch, helping us realize things weren't what they had seemed.
Bill Cosby. Jared Fogle. Tiger Woods. Corrupt and morally bankrupt politicians and religious leaders. Repeated examples from people we know personally.
And in each generation, everyone collectively thinks the world's going to hell as they age. "Things ain't like they used to be!"
Or. Just maybe. Things have always been this way, and it takes the hard-earned experience and wisdom of adulthood to understand that most everyone is wearing some kind of mask most of the time.
It's too uncomfortable imagining everyone seeing the Real Us. So we hide things. A little. Or a lot.
Just maybe, things aren't getting worse. Just maybe, people have ALWAYS been this way and now, because of the internet, 24/7 cable news and a HD camera lens on more than a billion mobile phones, we all see and hear about it constantly.
Maybe You Don't Know What Marriage Is
I'm not trying to insult anyone. Most of us can offer a simple definition for, or explanation of, marriage that passes the sniff test.
That's not what I mean.
You know how when you were a kid, you wanted to be a rock star, or act in movies, or play professional sports, or be a NASA astronaut, or perform at Carnegie Hall, write the Great American Novel, become President, or start your own Fortune 500 company?
Maybe you wanted to be a doctor, or lawyer, or supermodel, or architect, or police detective, or fashion designer, or ninja, or Navy SEAL, or axe-wielding firefighting hero.
But then, while 1% of people competently chased and achieved their dream, the rest of us abandoned those ideas somewhere along the way to pursue other things, or actually tried for a minute only to realize the huge effort required to succeed, and THEN we quit.
Wait. You mean to be a star actor, I need to wait tables and live with seven other people in a two-bedroom apartment in Los Angeles or New York, and THEN wait for someone to give me a chance? To be a doctor, I need to go to school for 10 years and take on the national debt of a small country? To be a Navy SEAL, I have to put my body through THAT, and then stare death in the face on every mission?
Maybe I'll choose something else.
And that's FINE. You're not wrong or bad. You're a person, and the only thing you can do is make choices that make sense to you in the moments you're in. No judgment. I choose the easy way several times per day. The only difference is, now I recognize how my life occasionally suffers because of it.
But that's not the point either.
The point is, a million people THINK they want to be musicians or lawyers or politicians or authors or badass first responders when all they know is the idea of what that profession would look like in their heads. But once they actually experience the real-life version of the journey there, they're all like: "Wanna just get a 12-pack and play video games instead?"
It's Because You Didn't Know
It's not your fault. Your heart and mind were in the right place. You can't possibly know what you don't know. Most of us spend our entire childhoods in the education system and none of us are ready for the real-world applications of those lessons. That's with AN ENTIRE INFRASTRUCTURE in place to teach us shit. What is it that you ever learn about marriage?
You see people happy to get married and live Happily Ever After on TV.
You attend weddings where everyone seems to be having a great time.
But you almost NEVER see MARRIAGE. Not even at home. Your parents didn't give you the whole truth. Mom didn't tell you how lonely she felt because Dad worked 50-hour-weeks, fell asleep in the living-room chair most nights, and hardly ever showed sexual interest in her. Dad didn't tell you about sexually relieving himself with Playboy magazines, or how it was easier to relax watching baseball at the local pub with the guys than being home, or how the financial pressures of having a family made him feel like he traded in all his dreams to work the rest of his life to pay for other people's things only to likely die 10 years sooner than his statistical life expectancy.
Everybody wears the masks. They do it to protect us. To "save" children from the challenges of Real Life, only to accidentally fail to prepare us for those very challenges.
They don't deserve blame either.
Because they grew up the same way.
And so did our grandparents.
Ancestral sheltering. Performed with the best of intentions. But ultimately contributing to us understanding marriage about as well as we did the realities of being promoted to police detective, or the highly advanced mathematics required to launch space rockets.
"Hey, Matt! Are you EVER going to make a point?"
Yes.
Marriage Doesn't Suck. We Suck.
Like being accepted to the NASA astronaut program, or becoming a gold-medal Olympian, or passing the bar exam, most of us don't have ANY idea what marriage requires of us in order to be successful.
Marriage is hard.
Marriage requires intense vigilance mentally and emotionally. We need to be ON, mentally. Even when we're tired and "don't feel like it." And we need to be ON, emotionally. The personal discipline required to be mindful of another person's mental, physical, emotional and spiritual wellbeing in order to contribute positively to it and not ruin their lives (and often our own in the process) is intense.
People get married and see what it's REALLY like, and decide maybe they'd rather get a 12-pack and play more video games.
People are unwilling to give what's needed to succeed in marriage, just like they're unwilling to train every day for the Olympics, or practice playing an instrument enough to master it.
We love the idea of marriage. We see everyone around us getting married. It's hard to believe anything other than: Getting married is what comes next after getting a job!
But then the divorced people tell you how horrible it is.
Cynical people tell you how frequently it fails.
Hedonists tell you how limiting it can be.
"Don't do it!" we hear.
"Marriage is dumb. I'm not doing it!" we say.
As if staying forever-single somehow brings a magical sense of fulfillment and contentment in life.
As if having children as single parents is somehow the universally preferred and most-effective way of raising them.
As if hard things which people work tirelessly to achieve should magically become easy things. So C+ math students can design space shuttle flight plans, and people who don't work out can be paid millions to play sports, and people can be given medical licenses after a couple semesters of community college.
We choose the easy way. We choose comfort over discomfort. We do it ALL THE TIME.
And it's okay.
But for the same reasons you don't REALLY want to put in the work required to open your own European pastry shop, or get elected to Congress, or lose 40 pounds, maybe you don't REALLY want to put in the work a marriage requires.
You'll receive no judgment or shaming from me.
But I'll really appreciate it if you'll kindly stop blaming marriage for sucking as if it's the institution's fault you or your friends aren't any good at it.
Our marriages don't fail because marriage is inherently flawed. Our marriages fail because WE are inherently flawed.
And being inherently flawed is precisely why most of us need a hand to hold during Life's hairiest, shit-hitting-fan moments.
The rewards of career success on our respective journeys are great.
The rewards of relationship success are equally so.
But with marriage, most of us begin our mountain climbs not knowing how high we're going, and lack the proper equipment to get there.
It seems silly to blame the mountain when we fall.
Marriage is rewarding and beautiful when we make it so.
It's something else when we don't.