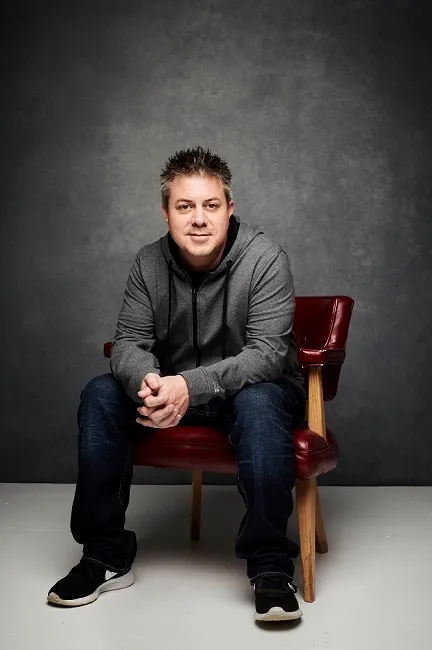 (Image/Angelo Merendino Photography)
Hi. I'm Matthew Fray.
I work as a relationship coach as well as write and speak about marriage and divorce. Let's call it self-help or personal development without all of the cheesy bullshit that I hate about self-help and personal development.
I am the author of "This is How Your Marriage Ends: A Hopeful Approach to Saving Relationships" (HarperCollins, March 2022; Souvenir Press (UK), March 2022) and am considering opportunities in unscripted television.
You can read about me in The New York Times, read my essay in The Atlantic, read about me in The Times (London, UK), and several other places. You can watch my segment on the Tamron Hall Show. And you can listen to me share ideas on many different podcasts, most of which you can find on my Press page. I'm represented by Los Angeles-based Creative Artists Agency (CAA).
I try to write and speak about relationships in ways that might have resonated with me a decade ago when I lacked any semblance of emotional intelligence, and was inadvertently sabotaging my marriage. I do so in the hope that I might share effectively some of what I needed to know to keep my family together and be the kind of guy that I always wanted to be.
I do this work because after my marriage ended, life got really hard for a while—even things I perceive to be pretty easy like breathing, and not crying at the conference table during work meetings. My parents divorced when I was little, and I didn't much like that either. Writing all of it down helped me. Some people who read it say it helps them too.
I believe divorce is the biggest social crisis of our time. Helping people understand how they accidentally sabotage their relationships and providing people with relationship skill-building tools is the thing I have to give.
I'm not a doctor. I'm not an expert. I'm not particularly smart.
But some people say that the way I say things or write things helps them understand ideas and make sense of their personal relationships in ways they previously had not.
The things that destroy our relationships work like cancer. Like people who used to smoke a pack a day or work with asbestos on construction sites with little to no understanding of the dangers, I think most people want their romantic relationships and marriages to be happy and last forever, but end up getting sick from things they didn't recognize as deadly. Some people come back from that. For others, by the time they detect the problem, it's already too late.
But we raised awareness about the dangers of tobacco use, and now fewer people use it. We raised awareness about the dangers of asbestos, and now people wear proper protective gear when working with it.
So too will it be with relationship health. NOTHING affects our lives quite as profoundly as our closest relationships with the people we share homes and children with.
With enough awareness, maybe we can prevent many of these bad things from happening.
It's a fight worth fighting.
…
Here Are Some Ideas That Help People Overcome Relationship Problems and Pains
Some readers have been with me from the beginning.
Maybe today is your first visit, which is either awesome or horrible depending on just how shitty your life feels right now. I've been there. It was very bad in the early days following divorce.
That pain is what launched this place. The scars and memories are what keep it going.
I've written more than 600 posts here at MBTTTR. Some have been read by a few dozen people and my mom. Others have been read several millions of times and published in a bunch of languages.
There are a handful of articles I've written that seemed to land with people the most.
Maybe you'll find something useful. Or maybe you'll think it's all a bunch of crap. Only one way to find out.
Read These Awesome (or Possibly Sucky) Articles:
Read 4.6 million times here, and several million more in other places
Several readers said this post saved their marriage
Other readers said it was bullshit and that I'm a moron
I think intention matters
This post contains a deceptively simple trick for discovering your partner's intentions
The comments section of this post contains awesomeness
Super-common problem reported by wives who lose sexual interest in their partners
A conversation starter RE: the link between sexual attraction and feelings of respect
Great title on this one
There are actually 14 posts inside, like a Russian nesting doll that hates divorce
These make lots of sad wives cry
In Vol. 13, I discuss masturbation in marriage, and I often wonder what people like my mom or friends or coworkers who read that think. Publishing that took more courage than usual
Most couples have the same fight over and over again and it really sucks when you're in the middle of it
HOWEVER, I was really happy when I realized my wife and I weren't the only ones
If you recognize The Same Fight happening while you're in it, you can break the cycle and save your marriage
This post is geared toward men, and part of a series of posts I called The Things We Don't Teach Men
This idea is probably more important than you think
Bonus points if the headline makes you think of "The Princess Bride"
Unless you're married to a psychopath who is secretly plotting evil things, most fights and most pain felt in those fights are a result of simple misunderstandings
Yes, I meant that, because it's true: You don't understand each other even though you speak the same language
Maybe this can help you bridge the divide and feel less confused or angry
Statistically speaking, probably not. In fact, I've got bad news: You two probably shouldn't be dating
People are afraid of breaking up and "starting over," but don't seem to be as terrified of being stuck in a shitty marriage or feeling the life-shattering misery of divorce
…..
About MBTTTR
Must Be This Tall To Ride is a metaphor for not being good enough. We all feel inadequate in certain situations or with certain people. It's a bad thing and no way to live.
I think about, talk about, read about and write about the human experience as I see it in an effort to live better. To stand and walk taller.
I can be better today than I was yesterday. And I can make that same choice again tomorrow. I hope you will too.
It's awesome that you're here. Thank you.