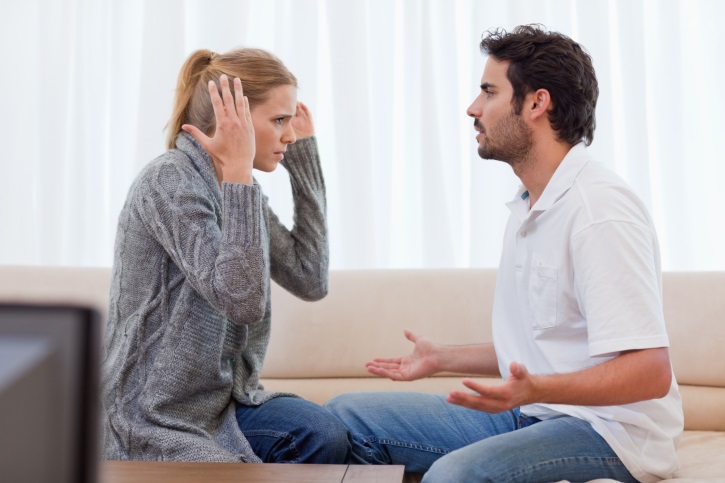 There are always exceptions to the rule. People who never smoke sometimes die of lung cancer, and some smokers live to 95.
If he's drunk and hitting his wife and kids, or she's a serial cheater while faking a happy-wife façade; or addiction, mental health, or sexual abuse is involved in a marriage, this conversation changes.
But that's not what usually happens.
What usually happens is two perfectly cool, sane, healthy, decent people get married—probably a little sooner than they should—with both innocently and naively believing it's always going to feel just like it does right now. It's basically just like being Forever Boyfriend and Girlfriend! We can do that!
They love one another. They pledge faithfulness genuinely. They exchange wedding vows with the best of intentions.
And then, like clockwork, more than half of them are totally miserable within five to seven years. One or both are having affairs, or at least thinking about it, because they just want to feel something again. He's jerking off in the shower or to late-night internet porn instead of having sex with her. She's crushing on pretty much any non-creepy guy paying attention to her and making her feel special because her husband never makes her feel important anymore.
They'll eventually divorce, or possibly stay together "for the kids" in silent misery, ensuring that pretty much every day is shitty for the rest of their lives.
What the Fight Looks Like
Sarah asked me: "Do you have thoughts on WHY men are (typically) so quick to blame hormones when they feel as though the women in their lives are acting unreasonably? Is it that it can so easily be used as a copout (why look to yourself for answers when it is probably her problem)? Or is it that many men really believe we are total victims to our ovaries?"
And yes. I have all kinds of thoughts on why this happens. In fact, I'm pretty sure I know exactly why men and women seem like they're always repeating the same fight over and over again.
And it shouldn't be a secret because divorce is bad.
Here's what I think happens:
She gets upset about something she thinks is important, but he doesn't. It could be any number of things. Leaving dishes in the sink. Leaving laundry on the floor. Tracking mud through the house right after she cleaned. It doesn't matter what the actual thing is.
What matters is that for the rest of the conversation, neither person is talking about the same thing, because neither person actually understands what the other's (legitimate) problem is.
To the wife, this is just another example of him not respecting her enough to demonstrate thoughtfulness about how his actions affect her. It's not really about the dishes or the laundry. It's more about the general pattern of behavior.
But that's not what he thinks the conversation is about.
He thinks she's actually mad about the glass in the sink or the pair of pants he left on the nightstand.
He thinks: "What kind of insane person would want to have a horrible fight and ruin our night and make our marriage out to be a trainwreck over something as insignificant as laundry or a dirty dish? I am never this irrational! If she thinks laundry is more important than our marriage, her priorities are warped, and she must not love me."
And she thinks: "I cannot trust this man. I can't count on him. He does NOT respect me. He never apologizes for hurting me because he doesn't think it's a big deal. He always tells me how what I think and feel is wrong or dumb. I have all these feelings and I know I'm not crazy, but he NEVER acknowledges them as important or worth his attention. He thinks 'proving' his point and winning our arguments are more important than my feelings. He doesn't care. He must not love me."
Both husband and wife settle on logical conclusions that make a lot of sense. But both are also totally mistaken! And the only way for them to figure it out is to learn the secret.
Most people get so pissed with each other, they don't even want to. They don't WANT to figure out how to make him or her feel better. Because THEY are clearly the problem! My next partner won't make me feel this way!
Before long, everyone stops putting effort into the marriage. Some people start sleeping with someone else. A marriage can survive on life-support for a while, with just one person making a go of it. But once both quit, it's effectively over.
Most of us just aren't strong enough to handle the mental and emotional anguish we feel when our marriages fall apart. Nothing in our lives up to that point could have prepared us for it. It's all very new and terrifying, and there's no instruction manual for what to do next.
A troubled marriage CAN be saved.
But since most husbands and wives don't understand how one another actually work on the inside, the marriage breaks down imperceptibly slow—especially to the husband who has yet to connect the dots about what his wife is really upset about.
If the husband thinks the only problems in his marriage are teeny little fights over laundry on the floor or dirty dishes in the sink, he's liable to be blindsided by the news she's unhappy and contemplating divorce.
Wives feel like they've been really clear about their feelings up to this point. Yet, husbands are like: Wha-!? Why didn't you say anything!?
Wives think he's dumb and oblivious and disengaged.
Husbands think she's gone off the emotional deep end once again.
…..
Shameless Self-Promotion Note About My Coaching Services

I started coaching in 2019. Clients and I work collaboratively through current and past relationship stuff in order to improve existing relationships or to prepare for future ones. Other clients are trying to find themselves after divorce or a painful breakup. We talk by phone or video conference. People like it. Or at least they fake it really well by continuing to schedule future coaching calls and give me more money. If you're going through something and think I might be able to help, it's really easy to find out for sure. Learn More Here.
…..
Wives know their husbands are reasonably smart, so they can't figure out how he could be so dense as to not understand her after hundreds of these conversations. She can only conclude that he doesn't give a shit.
Husbands know their wives are reasonably smart, so they can't figure out why she doesn't acknowledge his perfectly logical conclusion: "Ummm. A pair of pants on the floor or an empty glass in the sink is NOT worth fighting over and further damaging our marriage! Why would she rather fight than keep the peace?" He can only conclude that she's a little bit crazy.
He doesn't know the laundry is linked to a hundred other things inside her, all of which erode her ability to feel safe and loved in her own home.
And she doesn't know about his frequent feelings of shame and failure that stem from these fights due to his apparent inability to make her happy. If she's always sad and frustrated with him even though he really does love her and really believes he's trying his best, then he's failing epically at the most important thing in his life. These constant feelings of failure are making him withdraw further. He's losing self-confidence, because it seems obvious now that he can't make her feel good anymore. She doesn't look at me the way she used to. She doesn't want me to touch her. She thinks I'm a failure.
If he doesn't feel like he can succeed at home, or that he is even moderately respected or appreciated, he can never muster the energy the marriage needs.
The vicious cycle continues.
Unless something changes, the marriage is doomed.
[NOTE: I felt like I cracked a secret life code when I grasped this idea for the first time. I have to credit the book "How to Improve Your Marriage Without Talking About It" for putting me on the right path. Maybe it can help you or your partner, too.]
There's a Better Way
The only way to fix this is for both partners to "get" it. To understand what's ACTUALLY happening inside themselves and their partners. Because they're speaking plain English to one another, and neither person knows what the shit the other is talking about. For the trillionth time.
There's a fun little book called "Men are Like Waffles, Women are Like Spaghetti" which provides a lovely visual food metaphor to help people grasp the basic concept.
As a general rule, men are like waffles. Their thoughts and feelings are comprised of all these little individual compartments. And at any given time, he is dealing with the contents of one compartment, and one compartment ONLY. So when he's talking about a pair of pants on the floor with his wife, he's only talking about that pair of pants. All previous conversations are not part of this one conversation.
But his wife is actually talking about EVERY instance of something like this happening. She's talking about the thousand other times because, generally, women are like spaghetti. And their minds and bodies operate in a way in which everything isn't compartmentalized into individual boxes. Their thoughts and feelings all live in the same place where they are intertwined and wound around one another. It's why the pants thing really matters to her. It literally hurts her. Because it proves you don't love me or respect me, and I don't have time to do all the laundry AND take care of everything for the kids because Kyle has a field trip Thursday and Valerie needs to get to her swim meet, and it hurts so much that I can't count on you to make sure Kyle's lunch and outfit and permission slip are taken care of, and tomorrow is the four-year anniversary of my dad dying, and yes asshole—it still hurts—because he was the person who always made sure I was taken care of, and then I trusted you to be that person for the rest of my life, and you don't do it, and now he's gone, and just—fuck you—for leaving me alone in my marriage.
…
Since the only consciousness we understand is our individual first-person experience, we all just assume everyone else sees and thinks and feels like we do. Your parents never told you otherwise, because they didn't want you to know how many times they almost divorced or had sex with someone else. No one explains any of this shit to us in school because the Department of Education thinks obtuse triangles, The Grapes of Wrath, and the French and Indian War are more important than the information we need to have functional adult relationships.
Every couple who has the same fight over and over again (the vast majority, right?) needs to learn the science and chemistry of what's happening during conflict.
Everyone's having the same fight and no one can figure out why. It's especially frustrating when they discover on their second and third partners that the same things keep happening no matter how many new relationships they try, because: Surprise!!! Wherever you go, there you are.
It never stops until a person makes the choice to try something else.
…
Thousands of years ago, we all lived in tribes and villages, and sometimes lions and bears and other tribes would try to attack, rape, pillage, and burn our communities.
Evolutionary science required that women's bodies respond to threats the way they do to help warn of danger and protect the tribe.
Men were hunting and gathering and responsible for physically protecting the elderly, women and children in the village.
Evolutionary science required that men's bodies respond to threats the way they do to accomplish that.
A lot of this stuff is hardcoded into our DNA because it was the only way for us to survive.
But now it's 2015, and bears and lions and violent tribes tend to not attack us in our predominantly domesticated homes and schools and workplaces. All these involuntary emotional and chemical reactions we have to threats don't help save our lives anymore because most of us live in houses with partners and children with virtually no chance of being mauled by a lion while we sleep in our beds.
All these natural tendencies humans developed over thousands of years now cause major communication problems between male-female partners who in no way benefit from the way their bodies chemically respond to conflict in their marriages.
Chemistry is powerful. I learned that in school while they weren't teaching me how to be a good husband.
But we're pretty smart. We are. And once we get it, we have a chance to recognize this little dance of insanity we do as it's happening and stop it from growing into a monster.
We give ourselves a chance if we can at least understand what's happening to us, and why we always feel a little frustrated and out of control.
We have no chance at all when we don't know.
When we don't know better, and just do what feels natural, everything breaks. You're not the only person dealing with this. It's happening to everyone else too.
And even when you recognize what's happening and have a high-level understanding of it and what you should or shouldn't do next, it's STILL super-hard when you're pissed off and your insides are all mish-mashed in fuckness.
In 2015, everyone who gives a shit knows how to lose weight. Simplest math formula ever.
Eat less + Move more = Weight loss
Yet, even though we're the most enlightened we've been in human history, we still have a ton of obese people, rampant diabetes, and heart disease.
Even when you KNOW what should or shouldn't be done, it still requires a level of commitment and discipline hard for flawed (that's all of us) human beings to achieve.
A person shouldn't eat bacon cheeseburgers and milkshakes every day and wonder why they never lose weight. That's essentially what married people do who want to have a happy marriage but never bother to try a new way of doing things, in large part because they literally don't know that pounding the metaphorical burgers and ice cream is dangerous and unhealthy.
That if it goes unchecked long enough, they're all going to get sick and die.
They don't realize it until they're sick.
And they don't want to change anything until they're already dead.
…..
Like this post? Hate it? You can subscribe to this blog by scrolling annoyingly far to the bottom left-hand corner of this page and inserting your email address under "Follow Blog via Email." You can also follow MBTTTR on Twitter and Facebook.