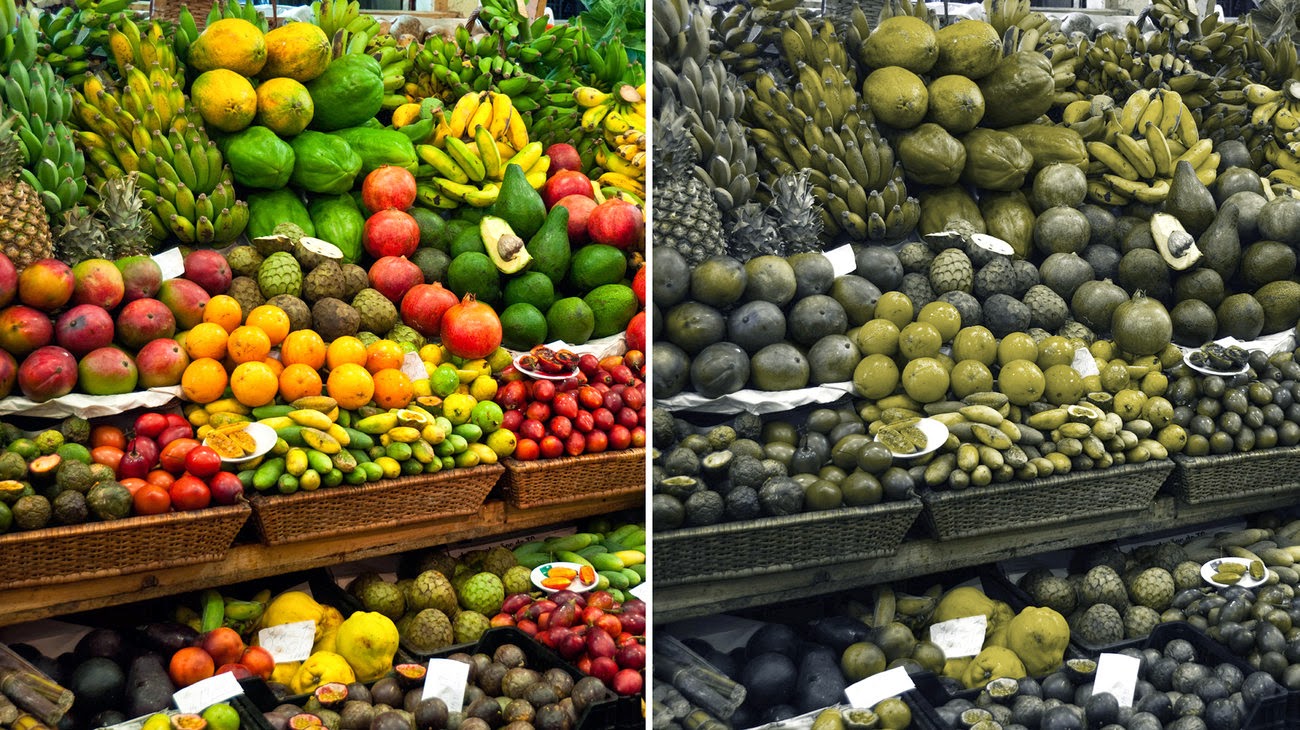 Person #1: "I love the way the red pomegranates, orange oranges and yellow bananas pop in this photo."
Person #2: "What are you smoking? Everything looks muted. Dark greens and grays. Nothing is red or yellow in that photo."
Person #1: "Are we looking at the same thing here? The colors are vibrant and beautiful. You're crazy if you don't think so."
Person #2: "Whatever. You're a moron. I know what I see."
…
Couples fight a lot. We're human. We disagree because our brains work differently than others'. But when we FIGHT, it's mostly because we don't understand.
And then, no matter how many different situations crop up, it seems as if the fight is always the same.
Both people believe they're looking at the same thing, yet both people see something totally different, in much the same way people with color-correct vision perceive color differently than those with red-green colorblindness.
That situation rarely comes up today because advanced tools and understanding in optometry detects colorblindness early.
But you can imagine the conversations people were having before it became widely known that color-blind people literally see something different than those of us blessed with the ability to see the full range of colors.
Two sane people arguing about how something right in front of them looks totally different than what the other is describing, and both thinking the other must be crazy or intentionally trying to upset them.
I think that sums up the majority of marriage and relationship arguments throughout human history.
Sometimes one person will be factually incorrect, yes.
But the marriage fights that slowly break down the emotional connection between two spouses tend not to be about things we can "prove."
We Don't Need to Speak the Same Language; We Need Only Accurate Translations
I can't read nor understand any spoken language that isn't English (not counting the 30 words I still remember from my Spanish classes).
How accurate or helpful a written document or spoken set of instructions may be can't overcome my inability to understand them when offered in any language but the one I know.
There's profound power in understanding what something means.
…..
Shameless Self-Promotion Note About My Coaching Services

I started coaching in 2019. Clients and I work collaboratively through current and past relationship stuff in order to improve existing relationships or to prepare for future ones. Other clients are trying to find themselves after divorce or a painful breakup. We talk by phone or video conference. People like it. Or at least they fake it really well by continuing to schedule future coaching calls and give me more money. If you're going through something and think I might be able to help, it's really easy to find out for sure. Learn More Here.
…..
The Power of Habit
Stuff happened to you when you were a baby that you can't remember, but the imprint those things left on you is responsible for some of the emotional triggers affecting you today.
They look and feel different for everyone. Even siblings raised by the same people in the same environment.
Moreover, we spend our lives subconsciously developing habits. Habits are very powerful. When our spouses say or do certain things, it may trigger something within us that brings out the worst in us. It's emotional, deep-seated chemical response based on a lifetime of experiences (many of which we may have misinterpreted or misunderstood at the time!).
Charles Duhigg wrote an awesome book about habits. Here's a quick video about the power of habits:
[youtube https://www.youtube.com/watch?v=W1eYrhGeffc]
…
So, I finally understood what my wife had been saying all these years, and that fundamental shift in understanding changed EVERYTHING for me in terms of my ability to properly frame our conversations and disagreements.
It was incredibly empowering (albeit regret-inducing) to recognize reality. To be clued into the truth about colorblindness for the first time.
And I was so excited about this information that seemed so powerful and important to me that I wanted to share it with as many people as possible.
Divorce was very hard as a child to see your parents go through it, and it's very hard as an adult — the breakage and loss we feel, and the added pain of watching our kids suffer and knowing we had a hand in it.
And FINALLY, I know something that other guys don't know, but IF they knew, they could all change and then maybe they won't get divorced like me.
That was what I thought and felt.
But after doing this for four years, seeing and hearing how so many relationship and divorce stories play out, and going through the human experience myself in my various family and social relationships, I've learned something else very important.
We Don't Change — Our Understanding Does
I thought my new understanding would change me. I even used the word "change." I described myself as a new person. A different person.
It's a lot of semantics of course, but I'm not actually all that different. And I haven't really changed despite all of my newfound understanding.
I used to believe that I could help a man understand what I know, and that if he "got it," he could then flip a switch and magically turn into someone else who never did the things which upset his spouse.
That's not what happens.
People don't magically turn into other people with totally different personalities and habits, no matter how much they learn.
I used to believe that a guy would simply stop doing all of those things which started fights at home and THAT would save a marriage.
I no longer believe that.
I believe a guy — any person, really — will continue to be exactly who they are. But I believe they will occasionally be more mindful of their behaviors and reduce instances of situations which historically caused an argument.
But the real value is in the understanding.
Marriages aren't saved by people changing everything about themselves and the chemistry that brought them together in the first place.
Marriages are saved by people who learn how to understand one another. We learn that our translators are unreliable, so we must account for things getting lost in translation. We learn that the goal of a conversation is not to win an argument, but to achieve mutual understanding.
We learn that we can look at the exact same photo as someone else and see something totally different because neither of us are wrong. Then, when we talk, we are — maybe for the first time ever — actually talking about the same things with the same frame of reference.
Because my brain and your brain are not the same.
Because all of my individual experiences, and all of yours, shaped us into people who see and feel things differently.
Because colorblindness is real.
"Oh, he's colorblind. Of course the fruit looks different to him. He isn't wrong. He isn't crazy. And he hasn't been intentionally trying to anger or hurt me all this of time after all."
We want them to change.
But all we really need is for them to understand.
That's when good things happen.