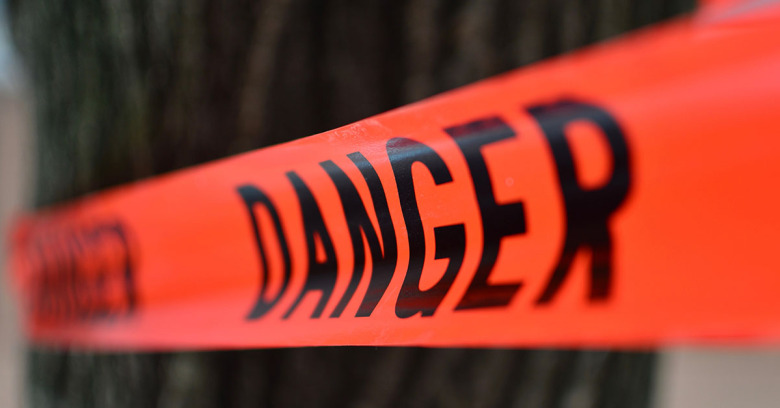 You're in danger.
You don't know you're in danger because it doesn't feel scary right now. That's both good and bad, but it might be mostly bad.
I hope you'll believe me when I say that being aware of danger so that you can do something about it is so much better than getting painfully blindsided later in life.
I don't mean blindsided, like when you're a freshman playing defensive back for the scout team at football practice, and the biggest, baddest senior lineman annihilates you on a power sweep right in front of the cheerleading squad you were trying to impress.
I don't mean blindsided, like when your boyfriend breaks up with you the week of prom or homecoming and your parents already got you the perfect dress, and now you're feeling sad, confused, and almost too embarrassed to go, even though you didn't do anything wrong.
I mean blindsided, like your parents sit you down at the dinner table one night and say "Sweetie, your dad and I feel you're finally old enough to know the truth about our family," right before your dad rips off his own face to reveal some creepy robot face underneath.
"We're not human, honey. We're creepy robots. And so are you."
…
I wish I was kidding.
That's seriously what divorce can feel like.
Like everything you thought you understood maybe isn't true or reliable or believable anymore, and that shock can feel both painful and frightening.
You know that you shouldn't play with guns or knives. Adults taught you the dangers.
You know that you shouldn't abuse drugs and alcohol. Adults taught you the dangers.
You know that you shouldn't participate in reckless sexual activity. Adults taught you the dangers.
You understand the dangers of texting and driving. Of drinking and driving.
You know about bullying. About unhealthy eating disorders. About the hazards of social media.
You've heard it all.
And all of those things are important, but maybe because you're so aware of them, they're not the same danger they would be if no one ever warned you about them. You're probably bored when people want to talk to you about those things because you've heard about them so much.
But you know what you probably haven't heard about that is just as important as those other things, since it literally affects 95 percent of people?
The REAL reasons that so many people get divorced.
Your teachers, principals, coaches and families are failing you.
They are. It's harsh, but it's true. They're not failing you on purpose. They're not being negligent intentionally or trying to hold out on you.
The truth is, they don't know either. Because THEIR teachers, principals, coaches and families failed them as well.
No one told you that you are statistically unlikely to have a good marriage.
And you can't even conceive of what a good marriage might look and feel like. It's not because you're "dumb" or because you're not around adults who actually do have good, healthy marriages. You may be, and I hope that you are.
But the truth is that we CANNOT—ever—know what we don't know. We think we know all kinds of things, but we're wrong most of the time. Even all of the adults instructed with teaching you about all of the important stuff in life. ESPECIALLY me. I'm kind of a dumbass. But I'm kind of a dumbass who accidentally discovered something super-important when I got a divorce five years ago and cried a lot more than a man in his mid-30s probably should.
Also, you don't know who has good marriages and bad marriages, because people who have bad marriages PRETEND to have good marriages. They pretend all of the time. They do it to protect you, and they do it to protect themselves because they're ashamed that one of the most important and precious things in their lives has become dysfunctional. They're afraid to lose the comfort and safety of their home and family. They're afraid of their friends and neighbors thinking they're failures.
They're afraid of hurting you, because when you become a parent, protecting your children (even from bad feelings) becomes one of your top life priorities.
Yes. Adults get afraid sometimes, too. Maybe even often. Very afraid.
I hate to be the one to tell you this, but adults are afraid of more things than young people.
The difference between being an adult and a child isn't the ability to shed fear. It's the ability to march forward bravely even though you don't have your parents or older siblings protecting you anymore.
…
The scariest thing in life might be when we're in danger and don't know how to get to safety.
It's scary when something is wrong and we don't know how to solve a problem or fix something that's broken or protect ourselves from being hurt.
That's what people in bad marriages feel like sometimes. You might think that adults would be able to explain to you WHY they got a divorce, but I think you'll be both surprised and disappointed to learn that isn't true.
Because you know what marriage is, right? It's not that complicated.
It's a forever agreement to love and be faithful to one another for the rest of your life. Generally, you share money, a home, a bedroom, cars, and often children and pets.
And even you, who has presumably never been married before, understand all of that.
While there are some cultures in the world who still do arranged marriages where people don't get to decide who they marry, marriage is a volunteer activity for most people.
No one is MAKING us get married.
And no one is MAKING us get married to whomever we choose to marry.
Right?
So, why do you think more than half of all marriages fail? (About half of them end in divorce, and then there are all of the people who are still married but wish they weren't. I'd like to tell you that's a small number, but it's not.)
Even though I'm not super-smart, I kind of know why this happens. There's a good chance no other adults are talking to you about this (because it makes them uncomfortable OR because they never think about it the way they think about warning you about drug abuse, STDs, and creepy white vans with the words "FREE CANDY" spray-painted on the side.)
The REAL Reasons Your Marriage Will Suck (That Your Parents and Teachers Probably Won't Tell You About)
Many of you are smarter than I was as a kid, and 100 percent of you didn't grow up in the same time and place with the same adult role models as me, so our experiences won't be identical. Please don't think that because I thought or felt something that it means I believe that you are exactly the same.
But one of the coolest things I've learned since writing things on the internet is that no matter how different our lives might be—no matter what part of the world we live in, no matter our gender, or skin color, or sexual orientation, or religion, or politics, or profession, or education, or personal interests—there are ALWAYS life experiences that someone can identify with or connect with.
We're never the only ones who think or feel or do something.
We're never as alone as we might sometimes feel. So if you feel like you do something strange or weird inside your own head, or when nobody's around, I promise you that thousands of other people think and do and feel those same things. Even the kids at school who seem smarter or cooler than you. Even the teachers who seem like they have it all figured out. Even moms and dads, and pastors, and coaches and the guy behind the counter at the convenience store, and the lady in the car next to you.
No matter what, you're not alone. Promise.
Anyway, here is the first of several reasons your marriage will suck and ruin your life if you don't know what to watch out for.
What Causes Divorce #1: Accidental Sexism (Boys vs. Girls Stuff)
There's a possibility that you're accidentally sexist and don't realize it.
You need to either realize it OR stop behaving that way, or you're highly likely to have a crap marriage or get divorced. It's worse than it sounds.
…
When I was younger, the boys played football on the playground. We talked about sports, played with action figures, and a bunch of other fake-macho stuff we thought our dads, big brothers, and friends would approve of.
If we got in a fight with another kid during a basketball or football game, we were usually friends again by the following day.
The girls—not always, but often—did different things. Maybe they didn't play sports because they were dressed much nicer. They often stood off to the side playing with their handcrafted jewelry, or whispering about the boys they thought were cute, or whatever secret stuff girls do that I'd be lying to claim I knew about or understood.
Girls went to the bathroom in groups. They thought boys were "gross," even while crushing on some of them. Fights could last for entire school years between two girls in my class who were the best of friends just a week earlier.
There were obvious differences between boys and girls, I thought.
I always liked girls, both in the I-want-to-make-out-with-them way, and in the I-enjoy-hanging-out-with-them way. I'm generally well-mannered and was taught to respect people, so I certainly never acted in a way that I would have considered "sexist."
I didn't think boys were BETTER than girls.
I didn't mistreat or disrespect someone because they were female.
But I WAS sexist, and I just didn't know it. And because I was accidentally sexist, I did (or didn't do) things during my marriage that contributed heavily to its end, and the entire time, I NEVER knew I was harming it. Scary.
You ever say or hear a boy make fun of some other kid playing a sport by saying he "plays like a girl"?
You ever say or hear someone say the phrase "cry like a little girl"?
You ever say or hear a guy accuse one of his buddies of "menstruating," or "PMS-ing" or of needing to "clean the sand out of his vagina"?
I used to hear and say things like that.
Our intention was never to belittle women by saying those things. Our intention was to razz one another in that bro-culture way guys use to bond by giving one another a hard time. It's just something many of us do, and I wish I could explain why.
But the implications of saying any of those things is that being a girl, or doing things like a girl, is bad. Right? Right.
And if we're saying it's bad to be a girl, aren't we kind-of saying that being a guy is better than being a girl? Aren't we kind-of saying that men are better than women?
We are.
And it's a total dick move, so you should try to stop immediately.
Even if you don't want to stop because it's disrespectful to every girl or woman you know, it's a good idea to stop simply because not stopping will lay the groundwork for your future divorce that neither you nor I want you to experience.
Who Does the Laundry?
Sure, lots of guys do laundry.
I used to wash my clothes periodically in college, and even a little bit during my marriage.
I wash my clothes all of the time now because I'm divorced and live alone.
You might think that my bedroom is the most-depressing room in my house. You'd be mistaken. It's the laundry room.
I hate it there.
But I didn't hate it there when my wife's clothes needed washed and dried as well.
So now I'm a guy who does a lot of laundry because my wife moved out a few years ago. There were a lot of reasons why, but probably for NONE of the reasons you might be guessing inside your head.
If you knew why I got—and most people in crappy marriages get—divorced, I wouldn't need to write this.
I didn't get divorced because I hit my wife or called her names.
I didn't get divorced because I did drugs or drank too much. I didn't stay out all night and not tell her where I was. I didn't sleep around. I didn't do any of the things that I believed to be The Reasons People Get Divorced when I was growing up.
One of the reasons I got divorced is because my wife did 80 percent of the laundry. Maybe more.
And so, back to the boy-girl thing.
When I was growing up, my mom always did stuff like that. My mom washed, dried, folded and hung all of the clothes.
My mom cleaned the kitchen and bathrooms.
My mom vacuumed the carpet. Mom swept the floor. Mom dusted.
And when I went to visit my grandparents, my grandma did all of that same stuff.
So, you see, my mom learned that those things were her job from her mom. And I learned that those things were "her" job from my mom.
And that means that when I got married, and my wife didn't do things exactly as my mom did them, I thought she was doing it wrong.
She was AWESOME at home-care. But she didn't just silently take care of everything like my mom always had. She told me that I wasn't pulling my fair share.
I thought that was a load of crap.
But I'm not the world's biggest moron either. Even I could see that my wife working as many hours per week as I did made her and my situation different from my mom, who spent several years keeping a pristine and well-run home during the hours my wife had to be at work just like me.
So, I tried even harder to help around the house than I perceived my stepdad to do with my mom, or that my dad did with my stepmom.
I cooked a lot. Went grocery-shopping. Did a fair amount of dishes. And made an effort to help her clean the house on weekends, even though I was a whiny jerk about it whenever I didn't want to spend a few weekend hours cleaning, which was approximately 100 percent of the time.
And this is the part I'm going to leave you with because it's the most important lesson I can offer you in this first entry:
It's not so much the amount of physical work one does that creates the anger and imbalance that will end your marriage. It's more about the amount of MENTAL work one does to make sure that the things that need done, get done.
When you get married, and you just keep acting like you do when you live at home with your parents, where they always take care of everything so that you don't have to—when you force your partner to do the same things your mom did for you—she (or he, potentially) is going to get tired.
Really tired.
And strong people keep going when they're really tired, but even the strongest people have to stop and rest at some point.
And when the person holding the marriage together needs to rest, it's all over.
It's not about how many dishes are washed or towels are folded.
It's not about how often someone goes to the store or how many meals get cooked.
It's about the mental strain of being RESPONSIBLE for making sure the dishes get washed, laundry gets folded, groceries get bought, the food gets defrosted for dinner, the birthday gifts and Christmas cards get sent, etc.
It's pretty hard for people even when they don't have kids.
But when they do have kids, it becomes impossible to spend every day being RESPONSIBLE for EVERYTHING that needs done—not just for yourself, but for your spouse, AND your children.
Kids aren't hard on marriages because kids are inherently difficult as much as kids are hard on marriages because they push people on the brink of mental and emotional exhaustion OVER the brink.
Not because of the children. But because of the lack of support for providing care for them.
Some people fall and never get up again.
Some people break when they hit the ground and never get themselves put back together again.
And your job—your solemn duty as a husband or wife—is to make damn sure they never fall or never break in the first place.
And there's a good chance no one told you that house chores—House chores! How stupid does that sound?!—can be the reason your marriage will end and that your whole life can fall apart.
But, as God as I my witness, you better believe they can.
You better believe they will.
And then do whatever you must to make sure you're never letting your spouse carry too much. Don't try to pick them up after they fall. Don't try to piece them together after they break.
Just do the work of LOVING them enough each day to carry whatever needs carried so that they never fall or break in the first place.
We'll talk more about this idea later, but you'll need it in your long-term romantic relationships and/or marriage: Love is a choice. A choice you must be disciplined and courageous enough to make every day.
So that our loved ones never break.
Because, maybe then, neither will we.
…
You May Also Want to Read:
An Open Letter to Young People Planning to Marry Someday, Vol. 2
An Open Letter to Young People Planning to Marry Someday, Vol. 3
An Open Letter to Young People Planning to Marry Someday, Vol. 4