(Author's Note: Feel free to skip to the bottom of this post for help finding the old "Add New Post" page because most of this doesn't matter. Also, I know most of you have already figured this out because you're a bunch of smarties. This is for the people who haven't and are possibly just one or two posts away from offing themselves to avoid having to use the new editor again. They deserve our support.)
Ohhh. THIS is what she was talking about!
A friend who blogs on WordPress asked me how I felt about the recent changes to the "Add New Post" page.
I think she said something like: "I don't know how to feel about it. I'm not sure I like it," but at the time I was still seeing the trusty, familiar WordPress editor page that doesn't hate children and puppies when I went to post something.
It's because she's nice and not dramatic, unlike me who has a tendency to arm-flail and loudly express displeasure with more exuberance than is warranted. I've had to point this out more than usual lately: I am all about hyperbole and exaggeration and redundancy and saying things more times than necessary.
So, did I really want to kill myself after having WordPress' updated "Add New Post" page thrust upon me like an uninvited, smelly penis?
Yes. Yes, I did.
Not All Change is Good
For anyone still reading who doesn't publish on WordPress, you might be thinking: "Oh, Matt! You're just being silly! EVERYONE resists change at first, but once you get used to it, you'll see it's actually better! You can't stop progress!"
And if you are thinking that, you can go drink pee and like it.
I was in the newspaper business for a decade. We would infrequently make thoughtful design changes to the daily newspaper, and geriatric anal-retentives would lose their minds because we moved the crossword puzzle from the third page to the seventh and now their lives were ruined and they were cancelling their subscriptions just as soon as they finished their episode of Murder, She Wrote.
I'm not one of those All-Change-Is-Bad people.
So when I stumbled on the new-and-different WordPress editor, I embraced it as a fun new toy to play with.
But THEN, I played with it. I used it to publish five blog posts. And honestly? It was a little bit shitty and kind of sapped my will to live. It's not the worst thing I've ever seen. But it's obviously not an improvement, and I'm always confused by "updates" in which regular users lose more than they gain.
The new interface is kind of like a Slinky that doesn't slink. Or playing basketball with a half-deflated ball. Or playing music with an out-of-tune guitar that's missing its B string.
Maybe I'm a Terrible User
I may just be doing it wrong.
For example, it's not difficult to add tags to posts in the new editor. But I've posted three times now forgetting to add them because of how different and hidden the new tag box is.
The shittiest change for me was trying to link to old posts. In the classic editor, when I want to add a link, there's a little search box where typing in a couple keywords will bring up titles of all related old posts, and it's super-easy to click on them and add the link. But now it looks like this:
All the great, user-friendly functionality is gone. I have to open a new browser window and find the post I want, and then copy-and-paste the URL to create a link. And that's fine! I can handle it, I guess. But why make it suckier and more difficult for no reason?
How to Use the Classic WordPress Editor Instead of the New One You Hate
If you want to use the old "New Post" window that you're comfortable with, it's relatively easy to do…
When you're signed into your WordPress account and you click on "My Site" in the top left corner, it takes you to an Admin page where you can see stats and stuff.
If you choose "Add New" from that page, you'll be doused in sadness when this pops up:
…
BUT. REJOICE!
If you look all the way to the bottom left, you'll see "WP Admin," in all its nearly hidden, understated glory: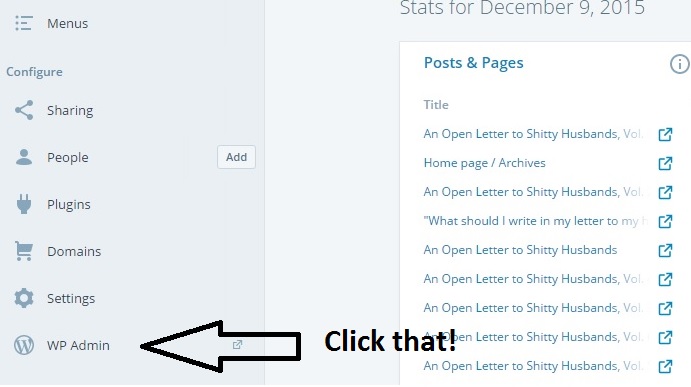 …
This is where you want to select "Add New" to create a new blog post: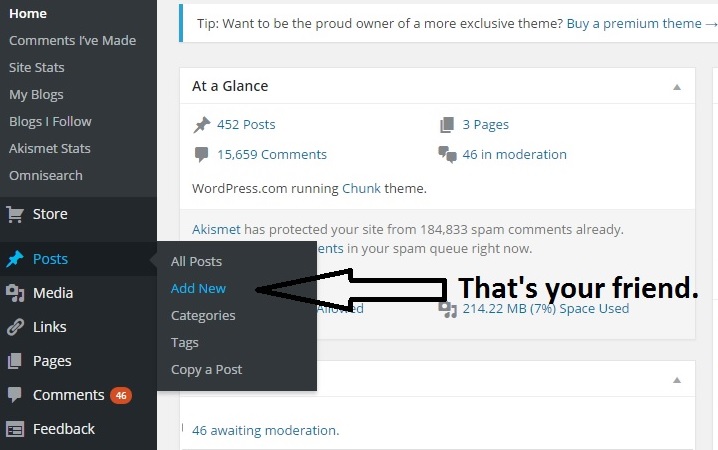 …
And now, dear friends, life can suck a little less: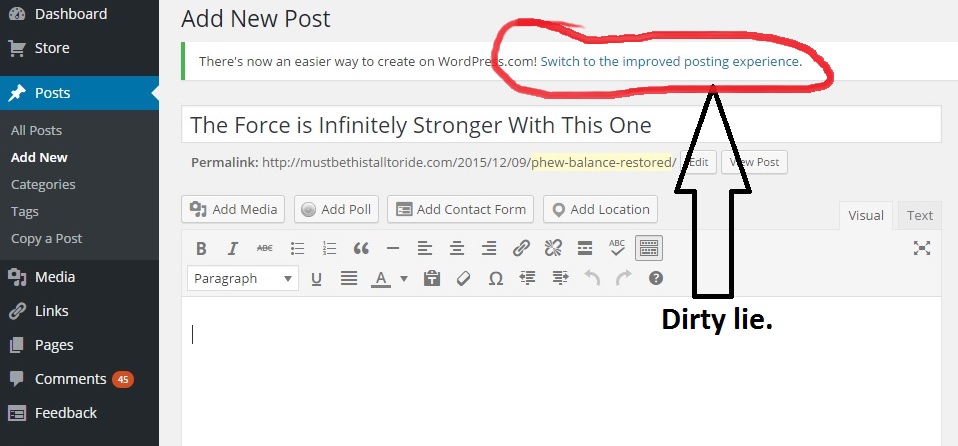 …
Maybe WordPress will kill the classic editor entirely one day. But until then, keep on keepin' on and stuff.