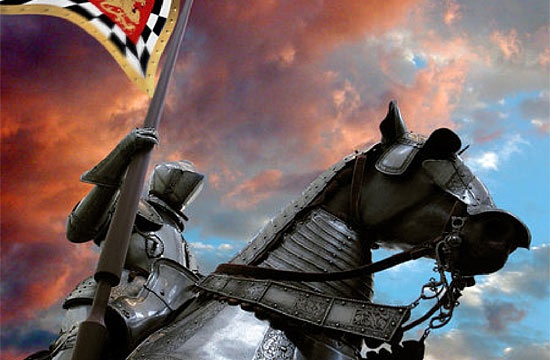 Sometimes your wife cries in bed alone because she wants to hang out with you and you'd rather do anything else.
Don't say you want to be with her. It's a lie. You don't. You like watching sports and playing video games and poker and going out with your guy friends and gambling and fishing and drinking and watching movies and TV shows more than you like hanging out with her.
Sometimes she sobs, broken and abandoned.
Because the knight on TV just saved the princess and is going to love her and protect her and make her orgasm every day, forever. Happily Ever After.
And you don't even want to be in the same room as her. Maybe she'll talk to you and ask you about your day. Maybe she'll want to share details of her day.
But you don't want to talk about it. You definitely don't want to listen to it.
You just need some 'Me' time.
Why can't she just enjoy doing the things she likes while I enjoy the things I like?
That's the question, isn't it?
Why can't she think and feel like a man thinks and feels?
I mean, it's not like she's doing anything to make ME feel good! We used to have great sex! What happened to the blow jobs!? Just look around! I pay for all this for HER! Her hair. Her nails. Her spa treatments. Her jewelry. Her car. Her house. Our kids.
I work hard. And I only have so much time to unwind. This is how I do it. Why can't she appreciate that? Why can't she respect me enough to give me space?
Sometimes she panics. The kind where you're so scared that your hair falls out a little. The kind where you're so sad and afraid that even your kids know something is wrong.
Maybe you think she's fat and ugly, she wonders.
Maybe you're having an affair or wishing you were, she questions.
Maybe you're going to leave her, she fears.
All you want her to do is treat you like she used to back when she respected and wanted you.
All she wants you to do is treat her like you used to back when you loved and wanted her.
You retreat from her because her neediness is a turnoff and makes you feel bad.
And she keeps chasing, making you want to retreat even more.
You want to be married. You want to keep your family intact. You probably even love her in your own way.
But she doesn't feel like your best friend anymore. Because she makes you feel inadequate. So you pull away. And when you pull away, she gets even more scared. Feels even less safe.
Divorce or an affair seems inevitable.
…
Shameless Book Plug: Order My New Book "This is How Your Marriage Ends" Today

My new book released on March 22, 2022. It is, aside from becoming a father, the highlight of my life. I don't think it sucks. Hopefully you won't think so either. I took the lessons of my divorce shared throughout this blog, combined it with some new stories, some coaching client stories, and the ideas I try to share in my coaching calls, and tried to make the book I would have needed to understand how my behavior was inadvertently destroying my marriage and to develop meaningful relationship skills. If you believe in what I'm doing here and want to support the mission, you ordering this book would be the best thing I could ever ask for. And someday, if you like it, maybe tell a friend. Thank you so much. Order "This is How Your Marriage Ends: A Hopeful Approach to Saving Relationships".
…
My wife and I didn't like the same things.
So when we fell into the rhythm of marriage and domesticated life, we were often at odds about how to spend our time.
I like watching sports.
She likes watching shows about weddings.
I like watching thrillers, science fiction and gritty dramas that don't sugarcoat the human condition.
She likes watching romantic comedies and things that make her laugh and feel good (which isn't dumb).
I like playing poker.
She likes skiing.
I like writing.
She likes dancing.
I always thought the fairest, simplest, most-diplomatic thing was for her and I to do what both of us wanted when we disagreed. Agree to disagree! Everybody does what they want and gets their way! Everyone's happy!
But that's not how it is in real life.
Because many of the things my wife wanted required contributions from me. A family activity. What a drag. A home-improvement project. The horror. A healthy sex life. Gasp!
I said what any true asshole would: "Why is it that all of the things you want require something from me? How is that fair?"
…
You hear it from a table of golfers having beers after a round on a Saturday afternoon.
You hear it from a defensive husband pleading his case to a therapist or marriage counselor or an empathetic buddy.
Sometimes, you simply think it when your wife or girlfriend is "inconveniencing" you with a request to spend time together.
It's the refrain of assholes, worldwide: "What's wrong with a little 'Me' time?"
The Successful, Still-Married Me
A friend sent me a link this morning.
A writer who seems to care about the same things I care about: Seth Adam Smith.
I like this guy. He reminds me of me, except he's actually successful and relevant. And probably a much-better person.
He once wrote a post called Marriage Isn't For You. He became famous (by writer standards) after that post received 2.2 million views in 36 hours.
I hope you'll read it, because it's really fantastic.
Smith was freaking out about getting married, asking himself: "Am I ready? Is Kim the right person to marry? Will she make me happy?
Smith writes:
"Then, one fateful night, I shared these thoughts and concerns with my dad.
Perhaps each of us have moments in our lives when it feels like time slows down or the air becomes still and everything around us seems to draw in, marking that moment as one we will never forget.
My dad giving his response to my concerns was such a moment for me. With a knowing smile he said, 'Seth, you're being totally selfish. So I'm going to make this really simple: marriage isn't for you. You don't marry to make yourself happy, you marry to make someone else happy. More than that, your marriage isn't for yourself, you're marrying for a family. Not just for the in-laws and all of that nonsense, but for your future children. Who do you want to help you raise them? Who do you want to influence them? Marriage isn't for you. It's not about you. Marriage is about the person you married.'
It was in that very moment that I knew that Kim was the right person to marry. I realized that I wanted to make her happy; to see her smile every day, to make her laugh every day. I wanted to be a part of her family, and my family wanted her to be a part of ours. And thinking back on all the times I had seen her play with my nieces, I knew that she was the one with whom I wanted to build our own family.
My father's advice was both shocking and revelatory. It went against the grain of today's 'Walmart philosophy,' which is if it doesn't make you happy, you can take it back and get a new one.
No, a true marriage (and true love) is never about you. It's about the person you love—their wants, their needs, their hopes, and their dreams. Selfishness demands, 'What's in it for me?' while Love asks, 'What can I give?'"
…
If you're single, and you don't have anyone who needs you and you like it that way, then there's NOTHING wrong with a little YOU time. In fact, have YOU time for the rest of your life. There are no reasons you should feel guilty about that if that's what's in your heart.
I think a lot of people marry just because they think that's what you do after high school or college. It's what we see other adults do. It's what we see on TV. It's what our friends do.
Most guys think: No big deal! It's just like having a girlfriend—forever! I can do that.
But it's not like having a girlfriend forever. Marriage is NOT simply an agreement to never have sex with anyone else again.
It's an exercise in giving more than you take.
In spending your days helping your wife have the best life she possibly can.
Sometimes that means sitting quietly at the dinner table listening to stories that may not interest you, but if you're doing it right, you'll care because of how much it matters to her.
Sometimes that means watching a movie or visiting a vacation destination that isn't your first choice.
Sometimes it means you go to bed and have lots and lots of sex instead of watching Thursday Night Football.
We're selfish and broken and messy.
So you ask: How can you expect me to give without asking for anything in return? What's in it for me? 
I don't know.
But I'm a good guesser.
And I'm pretty sure you get all the stuff that the world's richest people can't buy, but wish they could.
Joy.
Peace.
Contentment.
Happiness.
Love.
I'm pretty sure you get to live without fear and shame. That you get to walk tall with courage and pride. That you get to go to bed and wake up feeling confident and secure.
I'm pretty sure you get to keep your family.
And that your kids will grow up knowing how to secure theirs.
What happens when you make marriage not about you, but about the people you love?
Everything.
Happily Ever After.
You May Also Want to Read:
An Open Letter to Shitty Husbands, Vol. 1
An Open Letter to Shitty Husbands, Vol. 2
An Open Letter to Shitty Husbands, Vol. 3
An Open Letter to Shitty Husbands, Vol. 4
An Open Letter to Shitty Husbands, Vol. 5
An Open Letter to Shitty Husbands, Vol. 6
An Open Letter to Shitty Husbands, Vol. 7
An Open Letter to Shitty Husbands, Vol. 8
An Open Letter to Shitty Husbands, Vol. 10
An Open Letter to Shitty Husbands, Vol. 11
An Open Letter to Shitty Husbands, Vol. 12
An Open Letter to Shitty Husbands, Vol. 13
…..
Like this post? Hate it? You can subscribe to this blog by scrolling annoyingly far to the bottom of this page and inserting your email address under "Follow Blog via Email." You can also follow MBTTTR on Twitter and Facebook.