"Wait. What?!" you might be thinking.
I get it, because that's exactly what I said to relationship coach, speaker and writer Mark Groves when he told me I needed to be coaching during a phone conversation a few years ago.
But on a much more recent call a few months ago, he said it again, only it sounded slightly less insane this time.
I've worn my NON-expertise like a badge of honor throughout the years writing here. I'm one of those idiots who thumbed his nose at formal schooling after earning a bachelor's degree, because I always believed I could scratch and claw my way to wherever I wanted to be, career-wise.
While I was misguided to wholly dismiss formal higher education, there's no denying that the reason certain people (my mom and like three other people) care about things I write or say—isn't because they think I'm especially smart or insightful—but because the things I write and say sound a lot like THEIR lives. We're all just running around trying to make sense of our lives.
And I have a built-in secret weapon to connect with others that I never had to earn. All I have to do is tell the story of my marriage and divorce, and then it accidentally sounds like millions of other people's lives because there isn't anything extraordinary about me or my life at all, and my crappy marriage is statistically likely to be a lot like your crappy marriage.
And all of the well-meaning and mostly decent guys out there who sort of feel like lousy husbands? Hey, welcome to the club. It sucks in here and drink service is slow. Let's get out of here.
You're me. I'm you. We're us. It doesn't have to be weird unless you make it weird.
I can sometimes help guys whose experiences are a lot like mine were. And I can sometimes help women whose experiences are a lot like my wife's were.
Here's the thing I didn't understand until Mark beat me over the head (with coolness and kindness, as he does most things)—I don't need to fit some predetermined mold to be a relationship coach, or to be magically qualified to help people transition through divorce or a bad break-up.
I'm me and I can't be anyone else. And once I embraced the idea that I don't need to live up to some magical standard—that all I had to do was be me and give everything I had to trying to help people in this very specific and deeply personal way instead of the more general way I experience when writing about it?
I finally embraced the idea fully. I'm really glad that I did.
'You, a…Coach?'
Totally.
And while I wouldn't have had the stones a few months ago to tell you with any confidence that I can legitimately help anyone, today I feel blessed to tell you that I can.
Several people have asked me to work with them, or someone they love, in a formal coaching capacity over the past four or five years. I have always declined.
I'm not a licensed therapist. I'm not a counselor. I'm not any kind of guru.
I'm just a guy who's pretty good at asking the right questions and not being a judgy prick about it. I'm just a guy who cares about human beings. I don't have to pretend to care about the people sharing their painful stories and secrets with me. I just care.
Sometimes when things hurt a lot, we just need someone to care. Turns out I'm pretty good at that. And sometimes, when two people care about the same thing and work on it together, extraordinary things happen.
…
…
'How Does it Work?'
Well, someday when I have a big-boy website (soon-ish), the Relationship Coaching & Divorce Support page will have online forms where people can apply directly from the site.
Currently, we do it this super-sketchy way where you email me ([email protected]) with "Coaching Request" in the subject line, and then I send you a questionnaire to fill out, and if afterward we mutually decide to proceed, we'll schedule video chats or phone calls and get to work.
'Will I Cry Like Will Hunting?'
God-willing.
It's not your fault. It's not your fault. It's not your fault.
Just kidding. It may totally be your fault—or better stated—something you have the responsibility to do something about. Personal-growth efforts are challenging. They're hard. They force us to stare at ourselves in the mirror and answer uncomfortable questions. They force us to make new choices every day. Uncomfortable choices that don't always provide the immediate gratification we subconsciously seek from our old, comfortable choices.
Remember that little bald There is no spoon kid from The Matrix? When he drops mad knowledge on our hero in waiting?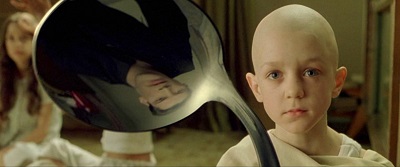 Little Bald Kid: "Do not try and bend the spoon. That's impossible. Instead only try to realize the truth."
Neo: "What truth?"
Little Bald Kid: "There is no spoon."
Neo: "There is no spoon?"
Little Bald Kid: "Then you'll see that it is not the spoon that bends, it is only yourself."
That junior-sized monk knows what's up.
We're all looking for secrets. Whispers that upon hearing them will magically transform our surroundings. Shortcuts. Fairy dust. An easy way.
But I prefer to dabble in as little bullshit as possible. Coaching is not about sharing secrets. As my friends Jay and Lori Pyatt taught me, coaching is about shining a light in people's blind spots—helping people discover things hiding in plain sight.
The world doesn't change. The way you look at it does.
Your relationship doesn't change. The way you show up in it does.
But, the spoon STILL looks and feels like it's bending. And you can do it if you want—if you only realize the truth.
'Okay, Matt. Piss Off. Surely There are Better Options.'
Probably!
These are really smart human beings that I have a personal relationship with, and all of them bring infinitely more expertise and experience to the table.
Self-work is hard stuff. That's why we turn to others for help. And each of these amazing people can help you. Seriously.
…
This is a new life adventure for me. The safety of the keyboard is gone. Real human beings with real, high-stakes problems, and no way of knowing where the conversation might go.
And I used to be afraid of that, because I was trying to bend that stupid, stubborn spoon. And then I realized the truth.
I don't know whether I can help you. I don't know whether it makes sense for you and I to work together.
I only know that we'll be able to figure it out together. And probably some other helpful things as well.
Wishing everyone a very happy, peaceful and blessed holiday season wherever you are. Love you guys.