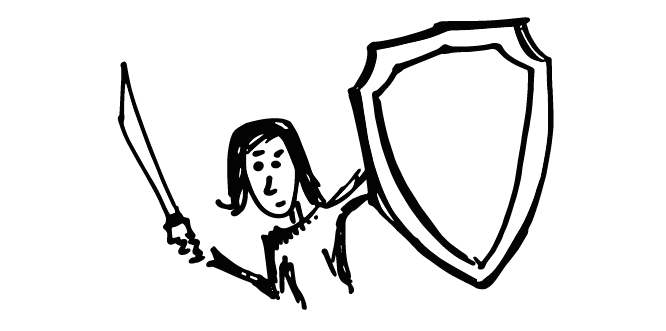 Mary said:
It's still an extremely negative piece that includes such statements as decent men 'trying their God's honest best … are accidentally napalming their homes and closest relationships.' You feel that trying their best isn't good enough, that in order to succeed men have to be selfless and humble.' Your piece doesn't take into account that relationships fail for a bunch of reasons and they are not all about what men did wrong to get them to that place. You say you'd like to be a teacher, but except for your experience of divorce and separation from your child, what makes you qualified to? You say that 'men are going to have a lot to do with humanity's future.' If you're writing from the perspective of the early 20th century, then you've got a point. Some women may still be attracted to high status men, but mostly they're busy out there creating their own high status professions.
…
Three things about Mary's comment bothered me.
Mary disagreed with my take, and just like everyone else in the world, I have a very high opinion of my opinions and an immature tendency to cling to my beliefs. Maybe I'm wrong. I never pretend to know for sure. But I do write more confidently today than I ever have, because I keep getting more certain, not less, that I'm onto something.
Mary questioned my "qualifications." I don't have any other than my ridiculously large data sample. I don't claim to be anything other than some divorced idiot trying to help people divorce less.
Mary interprets my request for men to assume responsibility for growing and changing to be sexist, as if the constant invalidation of women isn't the very thing I've identified as the root cause of marriage problems.
So, I responded, and because I'm me, it turned into a post-length thing, so screw it—I might as well share it.
(Apologies for temporarily suspending my Things Men Don't Know series. There may be a lot of people out there who feel as Mary does, so here's my take on all of this.)
Why Marriage and Divorce Must Get More Attention
From a blog comment exchange:
In any given 1,000- to 1,500-word post, there is only so much territory one can cover, Mary. I hope you don't think the limits of my thoughts are all contained in this tiny little collection of words and sentences.
If you'd like me to give you the bird's-eye view of my general theories and "qualifications," I'll be happy to.
Here's the rundown:
MOST people get married. Statistically, 95 percent of adults 18+ are either married, formerly married, or are planning on marrying one day.
So, that's 9.5 out of every 10 people. Significant, no?
And of those people, what happens?
Well, statistically, a young man asks a young woman to marry him. He usually spends $6,000+ on a ring, and has spent the better part of two or more years considering whether he should. When she says "Yes," they plan a wedding, and on average, spend $30,000 on it and invite 300 or more of their closest friends and family.
Two free-thinking adults with no one forcing this on them. They, all on their own, considered all of their options in life and thought: "Yes. I want to marry this very specific human being, and I understand it is a spiritual/legal contract for the rest of my life. I'm so confident about this, I'm going to sign the contract, and publically exchange vows in front of everyone I know, and spend a crap-ton of money on it."
So, they're serious, right? Not coerced or anything. They mean this shit.
…
But THEN. As sure as the sun rises and sets each day, one half of all of those people who did that get divorced. ONE HALF. Even though they've been married 5, 10, or even more years, share homes, financial resources, social circles, and children.
70% of those divorces are initiated by the wives.
Of the remaining half of people who stay married, what percentage of them report that their marriages are filled with love and happiness and contentment and mutual partnership and tons of life satisfaction?
I don't know. But I know damn well there are a TON of unhappily married people.
Regardless of how many divorces actually occur, the MAJORITY of marriages fail.
I think it's a crisis and not enough people are talking about it.
…
So we have this thing — marriage. It's significant because 95% of people are affected by it.
And two people who, let's be honest and real, are usually very decent, well-meaning people (not secretly masochistic or evil or plotting some huge emotional terrorist attack seven years from now to ruin the lives of spouses and children and extended families)… they're failing.
They're failing at the thing that matters the most, hurts the most, is the most significant and foundational thing in our earthly day-to-day lives. The people we live with, rely on, know best, share the most resources with, do the most for, get the most from, etc., etc., etc.
THOSE two people are so unhappy that they choose to end their marriage and go through a really difficult life event. According to the Holmes & Rahe Stress Scale, divorce is the #2 most stressful thing that can happen to a human being, following only the death of a spouse.
Divorce is a big deal. It hurts people and changes their lives PROFOUNDLY.
…
And I think I know why most divorce happens.
At first, it was a simple educated guess, and I wrote about it in the first-person because MY story, it turns out, is A LOT of people's stories.
There wasn't addiction, abuse, affairs, gambling problems, crime, etc. going on.
We were just two pretty smart, pretty decent, totally well-intentioned people who married at 25 and accidentally harmed one another over the course of our nine-year marriage.
That's what MOST people do, Mary.
How do I know? I don't. I don't ever pretend to know anything, for sure. I just believe things like everyone else, but I try to come to these beliefs in a responsible way.
Perhaps second only to the Gottman Institute, I have a MASSIVE data sample of blog comments and emails.
"Oh my God. You're describing my marriage exactly."
"It's like you're observing my life."
"Why aren't more people talking about this? This is it exactly!"
Maybe you don't think my conclusions are valid. That's okay. People disagree about all kinds of things.
Wives, women, have PLENTY of culpability in the failing of marriage. Some are married to good guys who DO do the right things, and they're largely responsible for the marriage failing. Others respond inappropriately and ineffectively to their husbands' well-intentioned mistakes or misunderstandings.
But, in my humble opinion, MOST of the time, men behave in marriage as I did.
During a disagreement, we believe we are right, which means our wives MUST be wrong.
We constantly deny our wives the right to care about things we deem meaningless.
My most-commonly cited example is a dish left by the sink.
Any woman who would end her marriage over a simple dish left by the sink is an overly emotional, control-freak, nagging, hard-to-please bitch, right? Someone without her priorities straight?
But what about a man who hears his wife tell him dozens, perhaps HUNDREDS of times that something he is doing HURTS her? Causes her pain. Makes her feel unloved, unwanted and disrespected?
And each time, hundreds of times, over and over and over again, he says: "You're crazy. You're wrong. Your feelings are stupid. I'm not changing, because I don't agree that the things I'm doing actually hurts you. It wouldn't hurt me. So it SHOULDN'T hurt you."
She can take it for a month. For a year. Sometimes for 10 years, especially when she has young children whose home she doesn't want to break up.
But sooner or later, the levee breaks.
Sooner or later, when the person who vowed in front of everyone you both knew that he would love and honor you forever, tells you for the thousandth time that he doesn't give a shit about your pain and suffering, and doesn't value nor acknowledge your thoughts and feelings, you're going to go find a better way to live.
Life is too short to have the one person who you committed to for life make you feel shitty every day.
GOOD men, with good hearts do this to their wives. They do it ALL THE TIME.
They struggle so much with the idea that their wives can actually feel pain and suffering from things that don't matter to them.
A dish by the sink? Who cares, right?
She cares.
And when you tell her the things she cares about don't matter, and you're not honoring them, you destroy your marriage, no matter how much you "think and feel" love for your spouse.
It's a fundamental lack of empathy.
It is a husband's greatest crime. And the #1 cause of relationship breakdowns and divorce on the planet today.
It just is.
And if men got that shit buttoned up, 80%-plus of the "crimes" women commit in marriage would go away, because most of them are REACTIONS to men's general lack of empathy and willingness to listen and communicate.
This isn't about sexism.
This isn't about blame.
It's about math and reality and truth.
It's about living through something painful and life-changing and sharing it with others in the hopes that they won't ever have to feel the same way.
I hope it makes people uncomfortable. The hard truths always do. If people aren't a little uncomfortable, I always assume that means they're doing it wrong.
I'm sorry if you think there's something wrong with that, or if you think I'm somehow making the situation worse.
This is how I try to help.
I don't know how to not.