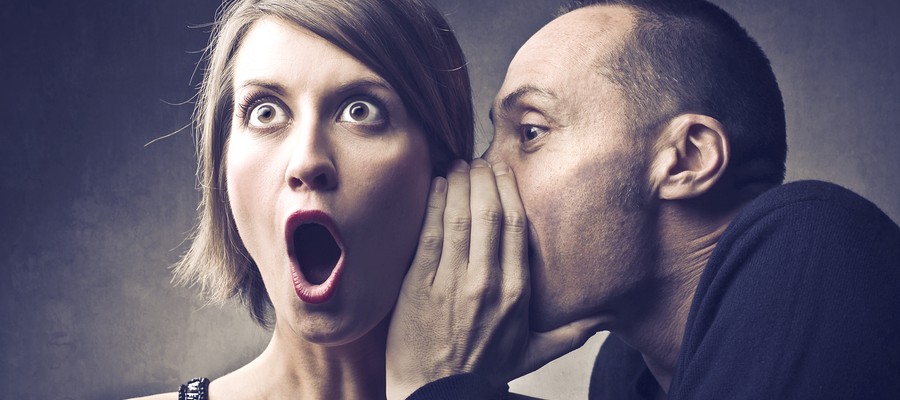 Couples struggle in relationships because they don't know how to talk to each other.
There are other reasons. But that's the biggest.
Maybe I'm the only one, but nuanced, intangible things like "feelings" and "communication" and "psychology" never pulled much weight with me growing up, or even in my 20s.
Feelings?! Those are for girls!
Communication?! What's there to talk about?! Everyone is basically the same!
Psychology?! That's pseudo-science! Can't we talk about something that matters, like football or movies?!
Yes, I was/am an idiot.
Those very accurate (if ignorant) thoughts and internal monologues explain why I'm divorced.
It's worth repeating: If your marriage is miserable and broken, the reason is because you don't know how to talk to each other.
Sure, you both have personal and collective problems outside of the communication spectrum, but two people pulling in the same direction who understand how to exchange healthy and productive dialogue about them will actually grow closer while overcoming the hardships together.
The future of our closest and most-treasured, most-meaningful relationships depends on us figuring this out. I say "us," because I'm totally in the boat, too. A lifetime of bad habits and emotional triggers can only be broken and reprogrammed with new, better habits and thoughtful situational response.
Maybe my professional life can be a source of inspiration.
If Words and Sales Techniques Influence People to Buy Things, Could They Also Affect Behavior in Relationships?
"They may forget what you said — but they will never forget how you made them feel." — Carl W. Buehner
From dating through our divorce, my wife and I were together for 12 years.
Maybe it's because we're creeping up on four years since our separation and my memory isn't what it used to be, but I can't remember the specific words, tone of voice, timing and circumstances of any of our verbal spats.
I can only remember how it felt.
I was angry. Confused. Frustrated. Arrogant. Defensive. Ashamed.
Like most couples, we mostly had the same fight over and over again. A few details change, but it's always The Same Fight®, with the same themes and argument patterns.
The Same Fight doesn't always scare you when it's happening because you're used to having it. But The Same Fight is what infects hearts, breaks couples and destroys families.
People pay attention to, and try to change or fix things that scare them. Have you heard or lived the story of the husband who seems disengaged from his wife and marriage, but has a complete meltdown and goes into desperate Super-Husband Mode after his wife says she wants a divorce, causing "WTF???" reactions from a wife who felt ignored, unwanted and unloved for years?
That's what I'm talking about.
Those men fighting for their marriages and families when it's too little, too late are guys who would have made different choices all along had they only FELT what they now feel in their frightened desperation.
It's the marketing and advertising industry's most potent weapon — human emotion.
Coca-Cola is the world's most recognized brand and, I believe, the top-selling beverage in every country on Earth where it's sold except Scotland (where I believe it's #2). Coke is last on the list of companies that need more brand awareness. Yet they spend a kajillion dollars every year on people-oriented or "feely" marketing campaigns and advertisements because they want people to feel good when they think about, or drink, Coke.
And this is a company selling a product that's not particularly good for us.
I think maybe we should try to be more like Coke in our relationships, except what we are offering IS actually good for people. With due respect to the fine people at Coca-Cola, strong relationships and stable, cohesive families actually will change the world.
…
"But, Matt!!! Advertising and marketing stuff doesn't work on me!!!"
Right. I used to believe that, too.
And maybe it's true. I can't prove nor promise that certain word choices will influence an individual person to take a desired action. But I CAN prove and promise that certain word choices influence people.
When I'm not blogging about what a shitty husband I was, I'm writing marketing content designed to influence people to buy or sign up for something. I see a lot of data. I read a lot about strategy for improving results.
And yesterday, for the first time, I asked myself the question: Couldn't these ideas just as easily apply to our interpersonal relationships?
5 Sales and Marketing Tricks You Can Use to Improve Communication with Relationship Partners (and Everyone Else)
1. Pay Attention to Timing
It's hard to sell Christmas gifts in April. It's hard to sell swimwear to cold-weather residents during winter. It's often impossible to sell things during a crisis.
For example, Sept. 12, 2001 was probably a bad day to launch a new mattress and bedding sale in New York City.
But more subtle than that in the marketing world is time-of-day engagement metrics for things like email open rates or social media posts and ads.
MANY more people will open an email at 9 a.m. Monday than at 4:30 p.m. on Friday, just as many more people will see and engage with a Facebook post or advertisement at lunchtime or 7 p.m. on a weeknight than most other times (though it varies by demographic – young people stay up longer, for example).
All that to say: Maybe dumping criticisms or complaints on people during their busy workdays, or making requests or demands of others right when they walk in the door from a long day at work or at home with small children (and we have no idea what they've been through) isn't the most effective timing nor best idea.
2. Chemistry is NOT Pseudo-Science. Smile and Hug More.
I'm not a biologist or any other kind of doctor, but I've read about dopamine enough to know it's one of, if not the, most influential chemical our body produces to give us feelings of happiness.
Smiling is measurably the highest positive emotional gesture we make. It makes others AND ourselves feel better. And it's a non-verbal cue which connects us to others and signals that we mean them no harm.
Additionally, HUG. For at least SIX SECONDS. Not strangers, necessarily because that might be weird. But your spouse, for sure. After six seconds, the body releases all of these excellent chemicals, including dopamine, which makes everyone's lives better.
You might not feel like smiling or hugging. You also might not feel like brushing your teeth, or going to the doctor, or replacing your vehicle's tires. But you do it because it's important.
Smiling and hugging (and the chemicals they release) are IMPORTANT.
Side note: When you are text-messaging, non-verbal cues AND tone of voice are absent. Stop discussing important things via text. Pick up the phone, or save the important stuff for later.
3. Use the Right Words
Effective marketing and sales copy is customer-focused. It either educates or entertains. Customers DO NOT care about companies. Customers care about how companies' products and services can solve their problems or otherwise improve their lives.
A thoughtful copywriter always asks: "How does this make you feel?" rather than "Which message do you want to send?"
Specific word choice matters.
You, Because, Free, Instantly and New are the five most-persuasive words in the English language, according to data analysis of advertising and marketing copy. Using those words has a measureable impact on the number of people who will open an email or click something online.
What words have a positive impact on your partner?
What words have a negative impact on them?
Don't know? Ask. Or pay attention to what words (and actions) soothe them or make them happy, as well as those that upset them. Keep track! Talk about them!
How is it that I know which words will help me improve my email marketing campaigns, but don't know which specific words made my wife hurt or feel good?
No need to overthink that one. I was an asshole.
4. Talk No Longer Than 30 Seconds at a Time During Conversation
Brevity is critical in marketing. And while I'm decent executing it as a marketer, I'm fairly horrible in conversation (and writing blog posts, *ahem*).
I am the KING of the never-ending monologue because of the way my brain processes new ideas and keeps triggering new thoughts while I'm talking, but also because my dad used to monologue-lecture me. I can remember ALL of the things I did which earned the lectures, but none of the lessons dad tried to teach me.
I used to use a lot of words while trying to convince my wife she was wrong to be mad at me or on the wrong side of an argument.
Pro Tip: That shit doesn't work.
"Sometimes we speak beyond what someone is able to listen to. What the research shows is that the human brain can really only hold on to four things at a time, so if you go on and on for five or 10 minutes trying to argue a point, the person will only remember a very small part of that," said neurologist Andrew Newberg, co-author of "Words Can Change Your Brain." "We developed compassionate communication with the idea of having several goals, and one of them is to speak briefly, meaning that you speak one or two sentences, maybe 30 seconds worth or so, because that's really what the human brain can take in and absorb."
5. Make three positive comments for every negative statement
Newberg's research also suggests that negative arguments have a very detrimental effect to our brain. We need to pay particular attention to not let them take over and work against them by using the 3-to-1 ratio:
"When you get into a dialogue with somebody to discuss any particular issue, a three-to-one ratio is a relatively good benchmark to think about; you wind up creating the opportunity for a more constructive dialogue and hopefully a better resolution," Newberg said.
In marketing, positive messages work better when consumers have time to ponder purchase decisions. (Your partner totally has time to ponder.)
And negative marketing messages work better when there are deadlines because people generally demonstrate a fear of missing out and want to avoid negative outcomes.
Both positive AND negative statements should be used in our personal relationships to communicate thoughts and feelings.
But, for best results, we must counterbalance the fear- and anxiety-producing ones by using much more positive and hope-inspiring words.
…
Less hate. More love.
Less anger. More forgiveness.
Less stress and anxiety. More peace.
No tricks or scams. No lies or deception. Just authentic, thoughtful word choice and message delivery.
What we say, where we say it, when we say it, why we say it, and how we say it all dictates whether our messages are heard, understood, and properly digested.
Though our behavior often suggests otherwise, our closest relationships are the most precious and important things in life.
Sales and marketing people. Writers. They're not for everyone.
But in the realm of HOW to communicate effectively — maybe doing things as they do would go a long way toward inspiring change in the feelings and behaviors of the people we live and work with.
Of the people we love.
Only one way to find out.