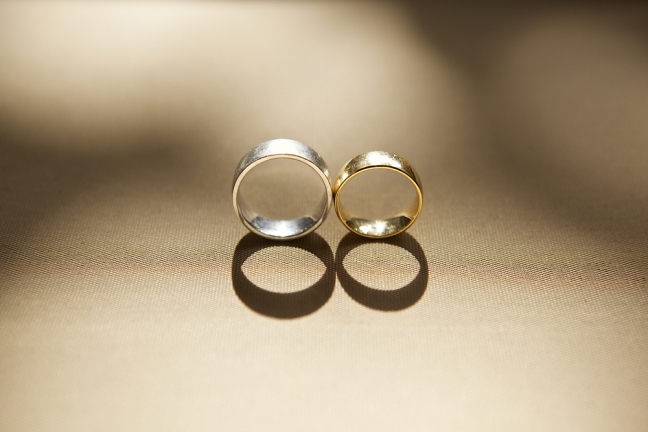 I haven't read the statutes or consulted an attorney, but it's conceivable to me that a wife could owe her husband sex if she is employed by a brothel in a place where prostitution is legal, and her husband is a paying customer.
But even that's debatable. Panera Bread once gypped my son and I out of the cookies we ordered and paid for with our takeout sandwiches. That was, like, three months ago and I've probably been back a dozen times since.
Does Panera owe me cookies? Do they?!?!
But seriously. The question of whether married people are obligated to have sex with their spouse is something I've spent a lot of time thinking about.
Because the word "owe" isn't limited to legal, enforceable or contractual obligations. It's also defined as "to be under a moral obligation to give someone something."
The most-fair question I can think to ask is this: In instances where two people marry in good faith, sincerely pledging sexual faithfulness to one another for life, could it be said that they have a moral obligation to fulfill one another's sexual desires?
About Wifely Duties and Submission
The concept of "wifely duties" is rooted in the Christian idea of wives submitting to their husbands. There's a better-than-average chance you've attended a wedding or church service where you heard it. It gives every champion of human equality heartburn. And I imagine it's incredibly uncomfortable for women (and possibly some men) who've been abused at one time or another by a domineering tyrant. I grew up attending church on Sundays, have never been abused by a domineering tyrant, and it STILL makes me uncomfortable.
We should talk about that.
…
There are two things to deal with before continuing.
The Two Kinds of Sexism
There is overt and intentional sexism perpetrated by men who truly believe they are better than women, and actively work to raise male power and status at the expense of women.
But there's also what I call Accidental Sexism. I think it's secretly a major root cause of modern-day relationship failure. Accidental Sexism is what happens when men assume their wives will pick up after them, fold their clothes, cook them dinner, plan family and social activities, etc. because that's how they remember it working in their childhood homes.
These men are NOT mindfully trying to demean and disrespect their wives. Bad people do that. Most people are not bad. These men are thoughtlessly replicating behaviors modeled for them in childhood, and then feeling unpleasantly surprised when their idea of being a good husband isn't actually good enough for their spouses.
These men are good men. They care. Their sexism is unintended. They don't even think their behavior is actually sexist, because "sexist" = "bad guy," and they know they're not bad guys.
The Perversion of Christianity
There are huge numbers of Christians who believe the public backlash against Christianity by non-Christians is tantamount to persecution.
This is happening because the actual meaning of the word "Christian" means different things to different people.
There's the Christian label. A person who was baptized in a Christian church. They check a box on a form, and categorize themselves as Christians. People wearing the Christian label sometimes say and do asshole things. Something evil on colossal levels like drowning children in a bathtub or bombing an abortion clinic, or something on a more Everyday Asshole sort-of level like when I'm behind the wheel and mutter AWFUL things at other drivers that would make Jesus and my grandmother sad.
People see and hear these things and might understandably think: Ugh. Christians are assholes. That's easy for me to understand because I also think people who do those things (including me and my non-Jesusy driving language) are assholes.
But there's also what it ACTUALLY means to be a Christian, which at its core is basically: Act like Jesus.
Jesus was solid, across the board. And I'm certainly biased here, but Jesus is hard to pick on. I can tell you things about myself, my son, my parents, and my best friends that I think warrant criticism. But Jesus? I don't have even one thing. I've known plenty of people with major hang-ups regarding Christian churches and faiths, but I've still never heard anyone say: "Jesus? That guy was just awful."
Two dictionary definitions for Christianity:
Treating other people in a kind and generous way.
Being commendably decent or generous.
We're not discussing theology here. We're discussing "wifely submission," and whether it has merit.
The PROBLEM here is that ignorant, sexist men co-opt Bible passages to suit their personal interests and justify spousal abuse.
The Bible doesn't tell men to MAKE their wives submit.
The Bible tells women to submit to their husbands. The ball is 100 percent in the women's court.
But there's more to it than that, and lots of men like to ignore it because the truth is inconvenient.
The Bible ACTUALLY says: (Ephesians 5:22) "Wives, submit yourselves unto your own husbands, as unto the Lord."
Let's deal in reality, because I like it better than Bullshit Land.
Paul wrote his letter to the Ephesians between 62-80 A.D. That's at least 1,932 years ago for those of you counting at home.
The assumption being that everyone paying attention to Paul's writings were going to be "godly" people. People taking seriously the idea of "serving the Lord" in their personal lives.
So, all of this submission talk was rooted in "serving the Lord." The cultural norm in the year 72 was for women to follow their husbands' lead. But the culture norm (and ultra-specific Bible-based expectation) ALSO was for these husbands to be GODLY men. Men of profound character whose family leadership was rooted wholly and completely in humbly serving God and "treating other people in a kind and generous way" or "being commendably decent or generous."
The men who play the "wifely submission" card today tend not to be humble. They are not "commendably decent or generous." They are typically selfish and abusive, or at the very least, profoundly ignorant.
Conclusion #1: EVEN IF what Paul wrote nearly two millennia ago is the ACTUAL, not-to-be-ignored-lest-ye-be-damned Word of God, the instruction was not: Hey Women! You're supposed to be your husband's slave and do whatever he says no matter what! He's the boss!
The instruction was: IF you marry a godly (holy, not god-like) man, follow his humble and loving lead.
Anything other than that set of conditions renders the agreement null and void.
Conclusion #2: EVEN IF those suggestions are culturally relevant today, they only apply to people who are married, practice Christianity together, and who entered the marriage with the understanding that, so long as the husband behaves as holy men do, that his wife will defer to him on familial matters. And just so we're absolutely clear, "bring me a sandwich and give me a blowjob" cannot be even loosely connected to the Christian God of the Bible.
Conclusion #3: Virtually every person playing the Wifely Submission card either: A. Has a great marriage consisting of two people in complete spiritual and philosophical alignment with one another, or B. Is a HUGE, disingenuous, sexist, and profoundly stupid asshole.
So, When Do Wives Owe Husbands Sex?
Maybe the prostitution scenario in a business-agreement sort-of way. I'll let legal experts weigh in on the legal definition of the word "owe."
How about in the general sense of the word? I suppose if a wife promised to have sex with him in writing or verbally (and ideally while wanting to, and not out of obligation), then maybe she would "owe" him the way I "owe" my mom a phone call because I didn't call her over the weekend like a good son.
But the real heart of the matter is this: Do wives owe husbands duty-sex by virtue of their marriage?
Are wives "morally obligated" to sexually relieve or satisfy their husbands' urges?
…
If while attending a large holiday gathering with family and friends and children, a husband wanted to have sex on the living-room floor in front of everyone, would his wife be dutifully obligated to?
If during a business trip to New York a husband wanted his wife home in Chicago to have sex with him, but she couldn't because there were 790 miles between them, would his wife be failing in her dutiful obligations?
If during hospitalization after being involved in a car accident which left his wife in a coma, or body casts, a husband wanted his wife to have sex with him, is she dutifully obligated to?
Too extreme?
What if she has the flu?
What if her best friend died that day?
What if the family pet needs taken to the emergency vet?
What if she ran a marathon in the morning and says she's too tired?
What if she didn't get much sleep because of a sick child and says she's too sleepy?
What if she had a rough day at work and simply isn't in the mood?
Or. What if she just doesn't want to?
What if after years of feeling neglected emotionally and frustrated by constant invalidation, she doesn't feel sexually attracted to him nor safe engaging in physically intimate acts with him?
Where does a proponent of Wifely Submission draw the line between Good Enough reasons and Not Good Enough reasons?
And who gets to decide? The man? Because he was taught growing up that being "in charge" at his house is his birthright by virtue of having a Y chromosome?
Sorry, Guys. You Must Do Better Than That
Nope. Being male does not, and never has, grant license for the sexual decision-making of another person.
The Bible doesn't say it, and neither does anyone you'd want your daughter going out on dates with.
Remember the famous JFK quote: "Ask not what your country can do for you, but what you can do for your country?"
Great quote.
Applies to marriage. Marriage is NOT about what it can do for you, or more specifically, what your wife can do for you. Seth Adam Smith said it best in his fantastic Marriage Isn't For You, which you should totally read if you haven't.
Marriage is about what YOU can give to your marriage. It's about how YOU can make your spouse's life better. I feel comfortable saying that unwanted sex NEVER makes someone's life better.
…
I can help you guys out with the whole sex thing, if you're struggling.
The solution is amazing, because it benefits EVERYONE involved—you get to have more sex, you get to have sex with a wife who WANTS to have sex with you, your marriage is fantastic, your kids have an infinitely better shot at happiness, and you get to live a fulfilling life which benefits your Mind and Spirit, every bit as much as your penis (or Body, if you prefer).
Because you do not want your wife to have sex with you nearly as much as you want your wife to WANT to have sex with you.
It's the difference between marriage and divorce. Between happy and miserable.
All you need is a little Magic Sex Potion. You already have the ingredients needed to make it right there at home. You just need the instructions for how to make it. (You're welcome.)
Do our wives OWE us sex?
The question is totally irrelevant. Because if you're even asking it, your marriage is a trainwreck.
YOU owe your marriage energy and effort.
YOU owe your spouse love and respect.
YOU owe your family humble, selfless leadership.
When you do these things, there's rarely a lack of sex in your relationship.
Do our wives owe us sex?
As is too often the case, we're asking the wrong questions.