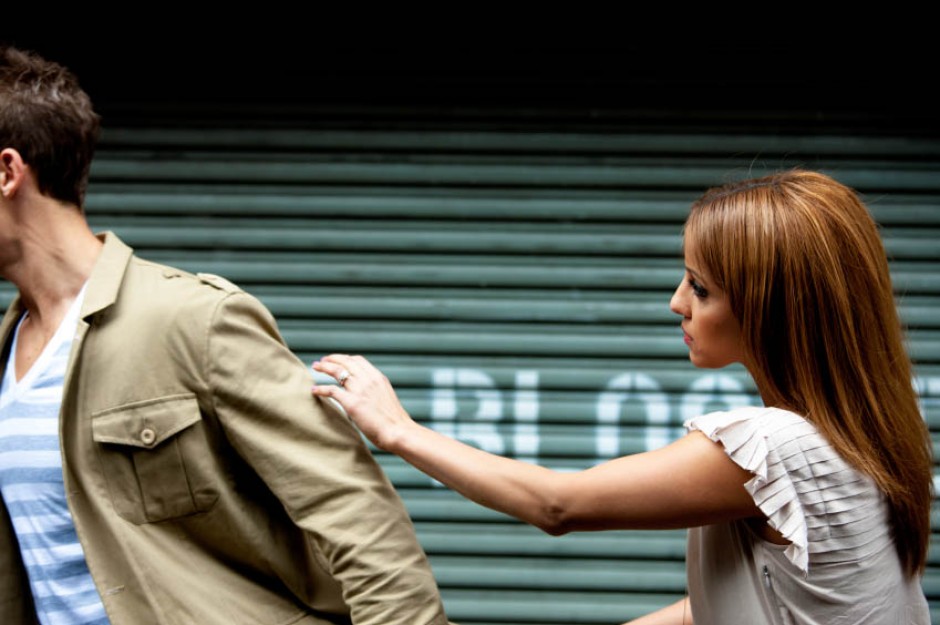 So, I've got a friend who appears unwilling to change certain behaviors or sacrifice some of his life preferences for his girlfriend.
He's totally "a guy" in the way I think of the caricature or stereotype that exists in my head when I'm writing about shitty husbandry—not radically different from how I remember myself not too many years ago.
There are things he enjoys and wants to do in life. Some of those things have begun to cause conflict in his relationship as she expresses dissatisfaction with them, and he seems prepared to pull the plug after more than a year together.
And THAT is why I support him even though it might seem as if I'm advocating stubbornness or selfishness in relationships.
He's being honest with her about his boundaries.
He's being honest about his feelings toward her.
They are exploring these differences together, even if it hurts and exposes cracks in their relationship.
He's having the difficult conversation BEFORE marriage. He's not moving toward forever-vows under false pretenses only to have marriage fights about these things later when more is at stake for all involved.
The Truth is Inconvenient, but Should Still Have its Day
How many of our life problems exist because we're not 100-percent honest? Most, I think. So many of us are afraid to make waves that we let things happen without reacting to them in fully honest ways, and then dominoes of dysfunction begin to fall from there.
Sometimes it's some little thing that barely matters. Other times, it's the whole world, and afterward you don't get to have your family anymore.
I don't really care if guys are selfish pricks. Never have. I don't think it's an awesome way to live, and I don't want to be friends with people like that, but on its own, I think individual people putting themselves first is among the least of our major societal problems.
Selfishness only destroys things when it's deceptive or when its introduced into a group environment, like a team, or business, or friendship, or family, or romantic relationship.
"Hey Matt!!! Are you saying you think it's more okay to be selfish when you're dating than when you're married?"
Yes. I think I am.
Do I wish they would have discovered some of these differences before their relationship graduated from casual dating to fully committed relationship? Of course. But the reality of human relationships is that we sometimes don't learn every single thing about a person in a short time, especially if one or both parties are hiding something about themselves.
Most of us do it.
We're a little bit insecure and we fear rejection, so we pretend to be super-tolerant of some aspect of this person we're getting to know, when in reality, we're intolerant of that part of them. We convince ourselves we'll get over it, or it's not a big deal, but these little things can sometimes turn to major things once we're in the thick of our relationships and Truth crawls its way to the surface no matter how much one of us had tried to keep it hidden.
…
My friend offered me examples of things she was doing and saying that were getting under his skin.
I defended her where it seemed appropriate, but didn't have to. He never blamed her for being her, and takes 100-percent responsibility for the predicted end of his relationship.
He's now wrestling with the idea that maybe committed relationships just aren't for him. As if he is—fundamentally—not cut out for them. Or realizing that he is simply unwilling to give up enough of his personal wants in order to have a healthy one.
That is INFINITELY more noble to me than the guy who secretly feels that way, marries someone he professes to love unconditionally but proceeds to spend 5-10 years with taking more than he gives before draining her spirit entirely, breaking a home, and maybe a few other things in the process.
I'm not celebrating selfishness. I'm not. I'm celebrating self-awareness and an unwillingness to make life decisions that border on deception or would set up something more painful and damaging years from now than a breakup would be today.
The Season Ticket Fight
Long before my friend met his girlfriend, he and one of his buddies split the cost of two season tickets to their favorite NHL hockey team.
They chop the season (41 home games) into thirds. One third, they go together. Another third, his buddy brings his wife or child. And the last third, my friend brings whoever he wants.
Once my friend began dating his girlfriend, she became the person he brought to most games.
And that has been the arrangement, which he thought was working out okay until she recently expressed an interest in attending more games.
He immediately started suggesting options.
Suggestion #1: Identify the one third of games on the calendar my friend didn't already have tickets for, and buy single-game tickets for all the ones she wanted to attend.
She didn't like that idea because she liked where they sat for the season tickets they have now (they're awesome seats). She didn't want lesser seats to ruin the experience, she said.
Alright, he thought.
Suggestion #2: Buy her own season tickets in seats she likes equally well, and bring friends with her on the night he's in his regular seat.
She didn't like that idea because if they were both going to be at the same hockey game, she wanted them to be together.
Okayyy, he thought.
Suggestion #3: Through a stroke of good fortune, it just so happens that a vacant seat right next to the two seats my friend and his ticket partner have is available. My friend suggested they grab that seat, so she could sit next to him for two-thirds of the season, and either attend the other games with the other couple, or sell the seat each night she didn't want to go.
She didn't like that idea because she didn't like the idea of being the third-wheel when my friend and his buddy were at the game together.
In the end, she admitted that she wanted him to give up his season tickets with his buddy, and get new ones with her.
…
And that was all my friend could stomach. That was the end of his rope.
I defended her again, suggesting that it's awesome that she wants to do things together and make their relationship strong. I reminded him that he doesn't know every little part of her past and that maybe there are some insecurities he doesn't know about. That maybe whatever hang ups she has about times when they're not together are scars from previous life experiences where she felt abandoned or betrayed.
He understood, but not enough to care more about that than what he perceived to be needy, unreasonable, clingy bullshit on her part.
He said he felt deceived. She advertised herself as independent, he said. There were no signs of her feeling uncomfortable with the ebb and flow of their social lives and schedule for months. And then, something changed.
And he has a choice to make: Compromise with her in a way that will satisfy both of them (toward which he believes he has put forth a good-faith effort), or stand his ground knowing it could mean the end of their relationship.
And he's choosing to stand his ground.
He's choosing not to compromise on something that will breed and foster resentful feelings inside him and poison his feelings toward her.
I don't know if that's worth celebrating or particularly admirable in the context of my strong belief that Love is a Choice.
But I do know that he's responsibly doing the thing I believe to be super-critical to marriage success, because I also believe there are MANY people who shouldn't be dating each other.
…
The season-ticket fight is a microcosm of The Same Fight my friend and his girlfriend are starting to have—one likely to carry on through the remainder of their time together, until both of them fully understand the WHY behind whatever's happening.
I'm not sure my friend is willing to put the work in on that. In fact, he basically said as much.
And I'm afraid that's likely to mean he'll be single for as many years as he continues to make that choice.
Do I think it's ideal? Nah. Noble? Not really. The optimum way to be? Of course not.
But do I respect and support his awareness and honesty in an effort to avoid broken homes and divorce-related misery in the future?
Damn right, I do.
And no matter how inconvenient it feels to those who crave the same love and desire they give the person they're dating, a bit more inconvenient truth would go a long way to making this world a better one.