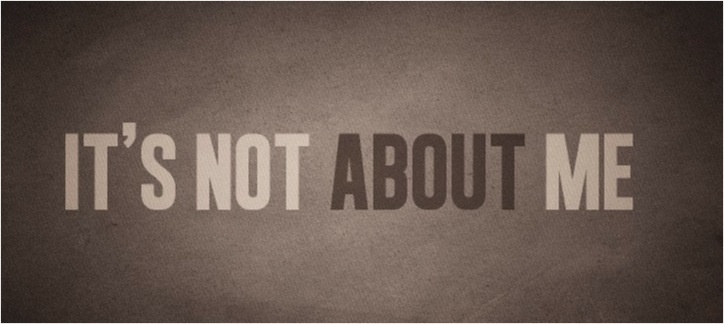 I've asked myself the question a bunch of times: How does some random guy in Ohio writing first-person stories about his failed marriage and divorce become someone who strangers reach out to for relationship advice? Why would anyone care what some divorced guy says about love or about marriage or about anything?
The answer materialized recently in the form of a random Facebook post about public speaking, and that answer is basically: Because none of this is about me.
I write about me and about things I've done and thought and felt.
And in and of itself, that matters to zero people. But because people sometimes feel alone, or like they don't have anyone to talk to, or like no one understands, something powerful happens on the inside when they find a song, or something on TV, or a book, or some random divorced guy's blog, and that thing they found makes them feel: This is just like me. I'm not alone. Someone else gets it.
It might seem like a small thing.
But it might be the most important thing in the world.
Because when the person you love is your world, or your children are your world, or your friends are your world, or your career is your world, the thing that connects you to that world and helps you bring light and hope and good things, instead of shitting all over it like a roid-raging Godzilla on a Diet Sierra Mist bender, is one simple truth.
It's not about you.
It's about them.
How a Facebook Post About Public Speaking Can be the Most Important Thing About Your Entire Life
From author and speaker Glennon Doyle Melton:
"I used to hate public speaking. I hated it because I thought it was about me. I thought it was about being amazing and making everyone think: WOW SHE'S SO AWESOME so I held my breath the whole time and tried to be fabulous and impressive.
"That's always where we go wrong.
"Life and art and work and love: They're not about showing off, they're about showing up. They're not about saying: HERE I AM! They're about saying: THERE YOU ARE. They are not just about being seen by others—they are about truly SEEING OTHERS.
"So now, everywhere I'm invited to speak, I make sure I am fully, fully prepared before I walk on the grounds. So that with the first person I meet—from the driver to the hosts to the ushers to every person in the audience and hugging line—I can be fully present. Because those who trust me enough to invite me into the day they've spent months planning are not just inviting me to be seen by their people but to SEE THEIR PEOPLE. God, it took me a while to figure this out. People don't need you to be amazing—but they do need you to be amazed. People don't even need you to be interesting—they just need you to be interested. Want to be loved today?
"THEN LOVE.
"LOVE LOVE LOVE.
"This is my speaking mantra, from the second I get out of the car: 'Glennon – Wherever you are, be the soul of that place.' – Rumi. 'Then when you get back to the hotel—you can have a cheeseburger and Bravo.' – I added this part.
"Wherever you are today, loves, be the soul of that place."
…
Want a happy marriage?
Make it about making your spouse feel seen and heard. Thank you for what you do every day. What can I do today to make her/him feel grateful for me?
Want a happy child?
Make it about them. Not toys and bullshit things. Real things. I see you, son. I care about that because you care about that.
Want lots of great friends?
Be a great friend. I'm here for whatever. You're family.
Want a happy life?
Stop trying to make it about all the ways you can be better, smarter, happier, richer, stronger, prettier, faster, thinner, sexier, taller. And maybe try making it about all the ways you can help people—those you love, and maybe even those people over there who you might if you only knew them—be happier.
…
I'm a self-centered, thoughtless human being.
When bad things "happen" to me, I can always trace it back to how I wasn't paying enough attention. Sometimes to a thing. Usually, to a person.
I've been trying so hard to make me better. But what if Life is about making things better for others? What if THAT is how we make ourselves better?
I am often making life, including the words here, about me. I think maybe writing and life are harder when I make it about me.
The writing isn't about me. It's about you.
Life isn't about me. It's about my son. My family. My friends. It's about people. It's about you.
I'm so sorry for all the times I made life about me or about things, and not about you.
…
There's a fire coming that we all will go through
You possess your possessions or they possess you
And if the house burns down tonight
I got everything I need when I got you by my side
And let the rest burn
Ashes from the flames, the truth is what remains