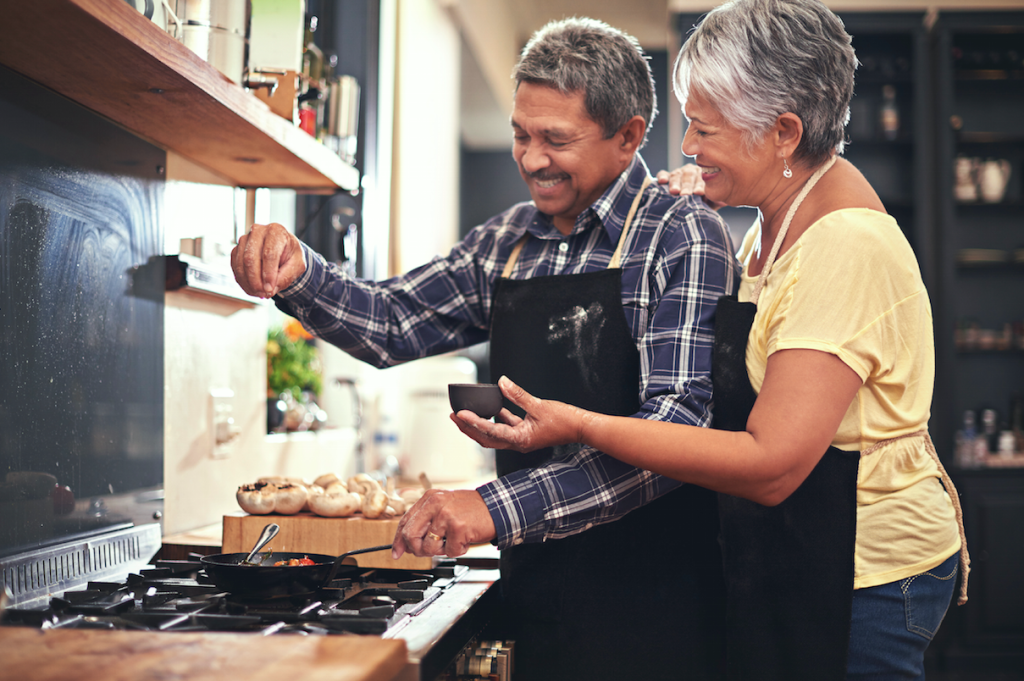 "My DH (Darling Husband) makes me want to kill him over dinner. Kill him. I don't know why 30 minutes that occur exactly the same way each day can drive us to such rage. Marriages would be so much better without dinner." – A wife, speaking for many
…
Before my wife and I were married, we sometimes fought about dinner plans.
I thought it was stupid and wasn't afraid to say so. Like: Just eat food! Who cares?! I thought.
Figuring out what to do for fun, making sure I was getting to class or work, keeping my schedule clear for Cleveland Browns football games—now THOSE were important.
Having a conversation about what we were eating later that night, or God forbid, later in the week? Who in the hell could ever know what they might want? Why would someone subject themselves to that? And why does it matter?
I didn't care. It's because I was 21, and peanut butter & jelly sandwiches, pasta with canned sauce, Hamburger Helper, fast food, pizza, Chinese takeout, and boxed macaroni & cheese weren't just acceptable—they were awesome.
But she cared. "We can't eat the same three things every night. People eat dinner, Matt. Eating dinner requires a little thought as to what might be needed from the store to make those meals."
It all came back to me while reading this comment on an internet message board:
"My H seems to think that dinner is magic and just shows up. No planning, no groceries required, etc. When I ask him on Sunday at 8 a.m. what he wants for dinner, he gets all annoyed. Um, I have to defrost or go to the store. Thanks," she wrote.
I remember getting annoyed about things like this, too. I'd be watching or reading or playing something, and then my girlfriend/fiancée/wife would have the audacity to ask me what I wanted to eat for dinner.
Sometimes the easy and delicious path of least resistance like ordering pizza would win the day. Other times it wouldn't because she wanted to, like, eat vegetables and stuff.
…..
Shameless Self-Promotion Note About My Coaching Services

I started coaching in 2019. Clients and I work collaboratively through current and past relationship stuff in order to improve existing relationships or to prepare for future ones. Other clients are trying to find themselves after divorce or a painful breakup. We talk by phone or video conference. People like it. Or at least they fake it really well by continuing to schedule future coaching calls and give me more money. If you're going through something and think I might be able to help, it's really easy to find out for sure. Learn More Here.
…..
On the list of Common Marriage Domestic Disputes I perceive wives to be "right" about that accidentally selfish shitty husbands should come around on if they want to stay married, Dinner was the first one to rear its head in my relationship, and one of the few I actually did a decent job of adjusting to through the years, but maybe that's only because I have a legitimate passion for cooking.
Dinner is one of those things that starts the long, slow, nearly imperceptible fracturing and eventual breakup of marriages.
It seems like such a harmless and innocuous topic. An argument about dinner? DINNER?! That's one of those topics boyfriends/fiancés/husbands get pissed about once it transitions from Typical Disagreement to Actual Fight.
Ummm. I LOVE you. LOVE. Stop starting fights over stupid crap like food! Your warped sense of reality is really disturbing!
We do love them, us oblivious guys. But we also think anyone who would FIGHT over what to have for dinner has serious issues. We think we're cool for giving her a pass. We think we're loving for staying with her even though this is one of those "batshit-crazy" moments.
…
Because someone linked to one of my posts in a message board thread, and I clicked on it to discover what it was about, I stumbled on this GBCN (Goodbye Cruel Nest) thread where the original poster asked the community if she was overreacting to a situation with her husband.
The quick-and-dirty version is that she does most of the domestic heavy lifting around the house, mostly taking care of their daughter, and mostly always taking care of housework and dinner prep. For a short time, their routine was interrupted when on Tuesdays, she couldn't get home until 8:30 p.m. instead of the typical 7 p.m.
When she'd come home and there was no food prepared or thought put into dinner, she asked if he could do that moving forward, and was surprised he hadn't thought of it on his own. For a few weeks after, he did.
Then, another Tuesday rolled around, and when she got home—no dinner. He forgot, he said.
"It just seems very 'clueless husband' to me to be all 'oh, dinner? you don't say!' especially after I have laid out my expectations to him in the past," she said.
…
I started reading through the thread.
I was struck once again by how common these Shitty Husband traits seem to be. I thought it was interesting how many wives reported "We're married to the same husband!" but it didn't really surprise me because these patterns emerge in divorce story after divorce story to the point where it all starts to look depressingly predictable.
Five different wives (speaking for many!) said essentially the same thing:
"I would be annoyed but that sounds like my husband exactly."
"I would be mad, but this is totally something my H would do."
"In short, yes it would drive me crazy, because I've seen it happen in my house before. But I'd probably just remind him ('nag') over and over in the future."
"My husband is lovely, but spacey sometimes, so I find it most effective if I articulate expectations."
"If I don't spell it out, he's clueless. He admits this and welcomes a list so he knows what to do. Why stuff that is so simple to us is so difficult for them, I'll never understand."
…
This is hard for wives to understand sometimes, and I don't know how to explain it, but I've tried. I don't know why it's so common for men to be oblivious, thoughtless and clueless about things like this.
Probably some combination of parental enabling while growing up and poor boundary enforcement from their partners early in relationships.
Divorce. It's What's for Dinner.
Will she REALLY leave you, break up your family, and start a new life because you leave dishes by the sink?
Yep.
And she'll do the same thing over your failure to help with dinner.
"It would bother me immensely. IMMENSELY." – A wife, speaking for many
And divorce is so much shittier than meal planning. It really is.
…
The original author of the dinner post asked whether her anger was justified. Like, borderline-divorce-level pissed.
82% said yes. 93% said yes or maybe.
"The helpless husband act makes me rage. A grown man should be able to use his own brain and realize dinner is a thing that he needs to take care of." – A wife, speaking for many
When husbands blow off their responsibilities around the house, no matter how innocent the inaction was, nor how irrational they consider their wives to be, they make her feel one of two things: Rage or Like His Mom.
As those experiences pile up, things tend to end badly.
Bad News—You Don't Get to Dictate What Matters to Other People
I don't know whether it's because I was smart, but immature and unwise; or because I was a monumentally huge asshole with zero self-awareness; or because I was actually a dumbass moron, but I used to think my opinions about things were a fair metric for evaluating situations and how I should treat people.
I think I still do this, but tend to recognize it much faster than never, as was the case back then.
My wife was upset about DISHES. How petty! I'm right and she's wrong, so now I don't have to care about the thing that's upsetting her!
My wife was upset about DINNER. Her capacity for love is smaller than mine, therefore SHE is the one who sucks! I know how to really love in marriage and she doesn't as evidenced by her valuing silly things like meal planning!
The crash back to earth is painful and embarrassing, but I'd encourage everyone to try the life strategy of not automatically assuming you're right about everything, which forces you to assume the worst about the intellectual and emotional capacity of everyone who disagrees with you.
It's not a good thing, especially since you're probably wrong.
…
My wife wasn't REALLY upset about the dishes.
"Guys, the point isn't that [she] and her H could eat a quick dinner. It's that she cooks on 'her nights' (i.e. every night they don't eat out) and he doesn't even think of dinner if she doesn't remind him. It is not on [her] to come up with quick easy meals because her H can't/won't cook." – A wife, speaking for many
My wife wasn't REALLY upset about the dinner thing.
"I feel like we are giving the H all these excuses for why there was no dinner. We are giving him an excuse that maybe dinner isn't important to him or not something he cares about.
It doesn't matter. It was important to [her] that she eat. So even if she came home and he said 'here honey, I made you a bowl of cereal' at least it showed that he considered that she may want to eat. He didn't even consider her needs. She got home and mentioned dinner and he acted like she suggested they paint the living room
Sometimes I make some dinner for my [daughter] and I and I know it won't last for reheat but I always ask my H when he will be home or I suggest he get something at work because I didn't make him anything. I always consider his empty stomach." – A wife, speaking for many
My wife was upset because when I had numerous opportunities to demonstrate—not even GOOD partnership—but simply EQUAL partnership which would have almost kind of-sort of come close to giving her as much as I was receiving, I didn't.
It wasn't intentional.
That was always my defense. Accidental neglect.
Accidentally killing people isn't nearly as horrible as intentionally murdering them, but the result for the innocent victim is always the same.
A husband must learn to see past the dirty dish, and see past the forgotten or neglected dinner.
A husband must learn to anticipate needs, and actively care and empathize enough to take action, no matter how inconvenient.
That's what it looks like to shovel the coal necessary to keep the train moving.
Unless, of course, he really misses eating those peanut butter & jelly sandwiches alone every night.