What do women want?
I think many guys started kicking the question around long before possessing the intellectual capacity to connect those random and inconvenient erections to their sexuality.
What will make her like me?
Because that's really important to us when we're young. Is it because we like being liked? Is it because we like feeling accepted by another in a more intimate way than platonic friendship? Is it because we think it's cool to have a girlfriend, and maybe our guy friends will respect us more, and the other girls will want us more?
But I think these are questions that, to varying degrees depending on an individual's particular circumstances, men ask themselves constantly. I perceive the vast majority of (heterosexual) men, regardless of their relationship status, to crave the He's Attractive to Me label from as many women as possible.
I believe we view it as a measure of our self-worth. That if women find us attractive, we've really accomplished something. Men have been known to crave financial success, social status, material accumulation, career advancement, fame or recognition, respect, achievement in athletics or other competitive ventures, and physical fitness.
There are MANY good and virtuous reasons to crave some or all of those things.
But I think when we scrape off all the Pretending, we'll discover that the ultimate motivation is usually: "I want women to think of me as attractive and want me, sexually. Because that's what will most improve my status and standing in the eyes of others. And what other people think of me is very important and influences all of my decisions."
…
What do men want, and what will make him like me?
I don't know how girls commonly experience this attraction/social/sexual awakening, nor how much they value what boys want and why, nor to what extent that carries through to adulthood.
But there appears to be little room for doubt that most women share, while perhaps framed differently and motivated by different wants or needs, men's cravings for romantic and/or sexual interest, and care intensely about how others perceive them.
Is Beauty REALLY in the Eye of the Beholder?
If you don't get obnoxious with the spiritual meaning of the proverb as I just did, I really like it. "Beauty is in the eye of the beholder" is an adage made famous by the philosopher Plato, or William Shakespeare, or author Margaret Wolfe Hungerford, depending on which random internet source you believe.
The phrase suggests that beauty cannot be judged objectively, for what one person considers beautiful, admirable, interesting, or valuable, will not necessarily appeal to another person.
But its spiritual meaning is that everyone gets to decide for themselves what's awesome or not-awesome. It means our children's objectively shitty grade school artwork is more beautiful and meaningful to us than something offered from the fine arts community. It means that mangy rescue hound from the shelter missing his right eye and which walks with a limp looks more beautiful to its owner who adopted him than all those fancy-pants dogs prancing around at the Westminster Dog Show.
And I like that.
But, it has a kind-of dark side, too. One which makes me really uncomfortable because it's part of The Big Secret Lie most of us buy into, and which seems to cause the majority of our mental and emotional problems in adulthood (which are at the very core of all of our relationship problems—exacerbating all of the rejection, self-worth, anxiety and mental health issues which wreak havoc on our relationships and families, ultimately perpetuating the Cycle of Horribleness).
In the framework of human worth and attractiveness, if beauty is in the eye of the beholder, then that STILL means that other people have the power to define what is and is not attractive. It means other people have the power to determine another person's worth. If beauty is in the eye of the beholder, then that means other people get to tell us who and what we are.
If Person X finds you beautiful, but Person Y labels you ugly, are you beautiful or ugly?
If Person X finds you worthy, but Person Y says you're unworthy, are you worthy or unworthy?
If Person X says you matter, and Person Y says you don't, do you matter?
Who Gets to Tell Us Who and What We Are?
There is a fantastic conversation happening beneath the Our Marriage is a Steam Train post about how we define what is masculine or feminine, and to what extent men struggle with their identities RE: Being a Real Man.
Active commenter Travis wrote: "Frankly, I don't think we'd have the common stereotype of 'women love bad boys' if men who exercised their muscles of emotional investment and accepting influence were what they really hungered for."
Lisa G. wrote: "I remember reading about experiments where a woman was crying in a public place and several people stopped and asked if she was ok. Then they repeated it with a man and no one stopped, they even looked away. It's all so horribly depressing the messages we give men to not be allowed to express a full range of human emotions."
Another from Travis which really gets to the heart of the matter: "I found… a fair amount of scientific studies that support my assertion that women are repelled by men who display the very same 'nice, sweet, sensitive, vulnerable' characteristics they say they want in us."
He shared Elite Daily's 5 Scientific Reasons Why Women Just Won't Go For The Nice Guys, which I suspect will, in some form or fashion, ring true for most readers.
Are women genetically hard-wired to want assholes because so-called Nice Guys are boring?
I'm staying away from pretending I know a thing about biological science.
More importantly? I don't think it matters.
Why? Let me ask it again: Who gets to tell us who and what we are?
RE: Attraction
We are attracted to whatever we are naturally attracted to.
People commonly accept or reject the romantic or sexual interest of others based on two things, one of which is natural attraction and perceived compatibility, and the other which is based on what we perceive others' opinions to be about those choices.
In other words, you like whatever you like for whatever reasons you like them. Who knows why? You just know it when you feel it.
That's primal.
But you make deliberate choices about personal traits you consider attractive based on a different set of criteria. Ideally, our long-term partner will foster feelings of primal-want within us, but we're attracted to so many more things.
As adults, those are ideally rooted in shared values and mutually respectful boundary enforcement so your life doesn't suck.
But people are ALSO attractive or unattractive to us based on that little nagging voice in the back of our minds. What will my friends think? What will my parents think? What will my extended family think? What will my co-workers think?
Psychologically and emotionally healthy people with strong boundaries don't make decisions like that, of course. But most of us do.
I know personally at least three men who dated or married women (one started a family!) only to later divorce after coming out as gay, and then living as an openly gay man thereafter.
I won't pretend to know every thought that went through these guys' heads when they made the choice to couple with women, but one assumes it was done in the spirit of "What will everyone think of me?!"
KNOW THYSELF
Not to go even further down the nerd rabbit hole than usual, but it dawned on me within the past year or two that I'd misinterpreted a scene in one of my favorite movies for the past 15 years.
In The Matrix, the story's hero Neo walks into a kitchen where he is to meet a spiritual guide of sorts. She is known as The Oracle. Neo has been told he is someone very important. The prophecies refer to him as "The One." But he feels just like a regular guy. He has the power to save the world, he is told. But he can't figure out how or even whether to believe it. The Oracle is supposed to help him achieve The One status.
He and The Oracle lady exchange pleasantries, and then she asks him the question which begins an exchange I spent years not understanding despite many repeated viewings.
Oracle: "So, what do you think? Do you think you're The One?"
Neo: "I don't know."
The Oracle points above the door Neo used to walk into the kitchen. It looks like this: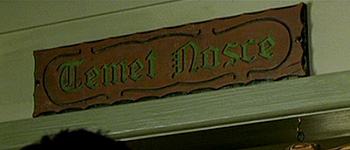 Oracle: "You know what that means? It's Latin. Means 'Know thyself'. I'm going to let you in on a little secret. Being The One is just like being in love. No one can tell you you're in love, you just know it. Through and through. Balls to bones."
She kind of gives him a little once-over, looking inside his mouth like a doctor would a patient in a basic check-up.
And then they have this exchange:
Oracle: "Okay, now I'm supposed to say, 'Hmmm, that's interesting, but…' then you say…"
Neo: "But what?"
Oracle: "But, you already know what I'm going to tell you."
Neo: "I'm not The One."
Oracle: "Sorry, kid. You got the gift, but it looks like you're waiting for something."
Neo: "What?"
Oracle: "Your next life, maybe. Who knows? That's the way these things go."
…
Spoiler alert: Neo is totally The One.
So why did The Oracle say he wasn't? Was she high on crack?
I just never thought about it correctly. I have a real problem with that sometimes. About everything. Maybe lots of people do.
When it's later revealed that Neo is, in fact, the badass with world-saving abilities, he's as confused about it as I was.
But it's cleared up for him, and the simple answer cuts to the heart of this discussion on attraction and gender identity, and how much or how little others should be able to define us.
No one can tell you who you are.
Am I Good Enough?
That's the very question on which this blog was founded.
When you love your spouse and want to stay married, but they would rather suffer the many consequences of divorce more than live with you even one more day, you lose your very sense of identity.
To be sure, our spouse's opinion of us should probably rank higher than that of others or what we assume society at large believes we should be.
I think the conversation about what men and women find attractive, and how society judges men and women relative to stereotypical standards, and how that ultimately damages our interpersonal relationships is a worthwhile conversation.
Until men are allowed to be vulnerable without facing sexual rejection, how can we expect men en masse to pursue emotional intelligence in this macro fight against dysfunctional relationship dynamics?
We probably can't.
But, as individuals?
Not all men or women. Just one.
Just me.
Just you.
Who gets to tell you who you are?
Because in my battles with insecurity, anxiety and feelings of inadequacy as the clock wound down on my marriage, and then in my dating struggles as I carried all that baggage into single adulthood, I was asking all of the wrong questions.
Am I smart enough?
Am I handsome enough?
Am I rich enough?
Am I funny enough?
Am I talented enough?
Am I tall enough?
Or, more simply…
Am I good enough at [insert whatever thing here]? Am I worthy of her attraction?
I've been doing this for three years.
In the first year, I wasn't good enough. Because I knew that I wasn't.
In the second year, I wasn't good enough. Because I didn't think I was.
In the third year, I discovered that I am, indeed, good enough. Because I know that I am.
Like I KNOW that you are.
And if you don't know it too, then I guess you're not good enough, even though I already know that you are.
What are you waiting for? Your next life, maybe. Who knows? That's the way these things go.