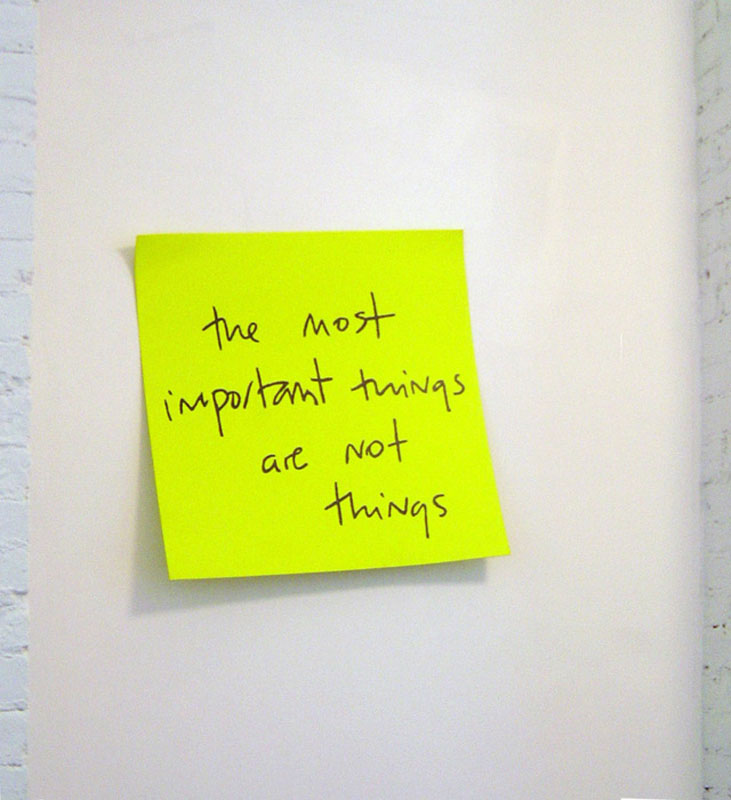 As a child dreaming about the future, I imagined myself in life scenarios I believed would make me happy.
I dreamed of being an adult. Independent! Freedom to do whatever I want with my own money! I thought going to a job and being paid for my time would be better than going to school and hanging out with my friends every day. I thought having my own house would be better than living with adults who could restrict my choices. I thought having my own money would be better than my parents financially fulfilling life needs and occasionally just giving me some.
I dreamed of owning a big house. I won't even want to go on vacation if I live in paradise every day! I didn't know I was hopelessly incapable of keeping even an average-sized three-bedroom house clean and properly maintained on my own. I didn't know about hedonic adaptation, and how we all adjust to every positive life change over time, and then it stops feeling as awesome as when it first happened or something was new. I didn't know that could also happen to rich people who could buy anything they wanted.
I dreamed of fun things like having season tickets to all of my favorite Cleveland pro sports teams. I can go to every game! Awesome! I didn't know how much I wouldn't like hunting for parking spots downtown, or sitting outside in the cold for hours, or how watching games at home in 2016 would in many ways be a superior experience to driving to the stadium or arena; nor did I know how much my emotional attachment to my favorite teams would fade as life introduced me to new things to care about.
Some People Think Relationship Stuff is Dumb
They don't care. It's simply not on their radar.
I was out with friends recently. We were kicking around some important relationship ideas over beer and food when Jeff sitting to my left used a pause in the conversation to ask Ryan for his thoughts on the Batman v Superman movie. We all laughed and joked about Jeff's less-than-subtle conversation pivot to something which didn't bore him to death. But move on to comic-book movie discussion, we did.
One thought stuck with me: If Jeff's wife ever decides to divorce him, he's probably going to care so much more about the conversation we just had than he will about movies.
…
My divorce not only put me on the path to understanding how common human behavior leads people who were once in love to dislike each another so much that they're willing to go through life's second-most stressful event (according to the Holmes and Rahe Stress Scale) in order to get away from their spouse; but also helped me achieve what I feel is a more appropriate and healthy perspective on life—one which prioritizes THINGS THAT MATTER.
Everyone will decide for themselves what matters to them. There are no universally right or wrong answers.
But there is strong evidence that most people are incorrect in their guesses about what will make them happy, and that elderly people who die slowly but alertly on their proverbial deathbeds express many of the same thoughts and regrets in their final hours of self-reflection.
How to Live a Regret-Free Life
A Hospice nurse interviewed several dying patients in an effort to compile commonly shared wisdom about how to live a life free of regret. Money, Career, Fame, Big houses, and Cheap sex were all conspicuously absent from the list, which actually looked like this:
1. Live a life true to yourself; not the life others expect of you.
2. Don't work so hard.
3. Express your feelings courageously.
4. Stay connected to friends.
5. Give yourself permission to choose happiness.
…
Perspective is really important.
That guy who just cut you off dangerously and rudely in traffic is a huge asshole who needs to learn how to drive, UNLESS we later discover he was rushing to a nearby hospital because his small child was undergoing emergency surgery and he didn't know whether his little son or daughter would live or die.
When I was in my late teens and 20s, I despised "little-kid" things. Like Barney or The Wiggles or going to some elementary school performance where a bunch of kids who don't know how to keep their shirts tucked in properly and are objectively terrible at singing and dancing are supposed to entertain me by singing and dancing.
You suck, little kids!, the younger me thought.
But then I became a dad. And watching his favorite kids' shows is now (usually) a fun thing to do. Attending his little-kid school performances is (always) an absolute must.
Perspective.
Interview a hundred men and ask them what they want out of life, and a common refrain will be: "Success."
Ask them to define Success, and you'll get a bunch of different answers. I won't pretend to know how other guys define it. I only know that it's common to observe in men the tendency to avoid any activity or situation in which he perceives a high probability of failure—like how I'm afraid to go skiing in front of a bunch of strangers, or to play in a golf tournament if I don't know what to expect from my swing after not playing for a while.
This Men Avoid Failure Thing is important in the context of a man's marriage or dating relationships. Men often withdraw and/or actively avoid conflict in their relationships. We do this because our experience has taught us that we cannot succeed by having the hard relationship conversations. (Not because it's not possible, but usually because we're unskilled communicators lacking profoundly in the empathy department, so we just keep having the same fight over and over.)
Maybe that's not just a guy thing. I don't know.
Our Relationships Matter Most
I've written it a hundred times: I BROKE after divorce.
My head and body physically hurt. There was chest tightness and constant feelings of stress and anxiety that never really went away unless I was asleep or intoxicated. When I slept, I had bad dreams. When I drank, I blabbed constantly about divorce to both friends and strangers, and probably made everyone uncomfortable.
When your mind and body betray you every second of every day, NOTHING in life is good.
Work sucks. Parties suck. Dating sucks. Even spending time with your child sucks because it's a constant reminder of your failings and the undeserved life sentence you just gave him.
Until I felt how true misery poisons, or at least clouds, every life experience, I never truly realized the importance of Mental, Physical, Spiritual, and Emotional health like I do now.
…
Mental health and addiction are huge factors in accidental deaths and suicides, and I'm woefully ignorant about and unqualified to discuss them.
But assuming some of these people took their own lives to simply get rid of the hurt, I think it's a worthwhile exercise to realize that people who "succeed" and who are "loved" and who experience great fame and fortune and accolades ARE JUST LIKE US. Many of them had everything marked off on the Things I Believe Will Make Me Happy checklists shared by so many of us. But for reasons we can't fully understand, they were so miserable they intentionally killed themselves or consumed enough drugs to end their lives.
Robin Williams. Philip Seymour Hoffman. Whitney Houston. Heath Ledger. Kurt Cobain. Hunter S. Thompson. Tony Scott. Ernest Hemingway. Marilyn Monroe. Junior Seau. Don Cornelius.
It's staggering.
Until I first experienced true isolation, I never truly understood the critical role our human relationships play in our overall life experience. I'd taken it for granted every day because I'd always had it. In the context of our earthly lives, nothing is more important. You know it when it's gone.
Perspective.
…
We neglect our intimate relationships and our families and our friendships in pursuit of "succeeding" at other things. Our jobs. Our hobbies. Our competitions.
And then sometimes we "succeed," but no one's around to share the success with.
And then sometimes we get old and die, lonely and afraid.
And perhaps all because of something as sneakily simple as HOW we thought about our relationships and what the word "success" really means.
Like many previous life lessons, it was one I had to learn the hard way. Maybe some others won't have to.
Because it's never too late to put our focus over there instead of over here.
Maybe that's where we'll find what we're looking for.