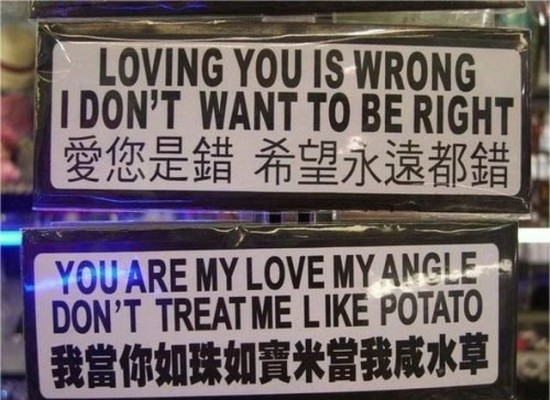 I wrote a post exactly three months ago today which was so popular and relatable to the average married couple that several million people read it.
It's so popular that it has remained the most-read post on this site every day since, quadrupling MBTTTR's daily traffic from pre-"dish" post levels.
The reason it became popular is because people read it, recognized their own lives, and wanted to share and talk about it with others.
And even though She Divorced Me Because I Left Dishes By the Sink mattered so much to so many, it yielded and continues to elicit radically different reactions from readers:
"I like that this guy got to the deep issue of respecting his wife. It takes a lot of self-reflection for a man to understand that little things like this can really hurt a woman."
"This will contribute to saving my marriage. I read it, felt like I understood him better. Then read it to him, and now (I think) he understands me better. Thanks!"
"This article is a heap of stink. A woman divorces a man because of him not putting a glass away makes her feel insecure and not loved. It may make her feel that way but to the point of no return and a broken marriage? Get real."
"Your wife's petty and you're justifying it to your own detriment."
Some readers identified with my ex-wife. Others identified with the me from five years ago. And another group thought the entire thing was a huge time-waste.
Millions of people read the exact same words, but describe it differently.
Millions of people see a dirty glass sitting by the sink, and describe it differently.
Sometimes, when two people describe the same thing differently, they will debate who is correct. "I'm right. You're wrong. Let me explain why since you have a small, idiot brain."
One person sees the dish and KNOWS it's a freaking dish sitting by the sink. No more, no less. If one of the cars got wrecked, or one of them became terminally sick, or a Nigerian 419 scammer cleaned out their bank account, the last thing either of them would care about is a dirty dish.
The other person sees the dish and KNOWS it's a thoughtless, disrespectful, negligent act of emotional abuse, and if repeated enough times, will be the death of their relationship. And what could be more important to a couple who shares homes, beds, resources, children—entire lives—than to protect that relationship?
It's a matter of perspective. A matter of mutual respect. A matter of the life skill I perceive to be the most-influential factor in which couples make it, and which do not: Empathy.
I'm Either Sexist, Racist and Anti-Semitic, or… I'm Not
Yesterday, I published a post titled "Empathizing with Hitler…" and I think a bunch of people freaked out about it but didn't say anything, maybe because I've built up a bunch of goodwill credits with them.
I think it is probably the most important post I have ever written, and it had an intentionally shocking headline, yet low readership and engagement, and I think maybe it's because many people saw those words, jumped to conclusions, and chose to do something else.
Including the words "Empathizing with Hitler" in the headline was probably unwise. But when the goal is to help a man understand what the word empathy REALLY means, and what empathy REALLY is, I find the headline totally defensible, and still haven't decided whether I'll change it.
I do not empathize with one of the biggest mass murderers in world history. I do not in ANY way condone, respect or agree with his political and ideological beliefs or actions.
I simply thought a guy like me might be able to read it and make the connection I wanted him to make: Empathy probably isn't what you think it is. Here is what it ACTUALLY is. Even evil mass murderers can find people to empathize with them. Because empathy is not a feelingsy emo noun, and you don't have to feel like a "girly pussy" for being empathetic. Empathy is a SKILL. An action. We empathize when we relate to other people in a way that connects us like we do with our high school sports teammates, or childhood friends, or other people in our hobbyist groups who like all the same things we do. We FEEL "me too" and that creates an important connection. It's EASY to do with people who agree with us on everything and like all of the same things we like. And it's REALLY HARD to do with people who disagree with us and have different goals, like our wives and girlfriends sometimes do. Which is why if you don't want to lose your wife and kids to divorce, it will make your life better to become a stud at deliberate empathetic behavior.
…
I despise the term "African-American" as a generic label for black people (unless I can be certain the people are actually American).
We don't call white people "European-American" even though most Caucasian American's ancestors were European. I don't know WHY we don't say "European-American" but one good reason would be because that white person sitting over there might have grandparents from Australia, or New Zealand, or South Africa.
Ever see actors Idris Elba, Chiwetel Ejiofor, or Lenny Henry in a TV show or movie? They all have fantastic American accents, so if I didn't know they were British, and then saw one of them at LAX, maybe I'd elbow my travel partner and say: "Hey! Look! That's totally Stringer Bell from The Wire!"
"I didn't watch The Wire. Who are you talking about?"
"The African-American gentleman standing at the gate directly across from us."
"Oh! That's Idris Elba from the show Luther! He's in lots of stuff! He's actually not American. He's British."
And now, even though I was trying to be sensitive or whatever, I was actually being an ignorant and presumptuous D-hole.
…
One of the many blessings of the "dishes" post doing its thing and growing readership here, is that I have a handful of new people I've been able to get to know through the comments.
One of the most awesome is a Gottman fanatic named Lisa. And earlier today, she asked the following:
"As you know, I write all these annoying comments about how men and women are not as different as presented. That many of the things you describe are human and not really at their core pink and blue experiences.
"I fully acknowledge it's important to understand nature/nurture reasons men and women see the world differently in the same way it is important to understand why blacks did whites see the world differently. But I think it is damaging to our common quest to help men do the hard work of learning empathy skills to perpetuate the idea that men and women are just fundamentally different in more ways than we are alike. I think the opposite is true and it makes it easier to empathize with someone you view as essentially similar even if the details are different.
"The underlying human needs are the same, we all want to feel respected and valued. Anyway, I empathize greatly with your own personal journey. I'm constantly humbled by my own inability to let go of my sense of rightness to empathize with others' points of views. I greatly enjoy your blog and 'seeing' you transform your understanding of relationships. It inspires me to keep learning and struggling to change to be a more emotionally intelligent woman."
…
At no point in reading this did I feel as if Lisa was attacking or criticizing. In fact, I'm certain she has my best intentions at heart and wants me to be the best-possible person and writer I can be, both for me and for anyone who might read things here.
I nonetheless felt a few pangs of diet-PTSD following the explosion of the "dishes" post.
Because of my personal experiences and worldview, I have written MANY posts through the prism of Men Commonly Think and Feel This & Women Commonly Think and Feel That, which several people have suggested is, or explicitly labeled it as, sexist.
Maybe it is. I haven't decided yet, but I'm never afraid of asking myself hard questions and challenging my own beliefs. I'm also not afraid of explaining why I think and feel things, which is why shortly after the "dishes" post, I wrote I Guess I'm a Little Bit Sexist.
Lisa said, "…I think it is damaging to our common quest to help men do the hard work of learning empathy skills to perpetuate the idea that men and women are just fundamentally different in more ways than we are alike. I think the opposite is true and it makes it easier to empathize with someone you view as essentially similar even if the details are different."
Why I Write the Way I Do
I might be getting worse at this as I grow more confident in my personal understanding of human psychology and emotional health, but my goal has never been to tell someone else how to think or what to believe. Not ever.
My goal is to accurately explain what I believe, how I arrived at those beliefs, and WHY I still maintain them. I'm not afraid to be wrong because if someone can demonstrate that I am, then I get to eliminate another false or incorrect belief and be a smarter, better human being afterward. Everybody wins.
I'm confident that when I say: "I think this, and I think this because…" that I'm reasonable enough that many people will agree with me, or at least understand me, which is enough. (Empathy!)
I don't believe it is sexist to say that men and women are different. I think cars and trucks are different. Both machines are vehicles. But they are different kinds of vehicles. One is not better than another, though depending on the application, one might be a more appropriate choice.
Being different IS NOT the same thing as having more or less value.
Men are generally stronger (in terms of physical muscle mass only) than women. Men tend to demonstrate stronger spatial skills. They usually have penises.
Women generally demonstrate greater academic proficiency, better memory and stronger social skills. They usually don't have penises.
Different. NOT better or worse. Simply, NOT the same.
And that gets complicated because the word "same" and the word "equal" can be synonyms. And there is NO question that women have long had to fight for equal treatment in too many life areas to list.
And women who have been fighting this exhausting fight in mind-blowingly subtle ways every day of my life sometimes take issue with me framing my stories through the gender divide.
I'm not insensitive to, or oblivious of, that fight.
…
Maybe this won't always be true, but from the moment I wrote the first An Open Letter to Shitty Husbands post, this blog has been about ONE thing: Helping married people stay married if they want to.
I wanted to stay married, but everything was shitty and broken, and when I took a super-honest and uncomfortable look at my life and choices, I realized I always possessed the power to prevent my divorce, had I made better choices. Marriages don't usually end from one loud and bright defining moment. They end from a million little moments so subtle and seemingly insignificant at the time that most of us don't remember them.
Today, I think I know a lot (not relative to brilliant PhDs and therapists, but relative to the common man) about relationships and how they fail. People have shared thousands of stories with me, so now it's easy for me to identify typical patterns because I have such a huge data sample.
Here are my non-scientific conclusions:
Husbands commonly make certain mistakes in marriage, and even after his wife expresses disappointment several times, he still will continue to make the mistake not realizing how important it is that he stop (if he wants to stay married and truly loves his wife—which I believe most husbands do).
Wives commonly feel the same feelings as other wives resulting from the same types of behaviors from their husbands.
Husbands commonly express thoughts and feelings to wives during fights which mirror those of other husbands in other marriage fights. It's common for wives—whether they live in New York City or a little town in South Dakota or Canada or South Africa (my experience is limited to English-speaking countries)—to reply to those common husband arguments in ways similar to other wives all around the world. In other words, in my experience men predictably display certain communication habits and thought processes while women predictably display different and conflicting ones.
Dr. John Gray got super-famous in the early 1990s when he published Men are From Mars, Women are From Venus (which I've never read) because this metaphor made sense to millions of people. I'm assuming the ideas in the book saved a bunch of relationships. I can't be sure.
I was Common Husband Guy every day of my life until some random day during my 18-month stint of sleeping in the guest room while my marriage died slowly and painfully. Finally, the discomfort of my life outweighed my stubbornness and pride, so I began a search for answers.
I read a bunch of things on the internet. I had lots of private conversations with husbands and wives. I went to the bookstore to grab books that I thought might help me find some answers.
Standing in the "My Marriage is Totally Screwed and I'm Obviously a Piece of Crap Husband" section of my local bookstore, I spotted How to Improve Your Marriage Without Talking About It. I'd never heard of it or the authors. I went home that night and started reading it.
It blew my freaking mind, because page after page was explaining my marriage to me.
The truth hit me hard and fast: If this book can so accurately explain why my marriage ended while providing examples of how things I did and said hurt my wife, while things she did and said hurt me, and we both slowly drifted apart, then that means this must happen to other people all the time.
That is the moment I subscribed to Men Often Do This, and Women Often Do That, and it helped my brain make sense of things.
…
Maybe men and women are different because of a gajillion years of cultural influence, socialization, societal beliefs, etc.
Maybe men and women are scientifically hardwired to internally operate differently. That doesn't seem THAT hard to believe to me that biology could be a factor. One has a penis. One has a vagina. One isn't necessarily better than the other. They're just, different.
I'm not sure the Why matters to me.
Recently, I've concluded that I'm committed to continuing my personal education on gender differences because I'm interested in the pursuit of truth, and I don't want to spread ignorance or perpetuate myths, ESPECIALLY if they're needlessly offensive or demonstrably untrue.
But my goal remains the same: To help men be better men and better husbands, because that will help them stay married.
I focus on men, because I'm convinced—no matter what the reasons may be—that women ARE better than men at competently demonstrating relationship skills. I think men accidentally self-sabotage themselves and their marriages, and are in turn mostly responsible for our world's staggeringly high divorce rate.
And I think if I tell my story, through my eyes as Common Husband Guy, that some percentage of male readers will see themselves in the story as I did while reading the How To Improve Marriage book back in that guest room.
…
I know that women must practice empathy every bit as much as men should. But I also believe they're (generally!) already better at it than their husbands and boyfriends. And I'm thoroughly convinced they don't mind discussing it and trying to better understand it.
But I think men might mind discussing it. I think men might resist trying to better understand it.
Because men will go to great lengths to never appear weak. Great lengths.
And the truth is, we're all weak sometimes. Some are just less honest about it.
The day everyone learns how important empathy is to their quality of life will be the day much of this stops being a problem.
Because the presence of weakness is simply another opportunity to strengthen something. And when we make enough pieces strong, we get to come out of hiding, stop faking it and walk tall.
Not like men or women. Like people.
Not like you or me. Like us.
One.
Indestructible.
…..
Like this post? Hate it? You can subscribe to this blog by scrolling annoyingly far to the bottom left-hand corner of this page and inserting your email address under "Follow Blog via Email." You can also follow MBTTTR on Twitter and Facebook.