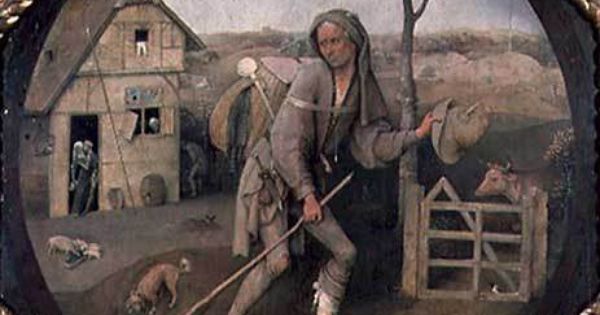 There was a wealthy farmer with two sons.
The younger son, dissatisfied with his boring life, went to his dad and asked for his inheritance early. The request was demanding and entitled. It would have been interpreted at the time a little bit like he wished his father was already dead.
Then the young man, armed with a lot of money, left home, abandoned his family and their business, traveled far and wide, and lived lavishly.
Fancy clothes. Expensive meals. Wild parties. Lots of sex.
He did that every day until he ran out of money right around the time the economy tanked and weather patterns decimated regional crop farming. Widespread famine took hold.
The rich, entitled kid had nothing left. No real friends. No viable job prospects. And now there was a food-shortage crisis, so he couldn't find food.
With no other options, he would have to return home, tail tucked between his legs, and beg his father to let him come back. He didn't expect a warm welcome. He was going to ask his dad to hire him as a farmhand to work the land, and sleep in one of the barns with the farm animals.
But to the young man's surprise, that's not how it went down. When his father heard word that his wayward son had come home, he dropped everything and sprinted to him.
Instead of admonishing him for being so selfish, foolish and irresponsible, he hugged him tight with tears of joy, expressing his love and gratitude for his safe return.
Instead of punishing him for abandoning the family and his responsibilities to waste a small fortune on excessive living, he threw a massive party to celebrate his child's return.
The older brother was pissed. While his idiot brother was out burning money on wine and prostitutes, he had stayed home and dutifully tended to the family business and was an all-around respectful and obedient son.
No one ever threw me a party for doing the right thing!, he thought.
He went up to his dad and said what most of us would: "Umm. Dad. This is total bullshit. I've been right here doing all the right things all these years while that douchebag was off wasting his entire fortune on drunken orgasms. Then he comes home, and we treat him like the conquering hero? Where's my party, dad? Where's my 'Atta Boy?"
The father understood his elder son's frustration, but said simply: "Celebrating your brother's return is the right thing to do. We thought he was dead. But here he is, alive. He was lost. And now he's been found."
…
Anyone even loosely familiar with the bible knows that story. It's the parable of the Prodigal Son—a story about redemption. My favorite kind. It's supposed to symbolize the endless mercy of God, personified biblically as a loving father.
But it's also the best story I know which addresses the thing we need to talk about, because I think maybe a lot of people don't know what it really means. And I think maybe that lack of understanding is ruining their marriages; their relationships with children and parents, with siblings, with friends, with neighbors, with co-workers, and everyone else:
Unconditional love.
Because We Care What Others Think, We Do Stuff
It's uncomfortable to admit. We all want to believe we're so courageous and unique and authentic. We all want to believe the decisions we make are for us because we're genuinely pursuing whatever it is our hearts and minds compel us to chase in life.
But that's bullshit, and we all know it.
We do things to win the approval of our parents. You didn't go to medical school at Dartmouth because you wanted to go to Dartmouth or become a doctor. You did it because your grandfather did that, and then your dad did it, and if you don't do it, you'll always be the person who tarnished the family legacy, and you were afraid of the shame and possible rejection.
We do things so that other kids in school will accept us. You dated Lauren because she was hot and you wanted to look cool to the other guys, not because there was some legitimate emotional connection. You avoided playing in the band, not because you didn't love music, but because you didn't want your football teammates calling you a "band nerd."
You didn't drink beer because you actually liked it. Cherry Coke and Dr. Pepper always tasted better. You did it because you wanted to fit in.
…
We still do this as adults. All the time.
It affects our choices about the houses we live in and the cars we drive. It influences the clothes we wear. Who we hang out with. How we treat our friends.
We worry about our children's behavior sometimes, not because we're ACTUALLY worried about the long-term impact on our children's lives (most of the dumb stuff they do will have almost no bearing on how their lives turn out, and are in fact necessary experiences from which to learn important life lessons), but because we worry about what other parents might think about us as that kid's parents.
We do and feel many things for no other reason than we invest in other people's perception of us. The most interesting part of that is, we don't really know what another person thinks of us. So we project our personal feelings on others, and essentially guess what they think will make us look attractive or smart or funny or successful or whatever. And then we try to display that ideal image as much as possible. We do so in an attempt to win favor with those around us for whatever conscious or subconscious reasons we have. So we ultimately end up living a huge percentage of our lives in the service of others who probably don't care, and even if they do, we don't know what they actually believe anyway unless we take off the masks and build legitimately authentic relationships with them.
We're always pretending a little.
I don't think that makes us phonies. I think it just makes us humans who haven't yet asked ourselves the right questions, nor answered them correctly.
If we had, we wouldn't be driven by fear.
Learning to Enjoy Dating After Divorce
Okay. "Enjoy" is an overstatement. Dating after divorce generally blows.
But there's one aspect of it I've learned to love: I don't give one iota of a shit what the girl I'm meeting thinks of me.
Let me clarify: Of course I want to be liked. I prefer the feeling of someone liking and desiring me MUCH more than the feeling of non-interest or rejection.
But because dysfunctional relationships, emotionally inconvenient breakups, nor God forbid, another divorce, aren't things I want; and because I learned the hard way that wearing masks and shutting out partners from our innermost thoughts and feelings we're too scared and insecure to share for fear of rejection is a proven path to relationship failure; I've developed a taste for courageous honesty. Frankly, it isn't all that courageous anymore because I'm no longer afraid to share it.
If I tell the girl on the other side of the dinner table something honest about myself and she doesn't want me because of that honest thing, how was a relationship ever going to work out in the first place? Why would I WANT to be with someone who only liked the fake version of me?
Men have been lying to women to get them into bed for as long as people have had the ability to communicate. (I can't prove that. I'm just certain it's true. Cro-Magnon Man was totally grunt-lying to cave chicks about the size of that last bear he killed.)
But if the goal is something with staying power and long-term sustainability, doing the thing most guys do in high school and college to look cool or high-status to girls we meet, is pointless. It amounts to little more than trying to impress them and win their superficial approval. Even if we succeed, it provides no value to our future selves or our current or future children.
Dishonesty—even in the form of not disclosing those two or three things you don't like sharing with others because you're afraid they'll run away or think less of you—WILL break your relationship. And the longer the relationship goes, the greater the pain will be.
So, we choose honesty.
I'm divorced, and largely responsible for it.
I have a young son.
I have ADHD and it sometimes strains my relationships and can affect other parts of my life, professionally and financially.
I'm a child of divorce.
I'm totally middle class but genuinely work hard to be more.
I'm not the kind of dude who can fix your overheated engine on the side of the road, or build you a shelter with my imaginary knife I always carry with me if we get lost in the jungle before I go kill our dinner.
This, this, and this is wrong with me.
I believe X, Y and Z even though it might make you uncomfortable and not want me.
After you take off the mask and share THE REAL YOU with someone? Those who want you, admire you, crave your companionship, enjoy your company; and want to be friends with you, invite you to parties, introduce you to their family and professional network, and think you're the kind of person who could positively influence their children…
THOSE are the people with whom you build long-lasting, meaningful relationships in whatever capacity you choose.
THOSE are the people who love you, not because of what you do for them, or how you make them look to the people in their lives whose approval they seek, but because they really, just, love YOU.
Mark Manson's "Maybe You Don't Know What Love Is" got my wheels turning about this. In it, he writes:
"If you want to remove or repair the conditional relationships in your life and have strong unconditional relationships, you are going to have to piss some people off. What I mean is that you have to stop accepting people's conditions. And you have to let go of your own.
"This invariably involves telling someone close to you "no" in the exact situation they want to hear it the least. It will cause drama. A shit-storm of drama in many cases. After all, what you are doing is you are taking somebody who has been using parts of you to make themselves feel better and denying their ability to do so. Their reaction will be angry and they will blame you. They will say a lot of mean things about you.
"But don't become discouraged. This sort of reaction is just further proof of the conditions on the relationship. A real honest love is willing to respect and accept something it doesn't want to hear. A conditional love will fight back.
"But this drama is necessary. Because one of two things will emerge from it. Either the person will be unable to let go of their conditions and they will therefore remove themselves from your life (which, ultimately, is a good thing in most cases). Or, the person will be forced to appreciate you unconditionally, to love you in spite of the inconveniences you may pose to themselves or their self-esteem."
…
Life is difficult. It's not easy even though we all wonder: Why not?! Relationships are difficult because they require energy and maintenance. Everyone wants love to be a feeling flowing from an eternal spring of easyness like infatuation and lust, two reasonably bullshit feelings exposed as frauds by how short-lived they are.
But not love.
Because love isn't bullshit. Maybe love "the feeling," is. But not real love. Not love "the choice."
It's the one you wake up and choose to give because you love without expectation of getting something in return. It's unconditional. You don't love because of what the person does for you. You don't love because of how they make you feel about yourself. You don't love because of the opportunities they provide you.
You just love. Without agenda.
Just because.
Maybe that's how things come back from the dead.
Maybe that's how something sacred and lost gets found.