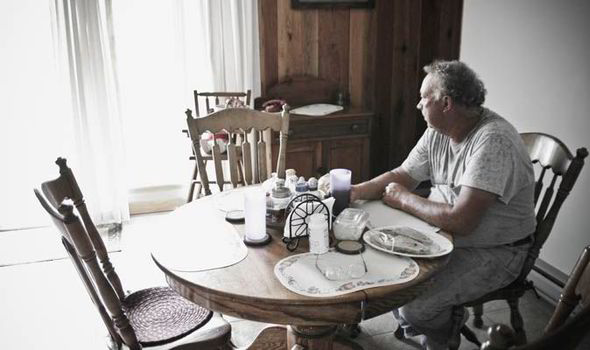 Men frequently demonstrate wisdom and foresight to protect future interests.
Saving money for retirement. Physical fitness and healthy eating. Career advancement. Thoughtful real estate and home-improvement investments. Paying for insurance policies.
These things are all done in the spirit of sacrificing now, so that their future lives might be better for having done so.
And it begs the question: For those who showcase this level of forward-thinking, disciplined decision making, why not apply the same logic to our sex lives and marriage?
…
There are many good reasons for a man to love his wife faithfully.
There are also bad reasons.
I want to believe when guys invest money in engagement rings, and thoughtfully execute marriage proposals, and make the internal decision to swear off other women for the rest of their lives, it is their honest intention to follow through.
I think men aspire to this. Because their fathers married and loved their mothers, and now they want to live up to that same standard, or maybe their fathers DIDN'T, and they tell themselves they'll never do that to their kids.
My good friend's dog passed recently. A bulldog. Let's call him H. Super-close canine pal for the past 12 years. Got him through a difficult divorce. He knew H was struggling and didn't have much time left. But he felt mentally and emotionally prepared for it, he said.
Then it happened, and it was MUCH harder than he thought it would be.
And I think I know why. I think we have a bunch of moments in life that we anticipate and think about and imagine a certain way. Our minds almost involuntarily predict how it's going to be, whether it's a date, high school reunion, wedding reception, business presentation, pet death, or marriage.
But we're kind of shitty at predicting things. Moreover, when human emotion—specifically pain—is involved, it's IMPOSSIBLE to know how we'll feel during this future thing. It's hard for someone who feels good now to know how they'll respond to something later when they're feeling unexpectedly bad.
Men propose to their girlfriends and enter marriage with good intentions, "predicting" that it will always be and feel like it is today. We have a great relationship! She's the one! Failing to account for all the times (and more importantly, how it will feel) when the relationship is no longer a positive experience.
The good reasons for making marriage last are obvious. But, just in case that's not enough for you, there's also a bad reason to make marriage last, and we should talk about it.
Thinking With the 'Other' Head 
Men like and want sex. Lots of it. No reason to sugarcoat it.
Don't tell me how much women like it too. I get it. I know women also like and want sex. But it's often different with guys. Common is the man that would walk into any busy bar on Saturday night and sleep with any (literally any) woman that passes his Would I sleep with her? pass-or-fail test which probably gets less stringent with each drink. Much rarer is the woman who would do the same.
I don't know what the adult entertainment industry is raking in these days (I'm totally talking about pornography, by the way), but the numbers are always scary-high. The Rockefellers could have probably just as easily built their fortune on sex films as they did on oil. Those eye-popping dollar amounts have everything to do with men's appetite for it. (Which I think is bad, and we can talk about why someday.)
Man's general desire for sex appears to be a root cause for many life choices. How he grooms, how he smells, how he dresses, the cars he drives, the stuff he buys, the way he behaves.
Any choice a guy makes along those lines has EVERYTHING to do with wanting to be sexually attractive. I promise he's not trying to impress his buddies.
Men totally like sex.
If you're a woman, you probably know this already from your personal experiences. If you're a woman currently dating online, you FOR SURE know it, because dudes online are shameless and tactless and fail to exhibit whatever little manners they might in a real-world, face-to-face scenario.
Men sometimes are dishonest with their wives (and girlfriends) about how much they crave sex, and what kinds they like. I think it happens a lot to guys who grew up in conservative families where wholesomeness was a virtue to which everyone aspired. They're taught their entire lives that premarital sex is bad, and God is mad at them for masturbating at 13, and that sex is only appropriate with their demure wives in the missionary position IF they're trying to have a baby. They develop weird guilt-shame complexes about sex.
Secretly, they might want to go to European sex parties, or have BDSM dungeon sex, or have a three-way with a couple Asian chicks.
Even conservative guys want infinitely more than Demure Missionary™, but might feel uncomfortable having open and honest conversations with their wives about it. If she knows I'm into this, she'll think I'm a sexually deviant pervert and won't love me anymore!
One thing leads to another, and some couples go years without ever having a real conversation about what they want (or need?) from their partner, sexually (and emotionally).
Sex is no longer a positive in their marriage, because even at its best, it's only moderately satisfying. Wives fantasize about being romanced by the cute guy at work who will spend a little more time doting on her collarbone and inner thighs. Husbands turn to porn and "take care of themselves," while they fantasize about someone else. Sometimes, their respective fantasies lead to affairs. Even if they don't, the sexlessness is an eventual marriage killer.
When he proposed to his girlfriend, he was eager to marry her and swear off all others. She wanted him. He felt really good.
Now? Both of them are justifiably sad, confused and angry. The marriage looks nothing like they thought it would.
Sometimes that, combined with months or years of a sexless marriage, lead men to look outside their marriage for sexual relief. They like feeling wanted again. And they justify it because their wives clearly don't want them anymore. She changed, not me! What did she expect me to do!?
Tomorrow Always Comes
That's a really long and tedious way of saying: sometimes men cheat on their wives for a variety of psychologically sexual motivations the rest of us often don't understand.
Whatever the reasons, we should all agree it's bad to break wedding vows or engage in deceiving our spouses, and that some component of the cheating is rooted in a desire for immediate gratification even at the risk of jeopardizing long-term security.
And the question is: Why? Why so much effort to work hard now and save money for later in this one area of life, but a total disregard for the long term in this other area?
Chump Lady gifted me this thought (and fantastic post title) in one of her posts from last week:
"The Dan Savages of the world would excuse such unilateral decision making (as a response to what they'd blameshift as your unilateral decision to Deny Him Sex), because Sex Is Of Paramount Importance! It trumps considering your partner and his or her health! Obey the Boner! Is cheating "optimal"? No, but hey, the MAN NEEDED SEX!
"Okay, you know what, cheaters? — go for it. Please, fuck the younger woman, the Thai prostitutes, the Craigslist hookups, the slutty co-worker. Do it all in service to Almighty SEX. Make that your paramount value. And good luck later when you need someone to change your colostomy bag. When you've traded all your gold for a magic boner — who's going to love you when you're old and vulnerable? When your equipment fails? When you've invested all those years in the magic boner and not in meaningful relationships — then what?"
…
And she's right.
She is.
Tomorrow always comes, guys. Where you're bald or sick or fat or ugly or can't get it up anymore.
And all those cheap orgasms you chased? When you're alone and unloved in your condo? What good did any of it do? What was it worth?
Tomorrow is gonna come, and your wants and needs will shift accordingly. It's totally possible dying sick and alone with herpes on your penis is a super-fun time. I won't pretend to know.
But I have to believe growing old with someone who stuck with you through it all, and feeling grateful for her every day, and falling asleep and waking up each day free of guilt and shame, might be a preferable alternative.
With fun holidays. And grandchildren. And self-respect.
Maybe not chasing cheap pieces of ass at the expense of your wife and family isn't something you want to avoid because of your particular moral bent. Maybe it just doesn't seem wrong enough to you. Some people seem okay with shooting and blowing up innocent people as much as possible, forcing me to admit there is some human behavior I can never understand.
Maybe "doing the wrong thing" isn't a big-enough deterrent for you, and never will be. Maybe all the good reasons for excelling at marriage don't register with you.
But why not, at the very least, give it a shot in the spirit of long-term security and your future self-interests?
Why not do a good job in your marriage for bad reasons?