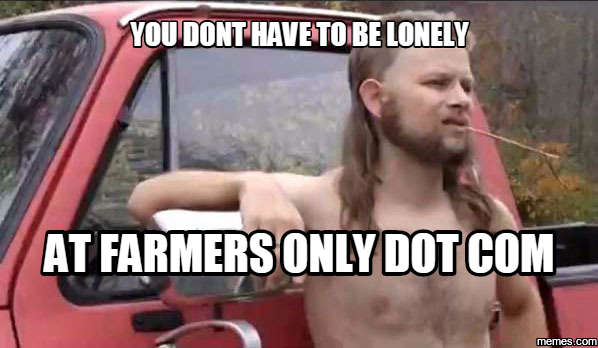 Maybe I was just doing it wrong. Totally possible. I'm good at several things, but there's no reason to believe online dating is one of them.
I tried it pretty soon after my wife left. It was a very bad idea.
The first girl I met from Match.com liked me for real and actually got a little upset when she realized during our date that I wasn't emotionally available. She politely explained to me how thoughtless and unfair that was. She was right.
The second girl I met ended up being the sister of a guy I happen to work with and we figured it out while chatting in an Irish pub. Bad idea!, we agreed.
The third girl was a very attractive hearing-specialist medical doctor who had just moved back to her Ohio hometown from Chicago. And even though she was a pretty doctor, she was the least-interesting conversationalist I'd ever met. Worse still? When the waitress at the Mexican restaurant asked us how we wanted our tableside guacamole made, I let her decide, and she chose to DOUBLE the amount of jalapeño, onion and garlic from how much they normally use. There wasn't enough tequila in the restaurant to help me forgive that offense.
So, even when girls "liked" me online, meeting them was always mehhhhhhhhhhhhhhh.
But mostly girls didn't "like" me.
Which is okay. I'm certainly not for everyone. However, as time marched on, and I heard others' experiences, and I watched from the front row as one of my best friends navigated the online-dating landscape at the same time, dealing with many of the same things, I found myself souring on the process.
'You Seem Like You'd Be Really Good at It'
The girl who cuts my hair asks about my dating life every time I see her. She likes to know who I'm talking to and whether there's girlfriend potential.
A couple days ago, she asked "Are you online dating?"
I said no.
She asked why.
I said it's not a good idea for guys like me.
She said: "What!? You seem like you'd be really good at it!"
Married women always think I'm swell.
"There are certain kinds of dudes who I imagine have a great time dating online," I said. "You'll just have to take my word for it that 36-year-old single fathers who look like me aren't among them."
"You're an attractive guy. Plenty of single women would want to date you."
"Thank you, but it doesn't work that way on the internet."
"I've been married a while and have never dated online. What do you mean?"
Glad you asked.
The Internet vs. Real Life
I'm not hideous to look at. My self-awareness extends to my self-perception. I'll never be mistaken for a dashing billionaire playboy or movie star, but history suggests the general female population finds me more attractive than my spotty-at-best dating life might indicate.
And here's why:
The experience of standing in front of someone and talking to them and watching them move around and interact with you and others is, historically, how people decide to whom they are attracted.
And I do pretty well with that.
People don't often think of it this way, but sexual attraction (from a purely physical standpoint) is a simple pass-or-fail test. We either find a person attractive enough to get naked with, or we don't. One or the other.
What determines whether we actually get naked with that person are the 90% of things that actually matter to us. How they make us feel. How they treat us and others. How their personalities mesh with ours. Whether we enjoy talking to them and want to do more of it. Whether we discover common interests and build intimacy. Whether they are safe and trustworthy, however we define that.
That's how people become attracted to one another.
I'm decent-looking enough to pass the pass-or-fail attractiveness test most of the time, and I'm smart and friendly and kind enough, and occasionally charming and engaging and funny enough, that the person I'm standing in front of will sometimes want more.
But, if your Dating Résumé is like your Employment one, I have a few things working against me.
I'm 5'9". Women tend to prefer tall men. But since the average female height in the United States is 5'5", and the vast majority of women I meet are shorter than me, it tends to not be much of an issue in-person.
I'm graying. I have no idea how that plays in the minds of women either online or in-person, but my best guess is that it makes me more attractive to older women than it does to anyone my age or younger. I won't pretend to know.
I'm divorced. To someone who has never been married, it means I come with baggage. And to divorced women who got screwed over by their exes, it could trigger feelings in them that maybe I'm like their ex-husband.
I'm a father. I have a 7-year-old son. Single women with no children aren't always keen on becoming a stepmother to a child they've never met, or competing with that child's mother. I imagine childless women frequently rule out fathers because of that. Single mothers are more likely to appreciate what a father brings to the table, but depending on her individual circumstances and experiences, may also be unwilling to take on a parenting role to another child.
When you meet someone in person, these things are often overlooked. After all, my son is never with me in adult social settings, and dating activities only occur when he isn't home. Should the relationship ever graduate to "love," I imagine parental status would be something of a non-issue.
But the Internet, Though…
Imagine being a single woman establishing your preference filters on an online-dating site.
As soon as you make your profile live, you have virtually unlimited options because of all the men vying for your attention. Whether you're on Match or OKCupid or Tinder or FarmersOnly.com, you flip it on, and the requests start pouring in.
When you have your choice of anyone you want, are you really going to pay attention to divorced 36-year-old gray-haired guys with kids, when you're 31, never married, no kids, and prefer tall men? When that's all you know about them?
Of course not. I can't say I blame them.
If you're a divorced, single mother also attracted to tall men, are you going to? Possibly at a slightly higher rate, but single moms get plenty of interest online, too. It's something of a numbers game, and even when they filter down to their favorite preferences, they STILL have virtually unlimited requests for their attention.
I'm a digital marketing strategist who is pretty good at understanding data and percentages. Shy, lonely guys with so-so social lives due to circumstances somewhat outside their control? It's easy for them to want to sit safely in their homes and scroll through online-dating profiles where they don't have to make eye contact and try to say something smart and attractive to a pretty stranger in public while simultaneously shitting themselves.
I get it.
But I've grown to believe there are a lot of people who probably shouldn't subject themselves to this losing formula.
And nearly three years ago, I was one of them.
Broken and empty. I was desperate to fill the void. Desperate to feel liked by someone again. Desperate to feel wanted by someone again.
I turned to the computer screen because it was easy and low-risk. Just as millions of others do.
Be Brave
You know which camp you fall in.
You're either someone who dates online because it's fun and works for you, or you're someone who ATTEMPTS to date online because it's a low barrier to entry and feels safer than trying to do it the old-fashioned and scary way.
I wouldn't waste ONE SECOND of my life on a woman who would choose her life-long partner based on height, or who would view my beautiful son as some kind of annoying handicap.
Do you know how many dipshit moron 6'2" assholes with lots of tattoos and no kids there are? Good luck, sweetheart! Hope you like Hot Pockets and pro wrestling! (Point of clarification: There are brilliant 6'2" tattooed guys with no kids that I'm sure are really awesome and infinitely smarter than I'll ever be. And even if they like Hot Pockets and pro wrestling, it doesn't make me better than them. Probably.)
So I hope people out there—particularly the guys in situations like I was—aren't losing sleep over people with personal values so different from their own. (Hint: It was never going to be Happily Ever After. So look forward to meeting the person with whom you can achieve that.)
…
It's a funny little thing, but in my experience, there is no place with more pretty girls walking around by themselves than the grocery store. It's uncanny, really.
Sometimes they have kids. Sometimes they're wearing rings. And many times, even without those things, you can be sure there's a boyfriend waiting for them somewhere.
And even though I don't often do it, because it's the scariest shit ever, I really want to encourage guys to be brave enough to say hi to these women when they want to.
With confident eye contact, even if you have to fake the bravery.
The next time I see a woman respond to a guy brave enough to say hi to her with cold-shoulder bitchiness meant to shame him will be the first time. And EVEN IF that were to happen, I think it's safe to assume you two didn't have a bright future anyway. Because she sucks big-time.
Keep grinding away at the computer, if you must. I do know people who have met wonderful partners that way.
But don't forget there's a real world, too, and in it you're worth much more than strangers on the internet might suggest.
Make bold moves with people you see and want to meet.
Because the worst-possible result is simply more of what's already happening.
Nothing.