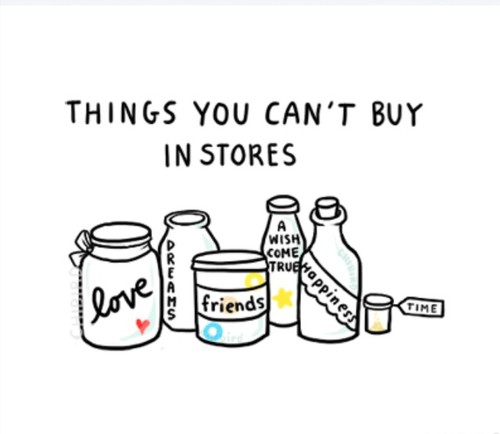 Maybe he thought I was being a silly liberal hippy when I said all anyone really wants is to be happy.
The conversation had gotten deep because we don't like talking about superficial things unless sports or movie lines are involved.
We hadn't seen each other in five years, and we were doing the same thing we always do—standing around drinking beer, having a What does it all mean? conversation peppered with laughter outbursts.
He didn't agree with my take. We often debate things.
I'm not sure why he disagreed. He never said, and we didn't get much further in that conversation because beer.
But I couldn't stop thinking about it.
…
Am I missing something? Does something else drive us?
No. This is the thing.
No matter how you choose to philosophically slice it up, everything you do in life is a means to an end. You are pursuing something you consciously or sub-consciously believe is bringing you happiness.
Maybe you like making money. Maybe you like travelling. Maybe you like staying home with kids. Maybe you like walking your dog. Maybe you like competing in sports. Maybe you pray often and live by a very specific spiritual or religious code. Maybe you like being helpful and serving others. Maybe you enjoy movie watching. Maybe you like drugs and partying with friends. Maybe you like exercising. Maybe you like eating healthy foods. Maybe you like not doing that.
Whatever. I don't care.
What I do care about is understanding why things happen. I want to understand what motivates me.
I want everyone to be able to answer the question: "What do you want out of life?"
And I want everyone to understand the most-correct answer to that question, regardless of our differences and the various details, is: "I want happiness."
Happy

adjective

1. delighted, pleased, or glad, as over a particular thing:

to be happy to see a person.

2. characterized by or indicative of pleasure, contentment, or joy:

a happy mood; a happy frame of mind.
Some people get bent out of shape over the word "happy." They think it's a lightweight word and concept, because ice cream, TV shows, roller coasters and vigorous bedroom romps can make us "happy" for a while before everything that truly matters in life brings you back to your baseline state of being.
And to them I say: FINE. Let's use the word Content. Because that's what I REALLY mean. 
Content

 adjective

1. satisfied with what one is or has; not wanting more or anything else.
…
There is not one decision you will make today that can't ultimately be traced back to your pursuit of happiness (or, if you prefer: contentment).
"But, Matt! Going to work doesn't make me happy! I do it because I MUST!"
Wrong.
You go to work because you've thus far not discovered a more effective way to make money. And you want that money because you want to pay for food, clothing, shelter and fun weekend activities. You do it because it makes your parents proud and you care what they think. You do it because all your friends have jobs and you believe that's just what people do after high school and college!
We want our parents to be proud of us. We want clothes and food and roofs over our heads. We want to have money to support our children. We want people to look at us and believe we're successful.
We want approval.
We want status.
We want to feel good.
It's why I do everything.
It's why you do everything.
We Get It! What's Your Point?
Being an adult is really hard. Every day I get a new note from someone sad or angry or broken because their marriage is in trouble, or because they can't figure out how to get out of their own way and be the person they aspire to.
I used to think I wanted big houses and nice cars and great sex and fun beach-party buzzes.
And I do sort of want those things! I think that's okay.
But after being gutted from the inside following my broken marriage and divorce, I learned quickly that none of that stuff matters.
The man driving the '91 Jetta with many friends happy to see him at tonight's party will ALWAYS be living better than the millionaire CEO driving the Bentley whose company is about to lay off 5,000 workers, while his wife sleeps with her tennis coach, and he questions all his friendships, because everyone always wants something from him.
When you're in the throes of depression and EVERYTHING hurts, you learn the truth: Nothing is as valuable as feeling peace. It's IMPOSSIBLE to enjoy life without it.
…
There are things in life that bring me joy. Real, authentic joy.
And then there are bullshit superficial things that make me feel good for 10 minutes but don't matter after.
How good might life be if everything was about the pursuit of authenticity? Of contentment? Of happiness?
…
It was a good What does it all mean? conversation my friend and I were having.
The kind of conversation not enough people are having.
The thing you're doing right now. Why are you doing it?
Something puts your soul at ease.
And another thing makes you feel like a kid again.
And that other thing over there sets your heart on fire.
Go do those things.