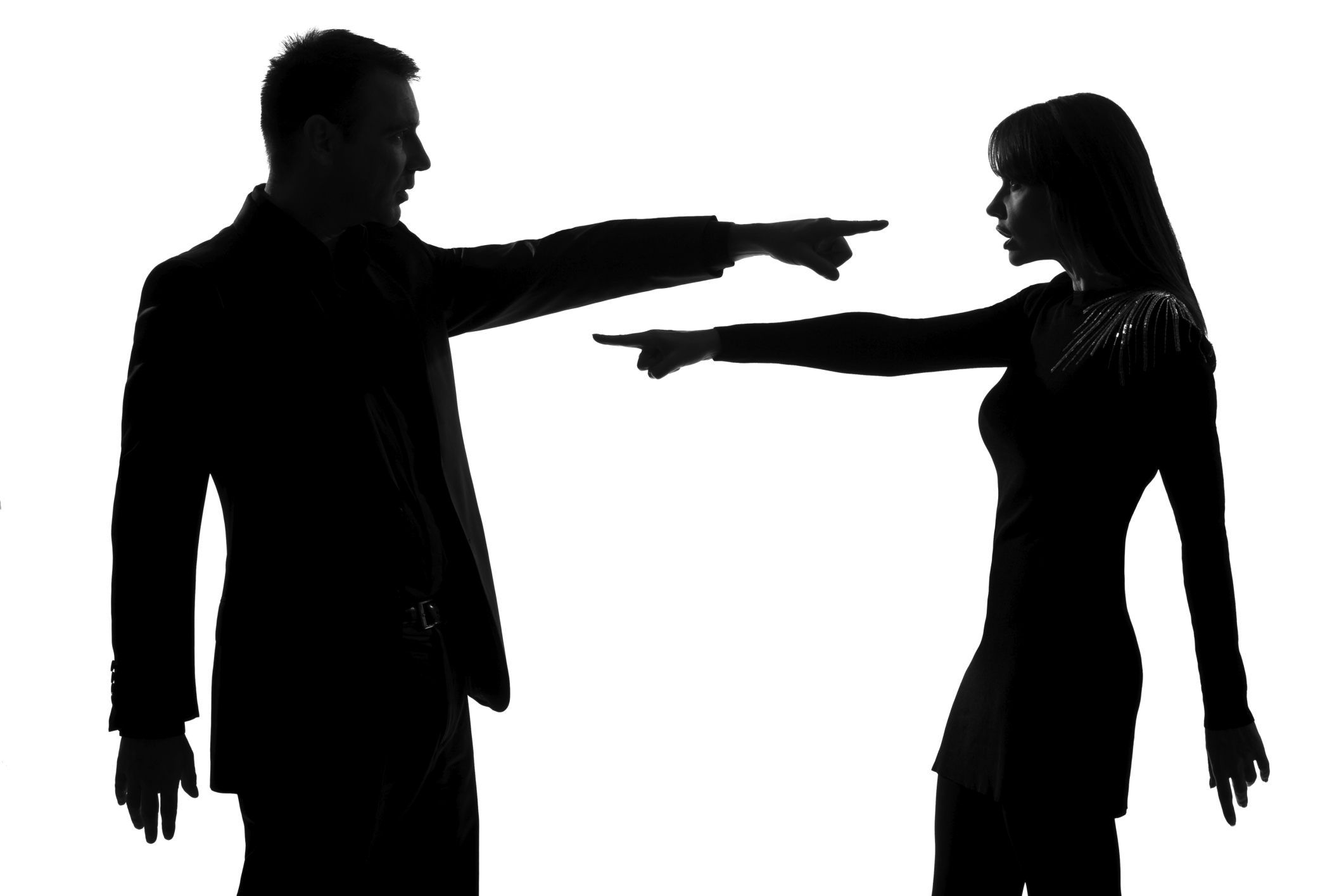 After an 18-month downward spiral of misery hallmarked by sexlessness, sleeping in separate bedrooms, and crying more than any middle-class white guy living in the United States should be allowed, my wife packed a bag and drove away with our preschooler in the backseat.
And because during those final months I felt as if I was trying harder than she was to make it work, I blamed her for ruining my life and taking half of my son's childhood away from me.
I felt abandoned. Betrayed. Rejected.
I felt like she chose someone else over me because I wasn't good enough.
Not rich enough. Not smart enough. Not attractive enough. Not sexy enough. Not tall enough.
Not ANYTHING enough.
Must be this tall to ride.
She moved out. And before I had time to figure out what hit me, she was with someone else.
I blamed her for breaking up our family. I blamed her for disrupting our little son's childhood. I blamed her for the intense pain I felt in my head, chest and stomach. I blamed her for leaving me alone in a town where I didn't have roots, but couldn't move from.
I blamed her for ruining my entire life.
She did this to me.
The Skill of Blaming
When bad things happen in my personal life, my brain quickly creates stories to explain why those bad things are as much Not My Fault as mathematically possible.
It's kind of incredible how instantaneously it occurs.
I'd call it a superpower, but maybe everyone does it. Also, I perceive superpowers to be tools used for good, and blame-shifting even as an involuntary subconscious process that happens before we even have time to speak or act, is not something I'd consider "good."
I don't have to try hard to do this.
Point to something you don't like about me, or some aspect of my behavior or lifestyle you observe as needing improvement, and I can tell you a legit story about why it's that way.
Only child.
Small-town Ohio.
Divorced parents.
Unforeseeable economic conditions.
ADHD.
Super-busy.
Single father.
Whatever.
Something I inherited or some limitation created by someone else can usually be blamed for whatever The Bad Thing is.
Sometimes I even catch myself saying: "That's not meant to be an excuse; that's the actual reason" to people to whom I'm probably just making excuses.
I'd like to think I'm being honest when I say it.
But maybe I trick myself into believing my own bullshit before I ever get to the part where I challenge my own assumptions. Maybe I sometimes move on before ever getting to the self-challenging part because I'm busy or distracted or lazy. That's probably how a whole bunch of false beliefs and general assholery happens.
I think I might thoughtlessly do what many humans thoughtlessly do: We rationalize and believe whatever story makes us feel most comfortable.
…
I've been thinking about blame ever since another writer pointed me in the direction of this Dr. Brené Brown video on blame. It's excellent and you should watch it in an effort to keep your assholery quotient as low as possible.
[youtube https://www.youtube.com/watch?v=RZWf2_2L2v8]
When Blame is Good
I've been trying to work out when blame or the act of assigning blame might be useful.
If someone is wrongly accused of a crime or even just misidentified as having caused The Bad Thing at home, school or work, it seems like a good thing to exonerate the innocent by discovering the true cause.
Similarly, bad things sometimes happen on a broader scale, like a workplace accident, airplane crash or building fire. In these situations, some type of root-cause analysis and investigation is conducted to identify the reason The Bad Thing happened.
It's good to identify reasons. To assign "blame" correctly, because then steps can be taken to learn from any mistakes that might have contributed to The Bad Thing happening.
There are very few items on my Reasons My Life is Better Because of Divorce! list that I just invented.
But one of them is: Now that I've identified several ways that my incorrect beliefs and asshole behaviors contributed to my divorce, I can now be confident that I'm unlikely to repeat them.
Which is a bigger deal for people like me than you might realize.
People who smoke a pack of Marlboros every day, and pound fast-food cheeseburgers and shakes for every meal are more likely to gain weight and develop heart disease, cancer or another potentially fatal disease linked to poor nutrition.
There was a time in history not so long ago where MOST people in the world didn't know things like that.
Figuring out what to "blame" for the sickness and death was good. It was useful. It helped us collectively make better choices moving forward.
The truth is that blame is rarely good or useful. A better word for the good kind of "blame" is Accountability.
When Blame is Bad
I'm wrong more often than I want to believe (You are too. Sorry!), but I'm pretty sure blaming other things and other people for The Bad Things we encounter is almost never good.
Brené Brown says it best in that video above that you probably didn't watch.
She said "I'd rather something be my fault than no one's fault. Why? Because it gives us some semblance of control."
And that very thought is, I believe, the one that helped me get from depression and borderline-suicidalness, to the place where I can find comfort and peace that my son and his mother have someone other than me who cares about them and looks out for their wellbeing.
When my needy, bitchy, nagging, unsatisfiable and overly emotional wife left me, I was a victim, and powerless to any of her personal-life decisions (which impacted me directly because we share a child). Everything was her fault, and I was miserable and kind of wanted to die.
However.
When my unsupported, emotionally abandoned wife who had spent several years trying her best to help me understand how my actions and attitudes were harming her and our marriage (while I repeatedly denied it and refused to change) FINALLY worked up the courage to leave the relationship in the face of sacrificing so much time with her son, and suffering the personal-life fallout of all who would judge her disapprovingly for that choice…
Everything became MY fault.
Because—despite tricking myself and others for many years—I had been a monumentally shitty husband.
And after coming to terms emotionally with the depths of my failings, my misery turned into power.
My despair turned into hope.
Because I finally, finally, finally understood how my actions had lead me to the place I was in, and I could feel the incredible power that comes with being in control of my own life again.
And when you understand how something you did or didn't do lead to the worst thing that ever happened to you, you get to stop being afraid of it happening again for the same reason.
We can't fix things when we don't even know what's broken.
Blame blinds us to accurate diagnoses.
Brown said: "Blame is the discharging of discomfort and pain. It has an inverse relationship with accountability. Accountability is a vulnerable process."
Similar to how The Gottman Institute has conducted incredible amounts of research and amassed huge quantities of data on which to base its relationship-counseling advice, Brown also has taken a research-based approach to helping people develop better relationship skills.
"Blaming is simply a way to discharge anger. People who blame a lot seldom have the tenacity and grit to actually hold people accountable because we spend all of our energy raging for 15 seconds and figuring out whose fault something is," Brown said. "Blaming is very corrosive in relationships, and one of the reasons we miss our opportunities for empathy."
And if you don't exactly know what empathy is and why it's important (I did not throughout the entirety my nine-year marriage), then you'll be pleased to know it's the one thing you can start practicing today that will literally change your life and those of everyone you interact with regularly in profound and positive ways.
Nine out of 10 doctors recommend it for curing a bad case of assholery.
…
When I blame other people and happenings for the bad things I experience in life, then nothing I do matters because everything good or bad that happens to me is out of my control.
The poor helpless victim that I am.
When I accept responsibility for all of my choices from an appropriate age of accountability through today, then everything I do matters because everything that happens to me is a result of something I can influence by whatever I choose next.
It's the difference between anxiety and confidence; between despair and hope; and between a life where things just happen to us, and one where we decide what happens next.
It's easy to blame everything on my ex-wife.
It's hard to be accountable for everything that happened to my family.
But my most important discovery following the worst thing that ever happened to me is this: I can do hard things.
And so can you.