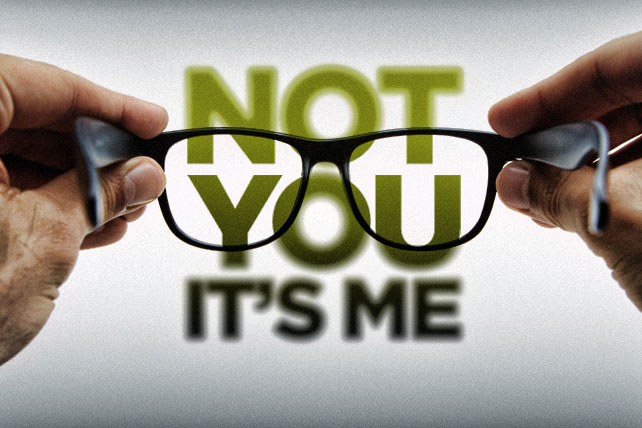 Imagine this: A magical alternative universe where total strangers randomly being in your house isn't as scary or bizarre as it would actually be. (Because it's the only way the next few paragraphs make any sense.)
And now imagine a stranger (who isn't scary) in your house doing things your small child often does: Carelessly peeing on your toilet. Spitting globs of toothpaste in your sink without adequately rinsing the basin. Leaving toys or whatever scattered all over the living room floor. And NO MATTER HOW MANY FREAKING TIMES YOU'VE TOLD HIM, he doesn't remember to eat over his plate, leaving 47 million crumbs on and around his seat at the table. Or maybe he puts his fingers on the house and car windows, or he gives you a little mouthy elementary-school sass that kind of makes you want to dropkick him.
If some dude off the street does that, I'll secretly want to embed a golf club in his face, and might actually take a swing if that dumb bastard leaves another trail of crusted toothpaste in the bathroom sink that requires a power sander to clean.
If someone I kind of knew or was renting a room to did it, I might ask them to go away or find another place to live.
But if my little offspring—the absolute love of my life and my greatest earthly source of pride and joy—does it for the thousandth time? I'll be frustrated with him for 10 seconds, remind him how easy it is to be less messy, and soon after, be laughing about whatever thing we move on to because he's my favorite.
I think it's relevant and noteworthy that three different people could do IDENTICAL things, and I'd react three different ways to each: one, I would hug and love unconditionally; the second, I would evict; and the third, I would face-punt.
All of which strike me as reasonable responses to the occasionally thoughtless, make-you-want-to-tear-out-your-hair-and-drink-excessively behaviors of my young grade schooler.
…
I have a few points, none of which are currently obvious:
1. Marriages Break Because Neglectful Spouses Devolve From Loved One, to Roommate, to Stranger You Want to Face-Punt
Sure, I love, care for, and am super-quick to forgive my young son in all his youthful innocence and cute-facedness. But what if he shows up in his 20s or 30s, pees all over the toilet, and repeatedly drops food and whatever all over the floor no matter how many times I've asked him to respect this seemingly reasonable sanitation policy? Maybe I'll stop inviting him to dinner. Or maybe I'll visit his house and pee all over his bathroom after brushing my teeth and leaving nasty toothpaste-saliva drippings in his sink.
If our expectations for our children's behavior and respect for our instruction can change over time, is it unreasonable for a spouse to expect the same from her or his partner as their relationship evolves and grows through time?
A common marriage complaint from husbands is that their wives happiness is always a moving target. That nothing they do is ever good enough. I remember feeling that way, too.
A common marriage complaint I hear or read from frustrated wives is that her husband is "childish." She doesn't mean that he goofs off all the time and laughs hysterically at dick and fart jokes even though that could also be true, but that he never grows out of being the little boy who pees on the toilet or gets crumbs all over the floor during dinner. That could be literal, if she married someone with slob-like tendencies, or it could be metaphorical in the sense that he so rarely demonstrates thoughtfulness about things like housework or dinner plans or the schedules of others in the family.
It's a dynamic that tends to be okay while dating and early in the marriage, but as the other We're Gonna Get Divorced dominoes begin to fall, cleaning pee off the toilet rim—or worse, the seat—graduates from gross annoyance to murder motive.
She starts to feel like his mother, her sexual attraction for him dies, and then a bunch of other bad things start to happen.
2. Nothing is One-Size-Fits All
I often write in generalities because writing in specific absolutes, covering EVERY angle of EVERY topic would lead to 97-million-word posts that only my mom would read. There simply aren't enough hours in a day to write or read about every possible scenario. So, when I write that Husbands Do This, or Wives Do That, or Men Often Think This, or Women Often Feel That, I'm doing so for brevity reasons, and I'm totally aware that almost NOTHING applies to everyone.
I was criticized recently by someone who interprets my writing as A. Blaming Men for Marriage Failure, B. Acting Like a Know-It-All Who Tries to Speak for All Men, and C. Never Holding Women Responsible for Their Role in Failing Marriages.
I don't blame men. I even said so on the radio once.
I also don't necessarily think it's men's fault—all these common relationship shortcomings we accidentally display—but I think it is our responsibility to right whatever wrongs we can as soon as we're aware of them.
And I do believe there are specific things women can collectively do to improve relationships.
I think everyone who makes mistakes, should own them, and everyone with the power to make something better, should.
Which brings me to…
3. While I Write For Others, the Stories Are Mostly About Me
I'm just some guy.
There is nothing particularly noteworthy or special about me which is EXACTLY why the relationship conversations we have here matter.
If I was some super-unique case study or obvious outlier, it would be easy to dismiss.
But that's not what I am, nor what my marriage was.
My marriage was THE Common Modern Divorce Story. And that should scare the shit out of everyone.
Because it's really hard to see it coming.
What's the "common" divorce story? It's two good, well-intentioned people with an honest desire to marry and promise one another forever, only to discover 5-10 years later that their marriage has become joyless, stressful, unsteady and on the brink of failure, and neither person can really explain how or why they got there.
They spent 5-10 years having the exact same fight, because neither could ever figure out the right combination of words or the right behavioral response to their conflict.
And after it happened enough times, one or both of them became so angry, sad and emotionally exhausted that the agony of divorce looked like the better choice than the status quo.
…
And then more kids grow up a little bit sad and a little bit confused and never see the way marriage is SUPPOSED to be.
And then more people remarry thinking their ex was the problem, only to discover they brought their own baggage to the new relationship, and that the new person has some too, and that they've seen this movie before.
And then more things break, and it just keeps happening over and over again, and not very many people ever slow down long enough amid all the pain and dysfunction to just stop.
To just breathe.
To just look inside and ask the hard questions. The ones that makes us squirm years later, and maybe forever.
What have I done to cause this?
What could I have done better?
What choices can I make to be better tomorrow than I was yesterday, so nothing like this ever happens again?
…
I don't blame men. I blame me.
And women certainly aren't guilt-free. I promise to start pointing fingers right after I wake up awesome and perfect every day.
In the meantime, I think being an adult is hard, and I think we all get a little confused when things hurt more than we knew was possible, or when we're missing too much information, or when we feel Life falling apart because adulthood is unsteady in ways many of us never imagined.
Back when we were young and innocent.
Back when we were getting crumbs and toothpaste spittle everywhere, and the fortunate among us were hugged and forgiven instead of beaten and abused.
Back when we were happy and hopeful, as the fortunate among us can be once again.
If only we're willing to own our crimes and pay our penance.
Because it's not them. It's us.
It's not you. It's me.
We worry about what we can control, and try to make a difference when and where we can.
Maybe people won't always get it. But maybe it can still matter.
Because everyone loves a good redemption story.
And somewhere beneath all the humanity, I think everyone has one to tell.