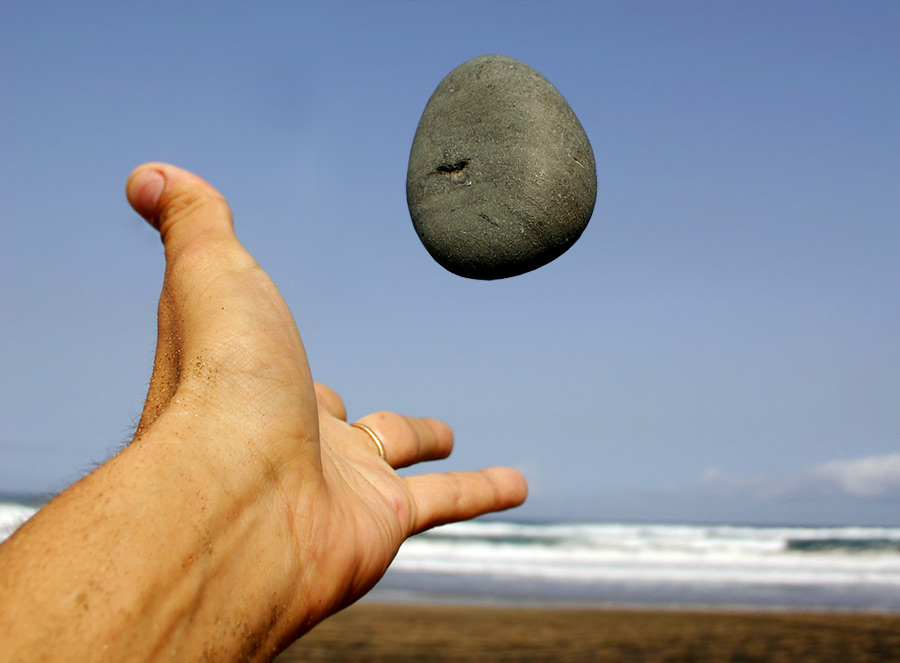 I hurt my son once and had to take him to the hospital afterward.
When the little person I love most was just 3 or 4, he was doing the thing little kids do where they let their bodies go limp to protest another idiotic parenting command, like going inside the house to potty when they'd rather be outside playing.
When I went to lift him by his hand I'd been holding to get him up the back porch stairs, I yanked harder on his uncooperative little arm than I should have. He started crying and I probably didn't care.
It didn't take me long to start caring because he cried longer than kids do when they're being needlessly dramatic. His elbow was hurt for real. And I caused it. Oh my God. I hurt my son.
His mom and I (we were still married then) took him to the emergency room at the local children's hospital where I assumed I'd be arrested for child abuse, and the doctor would call me a monster, both of which would have bothered me less than the fact I'd hurt my child.
I wasn't arrested, nor did the doc eye me suspiciously. Our son was feeling the pain of a slight dislocation so common to young children that it has a non-medical name: Nursemaid's elbow.
By the next day, his elbow was totally fine.
But I'll never forget how I felt in that emergency room, nor how I've felt any number of other times in which I've raised my voice in anger, either scaring him or making him cry.
It's the same thing I felt when my wife would cry during an argument.
It's the same thing I've (only on TV, fortunately) seen men do when they hit or push their wife or girlfriend resulting in serious injury or death.
One minute, you're raging. And you say or do something that falls in the "I didn't mean it" category once regret replaces the anger. And the next minute you feel sorrow. You feel the love and concern return, even though those feelings were absent when you were inflicting mental, emotional or physical damage.
So, which is it?
Who Are We?
Which of those is the Real Us? The angry one? Or the person insta-concerned about the wellbeing of the person they just verbally or physically assaulted?
I want to believe the genuinely concerned, not-angry version is. But I guess I don't know.
You know what I think about people who physically hurt children? You know how I feel about men who make their wives or girlfriends cry during arguments?
I think they're assholes, and since I generally trust my gut and opinions, the conclusion is obvious.
I'm an asshole, too.
Dear Assholes, We Can See Inside Your Glass Houses
A man armed with an assault rifle and handgun went inside a Florida nightclub this weekend and opened fire, murdering 49 people and hurting 53 others.
We hear that news, and 99 percent of all sane people are insta-horrified.
But then more details emerge:
The shooter targeted an Orlando nightclub called Pulse which is popular with the gay community.
The shooter worked for a security firm, had weapons training, and legally bought both of the guns recovered by police at a Florida gun shop.
The shooter—American-born but of Middle-Eastern descent—reportedly dialed 9-1-1 and pledged allegiance to ISIS immediately prior to the attack.
Then toss in the fact that an aspiring young pop singer was killed tragically in a random act of gun violence the night before in the same city.
THEN, add in that we're in the most-heated presidential election in my lifetime during the age of social media.
Mix it all together, and you have a bubbling cauldron of anger, sadness, and fear, creating a massive batch of shit stew which I think might be unprecedented in size and scope from a political and social commentary standpoint.
…
Here's what actually happened: A man deliberately took guns into a densely populated place where people were trying to have fun and murdered as many as possible.
What happened next was predictably stupid.
The anti-gun crowd wanted to scream about gun control. As if an ISIS-pledged terrorist couldn't have used a bomb to kill even more people, and potentially still be alive and on the run.
The pro-gun crowd wanted to scream political conspiracy and opportunism. As if questioning whether a man like Omar Mateen (previously investigated by the FBI for potential terrorist ties) legally buying an assault weapon which he used to murder or hurt 100 people is somehow unfair.
The anti-Obama crowd criticized the president's comments afterward, because he chose not to speculate on unconfirmed facts during a national address, and because he said things consistent with his well-established political opinions which got him elected President of the United States twice.
The pro-Obama crowd got butt-hurt about the president's detractors as if he doesn't have an equally well-established history of avoiding labeling acts of terrorism anything he deems politically incorrect.
Republicans blamed Democrats. If Obama and Hillary would get tough on terrorists, this wouldn't have happened, some said. Which seems presumptuous.
Democrats blamed Republicans. Because all Republicans love gun violence, invite attacks through racism, promote bigotry by supporting Trump, and oppose marriage equality for gay couples? Please.
People internet-screamed for banning Muslims. Because Banning Things That Scare Us and pigeonholing entire groups of people has proven to be such a wise choice in the past.
Others internet-screamed that white Christians with guns commit way more mass shootings than brown-skinned Muslims. As if the teachings of Christ can in any way be linked to condoning murder.
And then all of that outrage caused even more "Yeah, but…!" internet-screaming.
Fringe members of the anti-religion crowd railed against Christians AND Muslims because organized religion is the real problem, they say. As if most religious people aren't peaceful, or responsible for an ENORMOUS amount of good that's done on behalf of humanitarian causes globally.
Fringe members of religious groups pounced on the opportunity to condemn the homosexual lifestyle. Because their sin and human failings are somehow more pure and noble than those of the gay community.
…
It's healthy to acknowledge your assholeishness. You instantly become less of an asshole the second you do so, as a self-aware asshole is infinitely more tolerable than a self-righteous one.
Few things anger me like hypocrisy and unfairness. Who sucks more than the Holier-Than-Thou crowd?
The self-righteousness on display from people politicizing a mass murder is as disgusting and nauseating a thing as I've ever witnessed.
I hope Muslims understand why random acts of violence in the name of terrorism is a scary thing for the average American family, and ignorant people sometimes have a guilt-by-association mentality about it. I'm Catholic. For the rest of my life, I have to answer questions about the systematic cover up of a vast sex-abuse scandal within my faith.
Even though zero Catholic or Christian teachings say: "Sexually abusing kids is okay!," and even though the vast majority of Catholic priests are fantastic, kind, principled men who make enormous personal sacrifices to serve as spiritual leaders and would never harm a child, Catholics—especially Catholic priests—must now deal with the scrutiny and questions about child molestation. It unfairly comes with the territory.
I know what it's like to have people make ignorant assumptions about what they think my beliefs are.
I'm no expert on Islam, but my rudimentary understanding is that it is a religion which promotes peace, and condemns violence. Extremist violence is rooted in politics—not faith. According to things I've read, the word "Jihad," is SUPPOSED to mean "to struggle for God." To live well, spiritually. It's HARD to walk the walk in our spiritual lives. It requires commitment and discipline. That's something I understand and can relate to.
And now the word has been compromised. An ancient teaching to fight against oppression has been perverted by some into "kill anyone who doesn't agree with us."
People do bad things. Others get scared. The scared people do bad things in response. And round and round we go. You know, like the breakdown of pretty much every marriage that ends badly.
…
Every person alive is someone who had ZERO say in where they were born, who their parents are, how they were raised, or what they were taught by their childhood influencers and adult behavioral models.
I'm in no way condoning ignorance, stupidity, and certainly not behavior which harms other people. But human beings are a little bit hamstrung by the whole We Can't Know What We Don't Know thing.
We are born.
If we're lucky, we have parents who love and care for us and teach us things which help us grow into functional people who contribute positively.
If we're unlucky, we don't have parents who do those things.
In EITHER case, we only know what we see, read, hear, feel, experience, and are taught by the people who earn our trust. We only know as much as we can with the resources of our schools, or books we have access to, or teachers who share knowledge, etc.
There are exceptions, but we by and large grow up following in the footsteps of our parents and the people who surround us growing up.
Children born to Buddhist parents in Thailand tend to grow up practicing Buddhism.
Children born to Hindu parents in India tend to grow up practicing Hinduism.
Children born to Muslim parents in Iran tend to grow up adhering to Islamic teachings.
Children born to Christian parents in Texas tend to grow up practicing Christianity.
Children born to Jewish parents in New York tend to grow up practicing Judaism.
Maybe kids raised by gay couples think having a mom and dad is weird.
Maybe kids raised by atheists need to witness a miracle to believe in God.
Maybe kids raised by liberal parents in San Francisco can't help but think the kid raised by conservative parents in Utah is a bigoted, oppressive, close-minded and dangerous fascist, and maybe the Utah kid can't help but think the liberal kid is a Constitution-hating, baby-killing, unholy and dangerous Marxist.
How to Be Less Assholeish
Maybe we could try not hating or being afraid of people who disagree with us. One of the best things I've ever done (and this is mostly in the past three years following my Ah-Ha Moment RE: shitty husbandry) is learn to embrace trying to understand people who disagree with me.
It's hard and it's scary, but it's worth it.
Possible outcomes:
You learn something you didn't know.
You teach someone something they didn't know.
You eliminate a false belief or help someone else do so.
All of these are good things.
…
People are afraid of terrorism, so they demonize religion.
People are afraid of societal desensitization to and acceptance of openly homosexual relationships, because they believe it's immoral.
One asshole pastor in California reportedly said the shooting victims in Orlando got what they deserved. He posits that because they were in a gay club and presumably homosexual, that they were an immoral scourge on society who deserved to be murdered.
A CHRISTIAN PASTOR TOLD A GROUP OF PEOPLE THAT MURDERED PEOPLE WHO HAPPENED TO BE GAY DON'T WARRANT MOURNING.
Any Christians out there wondering why people lacking good information about Christianity who read that might frown upon Christianity and perpetuate false beliefs afterward?
Anyone wondering why gay people might feel hated or oppressed, and how that seems to clash with purported Christian beliefs?
Anyone out there connecting dots about how hateful actions in the name of other religions might paint similarly inaccurate and unfair pictures of certain people?
Anyone out there think God hates people dancing in a club, but loves church leaders who casually dismiss mass murder?
Anyone out there wondering whether THAT might be the problem?
The exact same thing that happens to so many married couples—people who VOWED to love one another forever? Is it any wonder two strangers from opposing camps or opposite sides of the world have conflict?
STOP. BEING. ASSHOLES.
We all live in glass houses, messing up, and feeling fear, and falling short.
They're not the only ones messing up. Maybe we can encourage them.
They're not the only ones afraid of things they don't understand. Maybe we can comfort them.
They're not the only ones falling short. Maybe we can let them jump on our shoulders.
And maybe they'll offer the same in return.
And maybe we'll have the strength because we finally stopped throwing stones.
…..
Like this post? Hate it? You can subscribe to this blog by scrolling annoyingly far to the bottom of this page and inserting your email address under "Follow Blog via Email." You can also follow MBTTTR on Twitter and Facebook.