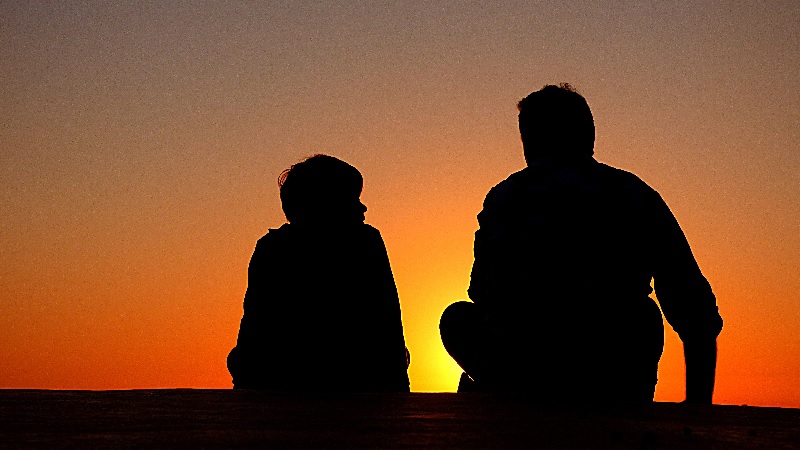 Lynda asked: "My question for you is: what are you going to say to your son to teach him how to have a healthy relationship as he grows up? What seeds are you going to plant to help break the cycle? I have only a few years left with my boys under my roof to teach them what they need to know, and I don't want to feel like they are doomed, given the family history. What are your thoughts?"
…
Divorce is very bad.
People often downplay it, A. Because it's so common, "Can it really be THAT bad?" B. Because our parents did it, or we did it, and we're all world-class experts at rationalizing our behavior no matter how sucky the behavior is, and C. Unless you're the one getting divorced, or are intimately involved, it doesn't cause much trauma. So when we hear about another divorce we all just kind of shrug and think: That's a bummer! They seemed totally fine! or That makes sense! They never seemed right for each other!
But yeah. It can really be THAT bad.
Cancer is super-common too, but we take it pretty seriously.
Our sucky behavior is sucky regardless of our rationalizations, and even the best of humanity hurts other people sometimes, even if only by accident.
And I think it might take getting divorced yourself (while not wanting to) to fully appreciate what it's capable of doing to your insides. Some people LOVE divorce, because it helped them escape a horrible situation.
Maybe my ex-wife feels that way. I hope not, but since I'm not inclined to ask, I'll probably never know.
Setting aside the societal trickle-down effects of divorce for a second, the emotional and psychological fallout alone strikes me as one the things people don't talk about enough. Because I simply didn't know. Even when I was afraid of my marriage ending and having trouble sleeping every night, and even after 30 years of life experience as a child of divorce, I DID NOT KNOW.
Maybe because it's another We Can't Know What We Don't Know thing. (I guess everything is.)
We live, and we learn.
The end of my marriage destroyed me internally and fundamentally changed me.
The "me" that existed for 33 years ceased to exist because I became someone else. That's a painful process. It was the crying that gave it away. That's not something I spent a lot of time doing post-childhood. But then I got divorced, and it happened a lot.
And when toughness is a virtue you admire, every little breakdown is another reminder of what a failing loser you grew up to be. And then maybe you cry some more.
…
On top of the brain and heart stuff, there's the logistical fallout and ripple effects. Logistically, divorce makes you poorer, because it takes away your money, and something even more valuable—your time.
It was one of the first things I realized when my young son went from being home daily, to half the time: I just lost half of my son's childhood. Ask any parent how fast 18 years goes before the little people they love most leave the nest. With 13-ish years to go at the time of the split, the truth hit me hard and fast: I just lost seven years.
I'm not shy about calling divorce the great social crisis of our time. It's an epidemic that really hurts people while it's happening, and then makes the lives of all involved a little worse every day afterward, even after the emotional wounds have scarred over.
Only about 1 percent of couples are going through divorce at any given time, so it's easy to look the other way and act like we don't have a big problem on our hands. But over 15 years, half of all couples will divorce. Nobody who hasn't yet divorced believes it will happen to them. And most of the people who survive the emotional crucible post-divorce move on with their lives and don't get involved afterward, even though everyone who remarries divorces even more frequently than the one-marriage couples.
Children of divorced parents have nearly triple the emotional problems, drug use, arrests—and are more likely to drop out of school and have unwanted pregnancies, according to Dr. Brunilda Nazario.
The risk of divorce is 50 percent higher when one spouse comes from a divorced home, and 200 percent higher risk when both of them do, says Nicholas Wolfinger, a professor of family and consumer studies at the University of Utah and author of Understanding the Divorce Cycle: The Children of Divorce in Their Own Marriages.
Children of divorce are also 50 percent more likely to marry another child of divorce, he said.
The only way to address divorce is for a cultural shift to take place where people learn effective relationship skills.
I don't mean: "A happy wife is a happy life!"
Nor: "Marriage is hard work! You must work together and compromise!"
Nor: "Never go to bed angry!"
I mean real-life, hardcore, make-people-uncomfortable, mask-removing, road-less-travelled conversation and behavior to help people go from ignorant (which most of us are) to enlightened on all things related to relationships.
We teach kids about past-participles and the Pythagorean Theorem and the French & Indian War and many other things long-forgotten from my school days. But we don't teach (or even bother trying) kids relationship skills, and provide important information about the basics of effectively communicating and co-existing with other people (romantically or otherwise).
Maybe someday, that will change. I hope so.
Meanwhile, the only thing we can do is talk to our children and try to help them learn these things so they can slowly chip away at the problem and experience less horribleness in adulthood than we did.
Today's kids have Generation X and Millennials as their relationship role models, which in their current states, shouldn't inspire much confidence in the future of long-term relationships.
But We Still Have to Try
Cancer continues to vex medical researchers and practitioners, but we continue to fight.
The complexities of human relationships are such that we'll never be able to hand someone a reliable instruction manual on how to succeed. So we'll do the best we can.
Lynda asked me what I will tell my son. No one has ever asked me that before.
…
There's almost no reason to think my son will listen to me.
No matter how many times I tell him his made-up word "Eccleest" is actually two words he already knows well ("at least"), he continues to say "Eccleest" instead. No matter how many times I demonstrate that being 37 should afford me some trust on matters of both fact and educated guessing, he continues to—on a case-by-case basis—behave as if I'm the world's biggest moron on matters of disagreement since one of his friends and/or grade school teachers once told him something he believes contradicts whatever I'm saying.
He certainly loves his father, and is super-impressed with my ability to add large numbers together in my head (even though I could totally give him the wrong answer, and he wouldn't know the difference because he doesn't confirm it with a calculator), but if he doesn't WANT to agree with or listen to me, it doesn't matter that I can prove 2+1=3. If he wants it to equal 79 million—to him, it will.
It's a natural handicap brought partially by his age, and mostly because he's a blend of genetic code produced by his mom and I. In the You Should Listen to Your Parents game, little man never had a chance.
What Will I Tell Him?
That the romantic couples he sees in the movies are a lie.
I'll tell him that—just like so many things he sees on TV—that's not real. It'll be some innocence-robbing shit, too. Like when he inevitably discovers in the next year or two there isn't actually a Santa Claus. I kind of feel sorry for him. Robbing him of hope and optimism on the romantic front. But it's exactly what I'm going to do anyway.
I'm going to teach him what real love is. I'm going to show him how it's a choice to be made. And that when two people are willing to make that choice every day, no matter what, there WILL be legitimate romance sometimes. Not always! Nothing is always. But sometimes. And that just because forever-love looks a little less exciting and like a hell of a lot more work than fairytale-love, it doesn't mean it can't be beautiful.
I'm going to tell him how HARD marriage is. Over and over and over again. Not to discourage him. To prepare him. And not to scare him. But because it's true.
I'm going to teach him (and if I can't, I'll find someone who can) what it means to define your core values and vigilantly enforce personal boundaries so that his life won't suck.
I'm going to help him understand that all those little things running around his head that he's too scared to talk about are byproducts of fear, anxiety and insecurity (and that FEAR is really the only thing we should be afraid of). I'm going to teach him one of the most important lessons so many people don't understand: YOU ARE NOT THE ONLY ONE.
I'm going to help him recognize that being honest (like, uncomfortably honest) with his partner is awesome, because then he can wake up every day knowing the real him (and not the mask-wearing pretender other people think he is) is truly loved and accepted.
I'm going to teach him what empathy is and make sure he can prove to me that he understands it because it's the skill he will need most in order to succeed in his relationship.
I'm going to teach him that his marriage can't be about HIM. That if he's marrying for himself, he's doing it wrong. It's going to be for the person he chooses to marry and any future children he might have.
When he's old enough, I'm going to tell him that pornography destroys relationships, but maybe not for the reasons he might think.
And I'm going to tell him that the one surefire way to turn a female partner into someone who resents him and loses all feelings of attraction toward him, is to put her in the position of having to do things for him that his mom did.
I'm going to tell him that his mom and I splitting up is the worst thing that ever happened to me, and that he shouldn't marry until he can demonstrate mastery of all of these concepts and life skills so that he can recognize a partner who understands them too, and teach any children to do the same.
I'm going to make DAMN SURE he understands what hedonic adaptation is. That it happens to EVERYONE about EVERYTHING—including romantic partners.
I'm going to help him really understand that the grass isn't greener over there.
How?
What am I going to tell him?
The truth.
…..
Like this post? Hate it? You can subscribe to this blog by scrolling annoyingly far to the bottom of this page and inserting your email address under "Follow Blog via Email." You can also follow MBTTTR on Twitter and Facebook.