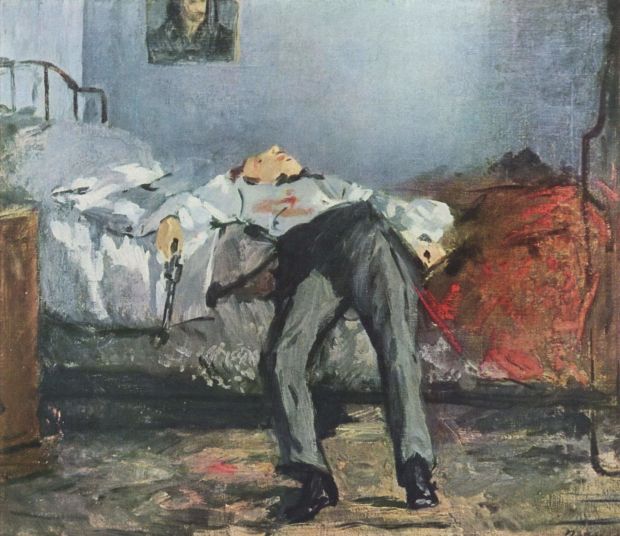 I made fun of my gay friend in high school for the same reason I was afraid to tell my father about this blog.
It's also the same reason I was a shitty husband, and the same reason millions of men—even ones who are pretty good guys—are shitty husbands.
Somewhere down deep, in places we don't like to talk about, most men are afraid of losing their identity as men. They're afraid of being rejected by their male peers. They're afraid of not being respected or sexually desired by women. They're afraid of disappointing their fathers, their coaches, their male mentors.
Men are so afraid of these things that we don't seek help when we need it in matters big and small, for fear of projecting a lack of "manliness." We sometimes won't even admit there's a problem.
I can handle it. I'm a man.
Men won't admit that they are bad husbands and fathers, even with all the evidence in the world staring them in the face. Sad, angry, emotionally bent or broken wives. Jacked-up kids with daddy issues. Feelings of shame, dealt with in silence and pretend-stoicism. We grow our shame piles but hide them behind masks. Behind alcohol, and behind sex, and behind work, and behind escapist video games, and behind a whole bunch of pretending to be happy while feeling something else.
Our behavior drives our wives and girlfriends away. The ones we secretly want to rescue us. All we need them to do is tell us how great we are and want to enthusiastically take our pants off all the time. But they won't. Because they don't feel that way and because they're twisted-up too. They're just more honest about it.
So we feel even more shame.
You did this to me, bitch, thinks the broken, damaged man who feels like he gave up his old life for her.
I was happy. I felt good. People liked me. I had friends. My life was amazing.
And I gave up virtually all of it and promised you forever, and all you do is treat me like a failure every day. As if I'm a constant disappointment to you. As if you're so perfect and amazing, and I'm the loser piece-of-shit. And now you want to pin our shitty marriage on ME?! Go to hell.
But he knows she's a little bit right. The proof is in the shame. There's no shame when we gave all we could.
The shame is proof we're a little bit guilty.
…
I went to a small high school in a small Ohio town. We played football and called things "gay" when we meant "stupid," and called each other "fags" as a slang bro-out locker room putdown.
So when one of the kids in our small class exhibited occasional voice-inflections and hand movements most of us guys made fun of him behind his back, because he was obviously gay, which is obviously the worst-possible thing to be because it meant you weren't a real man like us!
By the time senior year rolled around, he had suffered silently and mostly alone for the lack of acceptance he felt from many of us. He was one of the student leaders on a retreat half of my class attended that year, and admitted during a prepared talk in front of everyone that he'd considered killing himself several times.
This guy who had NEVER—near as I could tell—mistreated me or anyone else, was so uncomfortable at school, that he thought being dead might be better than being around for what are often referred to as the best years of our lives.
You might say I almost killed a kid in my class. An awesome and kind one.
And it wasn't because I disliked him. I was never mean to him in any obvious or direct way. It was because I wanted to be acknowledged by my friends as a "man" while we cracked private jokes more than I wanted to treat a good person with respect and dignity.
But at least I had my Man Card.
…
The potency of this male-identity thing is the primary reason wives can't get their husbands to read relationship books, or my blog posts, or visit a therapist. This male-identity thing from which I also suffer. It makes me part of the problem.
In that vein, your broken marriage or divorce is kind of my fault, too.
Men Won't Seek Help to Avoid the Appearance of Weakness
I imagine I love my country as much as any generally satisfied citizen living in a developed nation. I think the United States is an excellent place to live, and the day I believe there to be an obviously better choice is the day I'll want to move elsewhere.
But many Americans suffer from something I'll call America Is #1 You Foreign Losers!!! Syndrome. While I'm a proud American and will gladly defend my homeland verbally and otherwise when called for, I don't think you can look around with intellectual honesty and say that all things American are somehow demonstrably better than things we observe elsewhere.
In fact, it's nonsense. In 2016, we have data available to anyone with internet access which proves that other countries are better at [insert public policy of choice here]. Some places have more successful schools. More effective transportation. More thriving economies. And, it pains me to say, but maybe even people who, as a whole, are infinitely more pleasant to be around than, as a whole, a random same-sized sampling of people in the U.S.
My favorite recent example of America Is #1 You Foreign Losers!!! Syndrome is learning that U.S. students are just whatever at math performance, but lead the world in being confident about their math skills. In other words, American students think they're awesome at math, but they're actually a little bit shitty.
Sound familiar?
…
Men are confident in their abilities as husbands and fathers, or at the very least, demonstrate confidence by actually getting married, and actually fathering children. And it's because they're a lot like American math students. They're not actually good, but they think they are, or at least are damn sure going to tell you they are. Like a man.
It starts to get ugly when wives who have detected the danger, try to get their husbands to give more to her and their marriage or family.
Oh, so now I'm not good enough for you, Miss Perfect? I gave up my fun life for this?
Men Are 300% More Likely Than Women to Kill Themselves
I kept this blog a secret from my parents and most people I know until about a month ago.
I kept it a secret from my mom because I didn't want her to read my profanity or read her son write about sex, pornography and masturbation.
I kept it a secret from my dad because I didn't want him to read about me crying about my divorce, or my newly discovered convictions about empathy, or the fact that I spend so much of my time writing about relationships. You know, "girl stuff." You know, so he didn't think his son was a candy-ass pussy.
For the record, both of my parents (they don't live together) have been amazingly supportive and I'm a little bit embarrassed how afraid of telling them I was. Since I'm thirty-freaking-seven and stuff. But I still haven't told anyone else. Maybe I'm afraid.
…
The fear is real. And it's the same fear many men you know carry around behind their veils of stoic machismo.
Even though women are more likely than men to report suicidal thoughts and tendencies, men are statistically THREE TIMES MORE LIKELY TO KILL THEMSELVES.
This phenomenon, the Gender Paradox, is observed in every race, culture, religious affiliation and country in the world.
Why?
Because men don't want to lose their Man Card. It's something we joke about with friends, but when we REALLY feel like we lose it because our wives leave us, or hair loss, or erectile dysfunction, or a job loss, or we just slowly lose that Successful Man feeling we remember from our youth?
We're afraid to seek help. Because that's tantamount to admitting weakness or that we're not man enough.
So, when shit really hits the fan? That noose or gun trigger after a bender starts looking like a viable escape plan for broken men.
The really scary part is how most of these feelings are self-inflicted. It's no different than how most men and women accidentally destroy their relationships through a series of incorrect assumptions about how their partner thinks and feels due to an absence of effective communication habits and skills.
Men are worried about what other people think of them. But it's not actually rooted in fact. It's rooted in assumption. We GUESS what other people think about us, and then react emotionally to whatever we guess that is. And because we tend to be afraid of negative things more than feel pleasure or excitement over positive things, we usually make things worse in our own minds.
A person may have not thought about you AT ALL. But you are afraid because they were in the area when you did or said something which embarrassed you that they now think you're a huge loser, and that will somehow matter five minutes from now.
From "Why Men Kill Themselves in Such High Numbers" in Pacific Standard:
"Even in the developed world, where gender equality is not as bad as in developing countries, most men still see themselves as being responsible for providing and protecting their family. Of course, some women are social perfectionists too. But men's social perfectionism is much more harmful.
'A man who can't provide for the family is somehow not a man anymore,' said Roy Baumeister, a psychology professor at Florida State University. 'A woman is a woman no matter what, but manhood can be lost.'"
…
Men need help in the mental and emotional health space as much as anyone needs help with anything.
But we refuse, because we don't believe we need it, or simply won't admit it.
Why, men?
To appear strong?
To be fake-strong?
Not unlike the weak-boundary daters who care more about the people they meet liking them than they do about whether a healthy and successful relationship is actually possible, men often choose the appearance of strength or the appearance of success over ACTUALLY pursuing strength and success.
It's really hard to win, or even competently play, games in which we don't know the rules.
In our own minds and bodies, men don't know the rules.
So we accidentally destroy our marriages.
And we accidentally ruin relationships with friends and family.
If it makes us feel shame, or feels like something in which we can't succeed, we turn around and walk the other way, but we make sure it looks like something manlier than fear.
We never just say: "For the same reason I don't know how to design rocket engines and navigation computers for space shuttles, I also don't know all there is to know about how to feel great about my life and have successful relationships with my wife and kids and friends and self."
We choose the bottle or a gun or a pill or a mask, instead of what we should do.
Learn the rules of the game so we can have fun and play competently.
Then, just like back in the day: Practice makes perfect.
Then?
We win.
…
More On Why Men Won't Seek Help
From PsychCentral: Real Men Don't Get Help
From Everyday Health: Why Depression is Underreported in Men
From HealthDay News: Many Men With Mental Health Issues Don't Seek Help
…..
Like this post? Hate it? You can subscribe to this blog by scrolling annoyingly far to the bottom left-hand corner of this page and inserting your email address under "Follow Blog via Email." You can also follow MBTTTR on Twitter and Facebook.