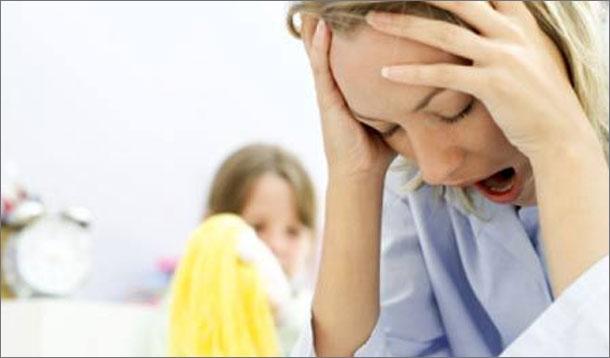 Exhausted Wife wrote: "So I recently read your open letter to shitty husbands, and actually got my husband to read them too. It is like you are writing about our relationship. Completely accurate. A little scary actually and makes me feel sad for us because I can see the same end result happening. We've been together for five years, married for less than one, have a 2-year-old and one on the way.
He said that reading your letters was eye opening, and seemed to be making some solid changes… yet here we are a couple of weeks later and the same patterns resurfacing. Leaving all 'tough' stuff on me regarding taking care of our son, sitting on his phone/laptop constantly; myself and my son being ignored while he's watching videos, playing video games, etc. He also has ADHD and knows these distractions cause problems, yet continues to do them. Recently began taking medication to help his ADHD, however I don't believe that it's making much difference.
I am at a loss for what to do. I've tried everything I can, begged him to change his priorities, tried to make deals with him so he gets some 'down time,' given as much as I can, withheld and distanced myself, gotten mad, threatened to leave, left and came back. It's the same old story.
I'm 7 months pregnant, take care of my son full-time, work part-time and spent an hour and a half the other night trying to get my son to sleep while my husband watched videos in bed. Afterwards, because I was upset, he offered to put him to sleep the next night and give me a break, but it doesn't change the fact that I needed him the night before but his need to relax was more important than mine. I don't know how to get through to him. I don't know if I can even.
Got any suggestions for this exhausted wife? I am afraid that things are never going to change and I'm wasting my time and energy with a man who is more selfish than I can handle."
…
This is what the average marriage looks like and why so many are creeping toward divorce.
The classic reasons a husband drove his wife to leave him (or to become seduced by another man giving her attention) tended to be some combination of infidelity, abuse and neglect. Behaviors we all looked at and universally thought: "Wow. What an asshole!"
The majority of modern divorces aren't like that. They're just two regular people we all know and believed were a great couple until one of our mutual friends tells us over lunch: "Oh my God. Did you hear that Katie and Mark are getting divorced? They seemed so great together!"
Most broken marriages today fall into the generic silo of "Irreconcilable Differences."
When I was a kid, I didn't know what that meant. I was raised in a conservative Catholic household where divorce was considered sinful. So, mom, why did you leave dad and move us 500 miles away when I was in preschool? I often wondered.
It scared me that I might one day learn that dad cheated on mom, or hit her, or was a neglectful prick (which would have been super-inconsistent with my experiences with him).
And it turns out, none of those things happened. They just "couldn't make it work."
My parents were really young and poor. We lived in an Iowa trailer park.
Two kids in their early 20s trying to raise a kid and do the right thing.
I was married four years before my son was born, and my ex might disagree, but I have predominately fond memories of our pre-child marriage. The adjustment from two people doing whatever they want, to everything we do now has a "is this okay for our child?" backdrop to it, is dramatic.
I can't even fathom how hard it must have been on two young people who knew each other for less than a year.
Historically, mothers bear the greatest burden when children are conceived. They carry the child, deliver the child, try to figure out what the shit is happening inside their minds and bodies as their hormone levels and body chemistry freak out without warning while they also secretly worry about their sexual desirability with their post-pregnancy bodies, and—oh yeah—have a new human being to raise from ages 0-18+ with no instruction manual, and it's absolutely terrifying at first.
More things change in a permanent and scary way for mothers following the birth of a child than they do for fathers.
So many of the child-rearing responsibilities in our kids' first year of life fall into the category of what chauvinistic and sexist men overtly or secretly consider "women's work." Things like feeding, and clothing, and bathing. Our grandmothers and mothers did it, so we just grew up thinking it was "the way" and ended up dumping our wives with more responsibilities without ever wondering whether it was fair, actively volunteering to help, expressing our gratitude, or providing the emotional and spiritual support necessary to help them not break down.
We men hold our babies and we feel the intense love we have for them. That's real. But we're often daydreaming about when they're bigger three or four years from now so we can start doing all the "dad" stuff with them we remember doing with our fathers. That's the stuff that really gives us the feels.
We look at our wives caring for our children and we feel the intense love we have for them. That's real. But we're often daydreaming about spontaneous weekend getaways, and spontaneous sex against the bathroom vanity, but most importantly—the way things used to be when she was totally into me.
Little known secret: Men often feel neglected and abandoned when their children are born and take all of their wife's attention from him. But because, A. We love our children above all things, and B. We're prideful and consider whining for the attention and adoration we crave a sign of weakness, we never tell anyone about it.
New fathers leave an unfair amount of work and responsibility to their wives because that's often the arrangement they saw play out in their family, in other families, and on TV while growing up.
New mothers resent it, and when they finally break emotionally and say something about it, it comes off harsh and overly emotional, and us husbands—already tender from the radical and unexpected transformation in our relationship with her—react with prideful defensiveness, and withdraw emotionally, because that's what we do when we feel shame from our partner's disapproval.
The husband doesn't understand how much he's failing her emotionally, and that his cultural examples of mom taking care of everything was some seriously unfair bullshit, or that it's an ineffective model for making relationships work in 2016. He's just obliviously derpy-derping through life.
The wife doesn't understand that his emotional abandonment and failure to meet her needs are NOT the actions of someone who doesn't love her and can't be counted on as a lifelong parenting, sexual, and financial partner. They are the actions of a self-centered, oblivious, entitled, immature guy who—with effective communication techniques and the right information—can become marriage-centered, reliable, thoughtful and empathetic.
…
'It is like you are writing about our relationship. Completely accurate. A little scary actually and makes me feel sad for us because I can see the same end result happening.'
Everyone is entitled to their feelings. Stuff happens, then we all have a natural reaction. That needs to be okay, even when we don't always understand one another.
However, I think the statement above is the wrong (and unecessarily cynical) way to think about it.
I had spent months sleeping in the guest room while my marriage inched toward doomsday before I started to get serious about figuring out how to save it. I began having lots of conversations with other married people, praying for miracles, and reading any books or articles that seemed like they might help. I read this book, then had the same realization that millions of other marriages are going through the same cycle and breakdown as mine. While sad, it wasn't scary. It was a REASON. I felt joy and hope for the first time in months: Holy. Shit. This is happening to EVERYBODY. Not just us.
That means, in general terms, these marriage problems are universal.
It means YOU ARE NOT WEIRD. YOU ARE NOT FREAKS. YOU GUYS ARE NOT ANY MORE FLAWED OR DYSFUNCTIONAL THAN ANYONE ELSE.
These are profound realizations.
And unless you're someone who believes in unsolvable problems, it means these universal marriage problems have universal solutions.
It also makes it completely illogical to assume that divorcing your spouse and eventually replacing him or her with another person will eliminate these "universal" relationship dynamics. It's one of the reasons I'm so against divorce of the "irreconcilable differences" variety. Because unless you're going to remain single forever, this EXACT same stuff in slightly different sizes, colors and shapes are going to crop up with the next partner.
There are no magic partners.
There are only partners willing to give the love needed to keep things together, and those who are not.
And the entire premise behind my writings on marriage and divorce is that there is a HUGE percentage of men who, when they have all of the information (Doing A = emotionally and mentally damaging your wife's heart and mind, and will lead to divorce and you missing out on at least half your children's lives, or Doing B = Wife feeling safe, secure and desired, knowing she can trust him to be her steady and reliable rock in good times and in bad, and will lead to a lifelong marriage where you get to grow old together and he gets to feel loved and respected instead of shame from failing at his most important job), will begin to institute changes needed to have a secure and predominately happy marriage.
'Got any suggestions for this exhausted wife?'
Yes. Thank you for asking.
Allow yourself to question your beliefs about him. About what goes on inside your husband's heart and mind when you don't understand him. Question whether the ability to mine every bit of information in there might radically change your perception.
Trust that you weren't a stupid moron when you married him. Trust that all of the positive things you once identified in him are still true and real. He's the same man.
Believe in him. Support him. Encourage him. Doing so will fuel him as he works to overcome his selfish habits in favor of new ones which make you feel good instead of bad. He may never understand why these lifestyle changes radically change the way you feel every day, but so long as he understands that they do affect you, and that they are necessary to keep your marriage and family together, he will do it IF he genuinely loves you and your children.
…
Suggestions:
Try to always speak kindly so that he won't tune out what you're saying. This is important, because him TRULY UNDERSTANDING in his mind, heart and soul how critical what you're saying is to the survival of your marriage, and your health and wellbeing, is the only way he can learn what he currently doesn't know. Try not to make him feel like you don't believe he's good enough. Try to make him understand that you KNOW he's good enough, which is why this is all so important.
Find information that makes sense to him. While I'm flattered you wanted him to read my blog posts, there is much better information out there, but he must WANT to learn it. He will only WANT to learn it once he grasps the idea that not learning it will lead to divorce and horribleness. He does not get it. Most men don't. He thinks your mind and body work like his does. We all think everyone does until life proves otherwise. So when you try to explain to him how something made you feel, it makes no sense to him, because he would never have the same reaction. This misunderstanding is essentially the root cause of every male-female relationship breakdown in history. You don't need to understand how one another feel. You only need to believe it's real that you don't understand one another no matter how many times you discuss it, and that it's BAD. Then, because you love one another and want to stay married, you reprioritize after learning how to share thoughts, feelings and ideas without fighting.
Educate yourself and him on how ADHD commonly affects marriage and relationships, and strategies for overcoming it. I wasn't diagnosed with ADHD until more than two years after my divorce. Sadly, I never knew how big of a factor the condition was in my habits and behaviors that drove my wife away. Your husband will not have the same excuse.
Wake up in the morning and decide to love him. Expect and demand the same in return. And then, knowing there will always be emotional ups and downs through the rollercoaster of life, continue to make that same decision every day for the rest of your life. As long as both of you do that, Forever After happens.
…
Kindly ask him if it's fair for you to expect him to list "Husband" and "Father" at the top of his Things I Want To Be Great At list. Ahead of his hobbies. Ahead of his job. Ahead of his competitive pursuits.
"Is being the best possible husband and father—ideologically—at the top of your life's priority list?"
If he says no, there's nothing left to discuss.
If he says yes, it's time for him to figure out what to do before it's too late.
And with the right combination of words, behavior and information, he will. I'll be rooting for him, you and your children. Very much.