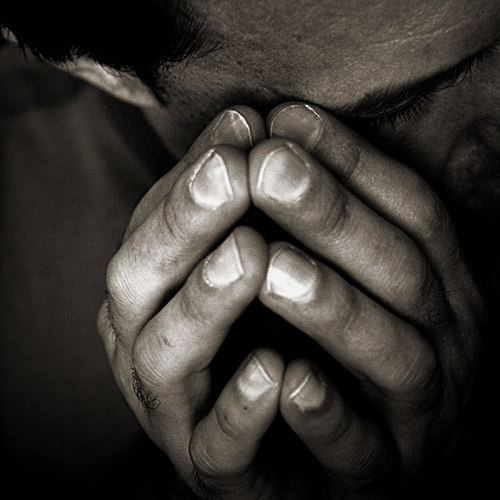 Between acting like my wife should hurry up and get over the unexpected death of her father because it was damaging our marriage, and my nonchalant denial of her postpartum depression following our son's birth, I can't decide which is my greatest failure on my journey toward divorce.
I wake up every day believing I'm a good person, but maybe I'm not.
My failure to adequately support my wife after losing a parent was largely a function of a million previous tiny failures culminating in her breaking point in the midst of grief. When everything hurts, you need someone you can trust to help take some of the pain away. I'd stopped being that a long time ago. I just didn't know it yet.
I thought she had been nitpicky, overly emotional and occasionally unfair for the previous seven years. Like most guys, I was selfish and clueless.
So, here's a secret I've never told anyone: I have a sociopathic trait. I lack the ability to empathize with the physical pain of others.
When I read books, or hear someone describe something I've never seen, my brain dials up images, but what I visually imagine is almost never what reality looks like when I get to see whatever the thing is. And maybe that's why I struggle with relating to the physical pain of others. Because I can't properly imagine it.
I am quite sensitive to emotional pain—especially if I've been through something similar to a hurting person, or can adequately imagine what it would be like to.
That matters for two reasons: I wasn't appreciating how much physical discomfort my wife was experiencing during pregnancy, and because I was an ignorant mook, I also failed to grasp the fear, stress and anxiety she might have been feeling worrying about both child delivery, first, then the following 18 years of being responsible for the safety and wellbeing of an actual person.
…
I was texting friends from the chair next to her bed while she was in labor. I was updating them on her and the baby's status, so I thought I was doing something important. My wife expressed displeasure with my choice. She wanted me to be fully present and engaged with her, demonstrating my commitment to her, and reinforcing in her mind and heart that I would always be at her side through life's difficult moments.
These are things I understand today. They make perfect sense, because today I am less of an ignorant mook. But on that day seven and a half years ago, none of that made sense.
The mere act of marrying her demonstrates my commitment to her forever, I thought.
OF COURSE she knows based on thousands of conversations how much I value being a good father.
OF COURSE she knows she's loved.
OF COURSE she knows she can count on me.
She knows me well enough. She knows I'm a good person.
I wasn't illogical for assuming and believing that. I was just profoundly ignorant. I think most guys are because no one ever explains it to us in a way that ever computes and resonates.
I would never consider something more important than the birth of my son. But texting friends while my wife was in labor—no matter how uneventful or undramatic it seemed to me—felt to her precisely like I cared more about doing what I wanted than being there for her in her most-vulnerable moments.
I would never physically abandon my crying wife. But that's exactly what I did. She cried. She asked me not to go. But I'm stubborn and moronic and had it in my head that I needed to be well rested for the days ahead per the advice of other fathers.
I left my crying wife alone in a hospital room just hours removed from an emergency C-section where she struggled to breastfeed a screaming child who didn't want to with nurses who made her feel like she just wasn't trying hard enough.
Why?
So I could sleep, shower, send photos to family and friends, and revel in the amazing feeling of being a father to a newborn son.
I hope you believe me when I tell you how reasonable it seemed at the time.
In the context of my nine-year marriage? It's the single worst thing I've ever done.
Then I Made it Worse By Suggesting Postpartum Depression Wasn't Real 
My wife developed postpartum depression.
My lack of education about hormone loss and the psychological impact of childbirth on a new mother, combined with my lack of respect for mental and emotional health issues across the board, were just the ingredients needed to make me a profoundly negligent asshole in the early months of our son's life.
I thought postpartum depression amounted to mental weakness.
I thought it was something "crazy" people feel, like Andrea Yates who drowned five of her children in the family bathtub.
I thought it was tantamount to my wife not loving our infant son.
This is just a phase she'll get over, I thought.
She's emotional sometimes, but I know she isn't crazy!
I know she loves our baby.
Instead of reading books, talking to other parents, researching PPD or even just actively seeking ways to help my wife in whatever way I could make the difficult adjustment to parenthood, I played a lot of online poker and watched football and convinced myself I was a good husband and father because I have a kind heart.
I hope when she thinks back on those days, she remembers at least something positive about me, but I can't say with certainty that she can, or that she should.
She tried to talk to me about it later. About the PPD. About how sad and afraid and alone she felt in the hospital when I'd left her there. About how she wanted me to actively participate in the planning and organization of our new life as parents.
But instead of apologizing with heartfelt sincerity for hurting my wife so badly, I'd get angry with her and accuse her of looking for yet another reason to complain about me even though I was such a good guy. Good guys are well liked and get told what good guys they are all the time, so when their wives point out their shortcomings in a relationship, all the "good guys" resort to the old: "How is it that the person I married is the one always bitching about me?" Because if no one else is bitching about you, they must all be right, and your crazy emo wife must be wrong.
…
Postpartum depression, according to the Mayo Clinic, typically requires professional treatment, including therapy sessions and, when applicable, anti-depressant medication.
The Mayo Clinic lists the following things mothers suffering from PPD can do to speed up recovery:
Make healthy lifestyle choices. Include physical activity, such as a walk with your baby, in your daily routine. Try to get adequate rest. Eat healthy foods and avoid alcohol.
Only a mother with a thoughtful and attentive husband can realistically expect to get the sleep, healthy food preparation, and time (not to mention energy) for physical activity to achieve a healthy lifestyle and overcome PPD.
Set realistic expectations. Don't pressure yourself to do everything. Scale back your expectations for the perfect household. Do what you can and leave the rest.
A new mother only feels like she has to do everything when her partner doesn't have her back.
Make time for yourself. If you feel like the world is coming down around you, take some time for yourself. Get dressed, leave the house, and visit a friend or run an errand. Or schedule some time alone with your partner.
There are only enough hours in the day when all of a household's responsibilities are tended to. Time alone with a partner only works when the partner makes himself available for such things.
Avoid isolation. Talk with your partner, family and friends about how you're feeling. Ask other mothers about their experiences. Breaking the isolation may help you feel human again.
When my wife tried to talk to me about it, I basically invalidated her condition and dismissed it as a figment of her imagination. "You're a great mother," I kept saying, as if you can't be a great mother AND feel uncontrollably depressed due to a variety of hormonal and psychological conditions I was largely responsible for creating in the first place.
Ask for help. Try to open up to the people close to you and let them know you need help. If someone offers to baby-sit so you can take a break, take them up on it. If you can sleep, take a nap, or maybe you can catch a movie or meet for coffee with friends.
She tried to talk to me. Several times. She asked me for help. And I denied her my help by suggesting there was nothing to worry about. Instead of trying to understand how she felt and working diligently to figure out what more I could do to help, I pretended everything was fine and left her to fend for herself.
Maybe I did that because it was easier than working hard.
Maybe I let my wife run the show because I didn't want the responsibility or the hassle.
Maybe every single thing about our lives would be different had I made the right choices.
…
There were countless little moments where I failed my wife. Where I didn't work harder to understand her or speak to her in ways that conveyed my sincere desire to be a good partner.
But until I ditched my crying wife at the hospital to catch a few winks, left all the new-parenting heavy lifting to her, and never once apologized or took responsibility for it, I hadn't actually destroyed my family.
There's no such thing as time travel. And there's not enough Christmas magic to rewind clocks and unflip calendars.
But if anyone's wondering what I'm most sorry for in my entire life, now you know.
…..
Like this post? Hate it? You can subscribe to this blog by scrolling annoyingly far to the bottom of this page and inserting your email address under "Follow Blog via Email." You can also follow MBTTTR on Twitter and Facebook.