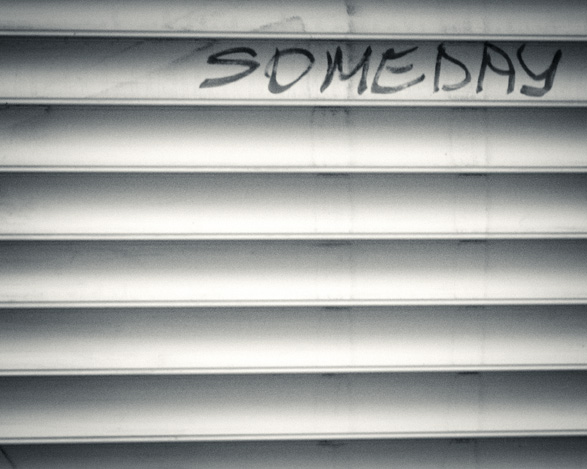 I used to believe depression was code for "weak," and that criers were wimpy losers.
I had heard of people described as "broken," but I didn't know what that meant.
Then I lost everything that really mattered to me, and I broke. So now I know what that means, and that if crying is wimpy loserdom, I was a huge wimpy loser, and that if depression is weakness, then I was the opposite of strong.
It taught me one of life's most critical and valuable lessons: empathy.
Now, when someone is grieving, I can more accurately guess how they're feeling and am better equipped to support them.
Now, when someone is crying, I know they shouldn't feel shame, and that it might just be years and years of bottled-up shit coming out in an inevitable and psychologically necessary purge.
Now, I know what's really at stake. Inside of a person. Now I know the importance of taking off masks in relationships. Of a good night's sleep. Of the support of family and friends. Of health and wellness. Of peace.
When the lights are off, and it's just you laying in the silent darkness. Just you. Not the one wearing any of the masks we sometimes wear at work or school or church or socially or on dates or whenever because we're so afraid of people seeing the real us and running away or pointing and laughing or telling us we're not good enough.
When the lights are off, and it's just you? When you take a deep breath, and smile, and feel good, because you like and respect yourself? There is no amount of money we would trade that for. Because there is no thing in this world that can heal that brokenness. When you come apart internally, you feel it every second of every day no matter where you are.
There is nowhere to hide.
People try to numb the pain with alcohol or drugs or money or sex or other escapism. But it just follows you around because wherever you go, there you are, which is, I think, why people sometimes kill themselves. Because maybe then the hurt will finally stop.
Learning about that hurt—and what it really means to be a broken person—changed everything for me. Forever. There's no going back after that. There's who you were before, and who you are now. And they're not the same.
There's Always Someday to Look Forward To
One of the best things about writing this blog was the discovery that so many other people knew the same pain.
People here got it. People here really understood. It helped. It mattered. I'm not the only one.
One of the worst things about writing this blog more than two years later is that I've crawled through the shit, and now I'm pretty much Andy Dufresne standing fearlessly and triumphantly in the cleansing rain while the thunderstorm rages, but countless others are still desperate to find a way out.
Every day, someone in the throes of despair—someone who can't even catch their breath—discovers this blog for the first time and finds a guy who was once just like them.
And then sometimes they write me: "I'm so afraid. This hurts so much. How do you make it stop?"
But you don't make it stop.
You just serve your sentence and bide your time. And when the time is right, you crawl through the shit tunnel just like everyone else had to. No cheats or shortcuts. Just the way. And then you're less afraid. Because freedom no longer represents the loss of everything you were ever sure of—of everything steady in your life.
On the other side, freedom looks like hope and possibility.
I didn't get much right in the early days of divorce. But on my darkest days, I always chose hope. That part, I got right.
'I'm so afraid. This hurts so much. How do you make it stop?'
It's good to be afraid, because it's the only time we ever have the opportunity to choose courage.
It's good to hurt, because when everything's broken, it's the only way you know you're still alive.
And it's good that we're forced to be patient. Because forcing things generally yields undesirable results.
I used to give myself a pep talk to maintain my sense of hope.
And now I find myself giving it to others.
In the context of the human experience, I think it's one of the most important ideas I've ever had.
Someday will eventually get here.
When we feel like we lost everything—when we hit the floor and know it's rock bottom—we have a few choices.
But there's only one good one. And that's holding the following truth close to our heart and remembering to breathe every day, because your only job is to stay alive:
If you just keep breathing, tomorrow always comes. Someday eventually gets here.
Someday. When it doesn't hurt anymore. When everything will change.
Someday. When something inexplicably beautiful happens.
Someday. When you get to feel like you again, only now you have these superpowers because now you have courage and wisdom and strength that you didn't have before.
Because of fortitude. Fortitude and breathing and bravely getting out of bed in a brazen attempt to live.
And finally—finally, dammit—you get to look at a puzzle image coming into focus. A picture of your life that helps explain that you could have never gotten to today—to someday—without every single experience before it. Even the bad stuff. Maybe especially the bad stuff.
In my experience, there is very little in this life better than anticipation. Like a child staring at unopened presents under the Christmas tree.
We don't need much. Air. Food. Water. Shelter. And something to look forward to.
And that's one of life's secrets that not enough people think about: We ALL have something to look forward to. It doesn't matter that we don't know what it looks like or when it will happen.
Someday will arrive. Every single day we wake up, someday is closer.
…
Sometimes someday arrives. Awesome! But now we have no idea what might happen next. Afraid! Because the unknown is scary. That's when all that courage and something like fearlessness helps. You earned those things. You earned them by crawling through the shit.
And now the wind, thunder and lightning don't faze you. I've survived worse.
And now the heavy rain feels like an old friend.
Because salvation laid within.
When someday finally gets here.