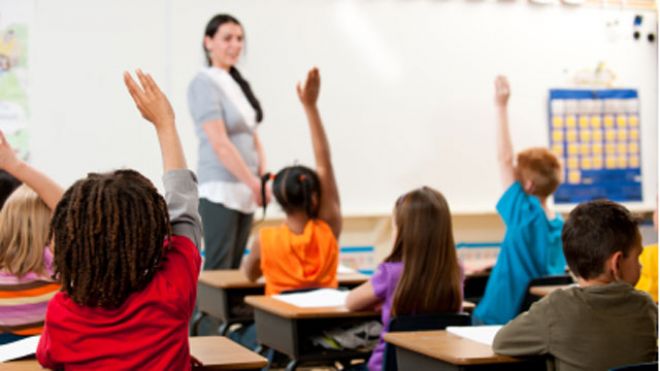 If a gunman enters my son's school intent on murdering children and teachers, at least I'll know the kids and teachers had some practice beforehand.
My son is 7. I'm pretty sure he, nor his classmates, knew why they were practicing a lockdown drill last week. I'm sure the boys were giggling and goofing off like they always do.
You remember school drills. But if you're anywhere close to my age, you don't remember lockdown drills. Those are the ones where you don't practice leaving the school in case of fire, or practice tucking against a wall with a heavy textbook over your neck in case of tornados or other natural disasters.
A lockdown drill is the one where you simulate hiding from mass murderers.
Parents got an email from the principal letting us know it happened.
I don't even have a point. It just felt mention-worthy before I get into how stupid the American education system is.
What if I was Given Unlimited Power to Reinvent Education?
I'm so glad you asked!
I think I could dramatically improve the lives of all students, parents of students, and teachers overnight. And I'm not very smart. And I've only been thinking about this for about 10 minutes.
THAT's how shitty our education system is.
Where Would I Start?
How about acknowledging that all students are not created equal?
How many stories do we need to hear about school dropouts going on to do amazing things before we recognize that school success (currently) DOES NOT EQUAL life success? (Examples include: Thomas Edison, Benjamin Franklin, Albert Einstein, Walt Disney, Bill Gates, John D. Rockefeller, Richard Branson, Charles Dickens, and many more.)
None of those people would have dropped out of my school.
Because the very first thing we're going to do at my kick-ass school is figure out TWO super-important things about each and every student: Personality Type (there are 16 if you're using the Carl Jung and I. Briggs Myers profiles). And Learning Style (there are three: Visual, Auditory, and Kinesthetic.)
And we are going to design curriculum and classrooms tailored to those three learning styles, and we're going to use any relevant components of personality to mix and match children and teachers in an effort to optimize the school experience.
I'm just spit-balling here, but maybe we wouldn't have as many angry and socially isolated kids if we stopped making the awkward and non-athletic kids play dodgeball or kickball, or if we stopped making dyslexic kids real aloud in front of the class, or if we stopped making shy kids sing and dance in front of an audience.
Maybe if every classroom was designed to maximize the specific talents of certain types of students, every child would:
Learn more things and actually retain the information
Develop a life-long LOVE of learning
FEEL better every day—enjoying subjects they're passionate about learning in ways that actually make sense to them
Develop healthy friendships no matter what their personality type because they are spending every day with other kids who either love what they love, or have similar or complementary personality types
Emerge from high school with more specialized and focused knowledge about certain subjects than today's bachelor's degree graduates
Be equipped psychologically to succeed in interpersonal relationships
Maybe there would be less violence. Less crime. Less underage alcohol consumption and drug use. Less sexual misconduct.
I know there would be a bunch of healthier, smarter kids, and that they'd be in position to tackle adulthood with focus and confidence.
Because the two most important aspects of life success are the ability to: Learn How to Learn and Maintain Healthy Relationships.
I didn't learn either because of school.
Hell. I didn't learn them at all.
Let's Teach People How to Treat Others and Succeed in Relationships
Right now, we preach platitudes.
"Treat others as you wish to be treated!"
"If you don't have anything nice to say, don't say anything at all!"
"If all your friends jumped off a cliff, would you jump off too?"
"Be a leader, not a follower!"
"You can do anything you put your mind to!"
Kids don't really hear it because the words ring hollow when they're snickering at that kid who just spilled something down his shirt in the cafeteria, or when they're actually the kid being laughed at.
Those are throwaway comments parents and educators make without spending much time effectively explaining what any of that really means.
All kids know (at least the non-valedictorian-track ones) is that some asshole is droning on and on and on and on about The Grapes of Wrath or Obtuse triangles or Cirrus cloud formations or Musical scales or The War of 1812 or the Anatomy of bullfrogs or Past participles, and in most cases NO ONE GIVES A SHIT.
And you can't make them. You can't. It's not their fault.
They're thinking about making the basketball team or cheerleading squad or about that cute boy/girl they like in study hall or ANYTHING that actually matters to them.
I have spent my entire professional life punching a keyboard and stringing words together to tell stories or market products. And I didn't take my first typing class until I was 16, and I didn't take a writing class until I was 20, and I've never had a marketing class in 36 years even though that's how I make money.
That means, I'm all for general knowledge, and would never suggest not having some general knowledge-based courses in my rad school (where they would be taught differently depending on a particular group of students). But can we all agree that learning about The War of 1812 and obtuse triangles (both of which I'd have to Google for a refresher) failed to help me with things I think are infinitely more important like: How to Succeed at Interpersonal Aspects of Marriage, How to Know you Have ADHD so You Don't Ruin Relationships, How to Build a Professional Network and Why it Matters, Why Honest Conversations About Sex Are Important, How to Make Her (or Him, if that's your thing) Ache for You, The Mathematical Implications of Debt Elimination, The Mathematical Implications of Buying vs. Renting Real Estate, The Short- and Long-Term Value of Exercise, How You Might Get Smarter and Make More Money Not Going to College.
You get the idea.
Things that actually help you.
We didn't have search engines when I was in elementary school. So it's not fair for me to be as critical of the 1988-version of American education as I will be on today's.
We don't teach kids what they really need to know to have mentally, physically, spiritually, emotionally healthy lives. Some get lucky. Most don't.
But it sure seems like we're wasting a lot of time and resources teaching kids things they could learn by reading one article and watching one YouTube video in a matter of seconds. Isn't knowing how to find information every bit as valuable as memorizing something?
If you can remember the atomic number for carbon, and it takes me 10 seconds to find the answer on my phone, does that knowledge have ANY value outside of a post-apocalyptic world where my phone doesn't work and we're arguing about the Periodic Table?
I submit (for anyone not working in a lab who would ALREADY know it because they actually care and use the information routinely) it does not.
Let's Teach People How to Learn
In 2015, we have virtually unlimited information at our fingertips.
It's hard for me to understand why we're asking kids to memorize textbooks, take timed math tests, and regurgitate answers to questions that will have ZERO bearing on any aspect of their lives weeks from now, let alone in adulthood when life tends to start throwing punches.
Tim Ferriss calls it "meta learning."
One of the coolest lessons: The Pareto principle—otherwise known as the 80/20 rule. It's the theory that 80 percent of virtually any situation is determined by just 20 percent of the input. (Examples: 20% of workers produce 80% of results, or 20% of customers create 80% of sales.)
It's not a law. It's a guide.
Take learning a new language as another example. In English, just 300 words make up 65% of all written material.
That means, if you learn those 300 words, you can communicate (effectively, if imperfectly) with English speakers.
The same is true for all foreign languages. Learn the magic 300 words (and there are tips and tricks and tools for doing that too), and now you can passably write and speak new languages at a relatively high level.
It's a good example of learning HOW to learn. Something we didn't learn in school, and something we're not teaching today's students.
There are effective ways to learn HOW to do everything. And I think if we paired thoughtful curriculum with optimized lessons (visually for visual learners, audibly for auditory learners, and through physical interaction for kinesthetic learners), we just might be onto something.
In fact, I'm pretty sure at my school, it's the summer and winter breaks kids would dread most.
Now, where'd I put that magic wand?
…
A special thanks to today's Daily Prompt for inspiring this post.