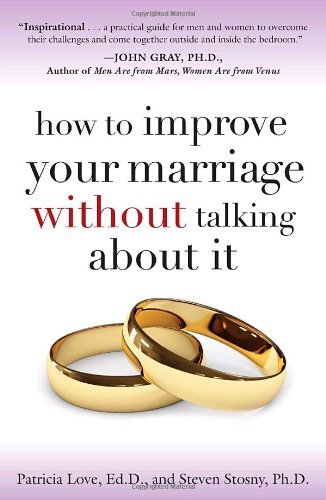 Tracy asks:
Do you have advice for women who are in "that place"? You know… The place where you still love your husband, but feel so unhappy in the marriage? I feel that I don't know what to do… My husband keeps telling me that if he is so bad, why don't I find someone else? I am seriously considering it these days even though I don't want to. I need to find a way to get him to see that he's pushing me and our son (and soon-to-be-born baby) out the door. How do I know if he cares anymore? Thanks in advance for your help.
…
Disclaimer:
I know I come off like I think I know everything sometimes. I'm not proud of that. I'm not in the advice-giving business. What I try to do is speak (or write) confidently about things I feel strongly about. Maybe a small percentage of people will care.
I don't want to give Tracy "advice." If you do every single thing I do in life, you'll be single, 36, a little bit lonely, spend some holiday weekends alone, have less money than you'd prefer, sit in a cubicle for 40 hours a week, and other shit that really isn't that great.
I don't think people should be like me.
I don't try to tell other people what to do. I just project all of the thoughts and feelings I have inside me and I spew them out here. And sometimes they resonate with people.
I think I know why.
I think it's because I'm really average. Really typical. Average intelligence. Average income. Average life experiences. Average looking. Et cetera.
Where I'm not average is sometimes I write it all down. Not a lot of people do that.
And because I share so many human-experience silos with so many people, a lot of people can relate to many of the things I write about.
Maybe that helps someone. Some people say it does.
This isn't advice.
This is what's inside me.
In the end, everyone has to decide for themselves. Whether to leap.
I think people should trust their hearts. Their guts.
If it says leap…
Leap.
Getting Through to Him
"I need to find a way to get him to see that he's pushing me and our son (and soon-to-be-born baby) out the door. How do I know if he cares anymore? Thanks in advance for your help."
…
You have to understand something. This is really important. All these women write me all the time. Sometimes privately, sometimes publicly. Many think I'm sooo great and they wish their husbands would be like me.
I hate to break it to you ladies, but your husband is like me. I'm like them. We're not so different. Any of us.
I wish I could tell you how it happened. I wish I could tell you why.
The story of how my wife and I died.
If you sat us both down, you'd get a variety of stories. The lowlights of our marriage that we recall that ultimately led to its demise. A series of unfortunate events. She probably wouldn't remember or think much of mine. She probably didn't think they were a big deal. I probably wouldn't remember hers. I certainly didn't think they were a big deal at the time.
That's been the greatest lesson of marriage and human relationships for me: Our ability to destroy people on the inside without even realizing we're doing it.
Unwitting life destroyers.
We are capable of terrible things.
Tracy, He Doesn't Know
I'm guessing here, Tracy, but it's an educated one.
One based on my very specific life experience. You're unhappy in your marriage. But you still love this man, and assuming this has been going on for a while now, intentionally chose to have another child with him.
I think this is the way most broken marriages go.
There's love there. The basic tenants of human decency (meaning: no infidelity, no domestic violence, no addiction issues, no child abuse, etc.) are present.
I need you to hear this, and believe it with your whole heart and soul: HE DOESN'T KNOW.
I know you've told him. You've cried. You're so exhausted. You've told him over and over and over again.
It doesn't matter, Tracy. He doesn't know. He doesn't understand.
What doesn't he know?
He doesn't know how scared and alone you feel on the inside. He's there. Taking care of you and the kids. Going to work every day. Not cheating. Not hitting you. Loving you. Loving you, Tracy.
He has never felt like you do before.
When you tell a husband and father who is doing all of those good things and NOT doing all of those bad things that you're sad, scared, tired and miserable, he hears this (this is so important, Tracy):
"You are a bad husband. You are a bad father. You are not good enough. You do not make me feel good. I fantasize about a better life. I fantasize about a better man."
He feels like he's sacrificed so much for you, Tracy. I don't know how to measure that. I don't know how much. But by committing his life to you and sacrificing his time to provide resources and security and shelter for you, and by NOT doing all the bad things commonly attached to ruining marriages, he feels like he's giving a good-faith effort at this marriage thing—this commitment he was scared to enter into—but took the leap because he was too afraid to lose you.
Tracy, you feel it now. Fear of abandonment. Of being alone and emotionally isolated. And it's terrifying. It's terrifying on the inside and you can't feel safe in your own life. You can't feel safe in his arms because he is mostly responsible in your mind for causing these feelings.
He feels it too, Tracy. That same horrible pain and fear. But in most men, it manifests itself not as fear of being alone, but as shame.
Men feel shame.
It's a chemical thing. Caveman shit we can't do anything about. Same for you and the things you feel.
I don't want to speak for you, Tracy, because I don't know what it's like to be a woman.
But men? We have a VERY hard time with the following truth:
When something happens. Anything. Our perception of that reality is NOT the same as how the women in our lives perceive it. We literally live in different worlds.
It's why when you fight, you always disagree about some relatively inconsequential fact that one of you chose to throw in the other's face in the heat of battle. And then instead of fighting about whatever you're fighting about, you spend time arguing over this new piece of information that really doesn't matter.
It's a constant loop of insanity and it makes both of you so angry. You both want to cry, but the guy will try harder to not cry because crying makes us feel shame.
Here's what I mean. All these things have happened to you and hurt you in deep and profound ways, Tracy. Your husband's actions or lack thereof made you feel this way.
When you tell him about it, it comes off to him like you're picking on him. Like you're nagging. Like you're telling him again he's not good enough.
Because he would NEVER, EVER get upset about the thing you just got upset about, he thinks you're crazy. Tracy, he thinks you're totally nuts.
He doesn't mean to insult you. Every day he just hopes you eventually outgrow what he thinks is emotional instability. Because he doesn't yet know what I know.
That you're not wrong or crazy.
That he's not wrong or crazy.
But that in the context of unconditional love in marriage, you're both doing it wrong.
He crushes your soul every time he doesn't validate your fears.
You crush his when you tell him he's being a bad husband.
You'll either live like this forever, secretly resenting each other, but sticking it out for the children.
Or you'll get divorced like me.
Behind Door #3
Or you can take the road less travelled.
Tracy, I know you want to. You're searching for answers online. Hoping and praying and crying and trying.
This is where women almost ALWAYS outperform men in marriage. The fight for the marriage.
It's hard for men to do heroic things when they feel ashamed. When they feel disrespected and unloved.
It's pride, Tracy. More caveman shit.
…
Ugly truth time?
It took several months of sleeping in separate rooms and never having sex and living in daily fear of her leaving before I started to ask myself better questions.
Before I started actively seeking answers and figuring out how I contributed to breaking everything.
Humans always want to look outside themselves for solutions to the problem. Cognitive dissonance. Our brains will do anything to avoid the conclusion: This is my fault.
My wife—whether it was her being a poor communicator, or me being a prideful, shitty listener—was never able to get through to me.
She would keep telling me things. But the message never got delivered.
Things That Might Help
In my opinion, the most-important thing you can do is read this book. If you can get your husband to read that book, I think it can save both your lives. I couldn't be more serious.
I think it's the most-powerful thing I have ever read about male-female relationships, and I couldn't recommend something more.
I don't know where you fall on the faith spectrum, Tracy. I would never try to impose faith or prayer on someone as a cure-all. People need to find their own path. But there is something called The Love Dare. If you have the courage and mettle, it's a worthy adventure. There's a Love Dare app you can download on your phone, if you want.
And that leads me to the final thing.
You've been neglected, Tracy. Maybe even mentally and emotionally abused.
So, it's unfair for me to ask you this.
But maybe you muster up the strength to do it anyway: Love him harder than you ever have before. Lift him up.
Tell him every day how much you love him. How much you respect him. How thankful you are for all he does for you and your family. How good he makes you feel when he makes you feel good. How PROUD of him you are. How much you believe in him. That you know he's going to accomplish whatever he pours his heart into.
Tell him how much you appreciate that he has dedicated his life to you and the kids.
All the things you want him to do for you. You show him how without asking for anything in return.
…
I know you don't feel like doing that, Tracy.
It's pride. Cavewoman shit.
And it's going to tell you that you're not going to give any more than you've already given. Because he doesn't deserve it.
But you deserve it, Tracy. Your children deserve it. Your friends deserve it. Your family deserves it.
You deserve the peace that comes from knowing you gave all you have to give.
Broken marriages are not fights to be fought with anger and resentment.
They're fights meant to be fought with love.
Not the kind of love we see in romantic comedies or read about in sappy Nicholas Sparks novels. That's all poisonous fantasy.
But the gritty love. The love you feel in your heart for your child even when they're driving you mad.
It's the love you choose when you wake up in the morning.
When the feeling goes away, it's all we have left.
The choice.
And Tracy, if you can find the courage to make that choice even when you don't feel like it?
I think your husband—a good man, I want to believe—I think he'll muster up the strength and humility to choose it too.
Two people. Giving more to each other than they take for themselves.
Waking up every day, and saying: I choose you.
Tracy, that's what forever looks like.