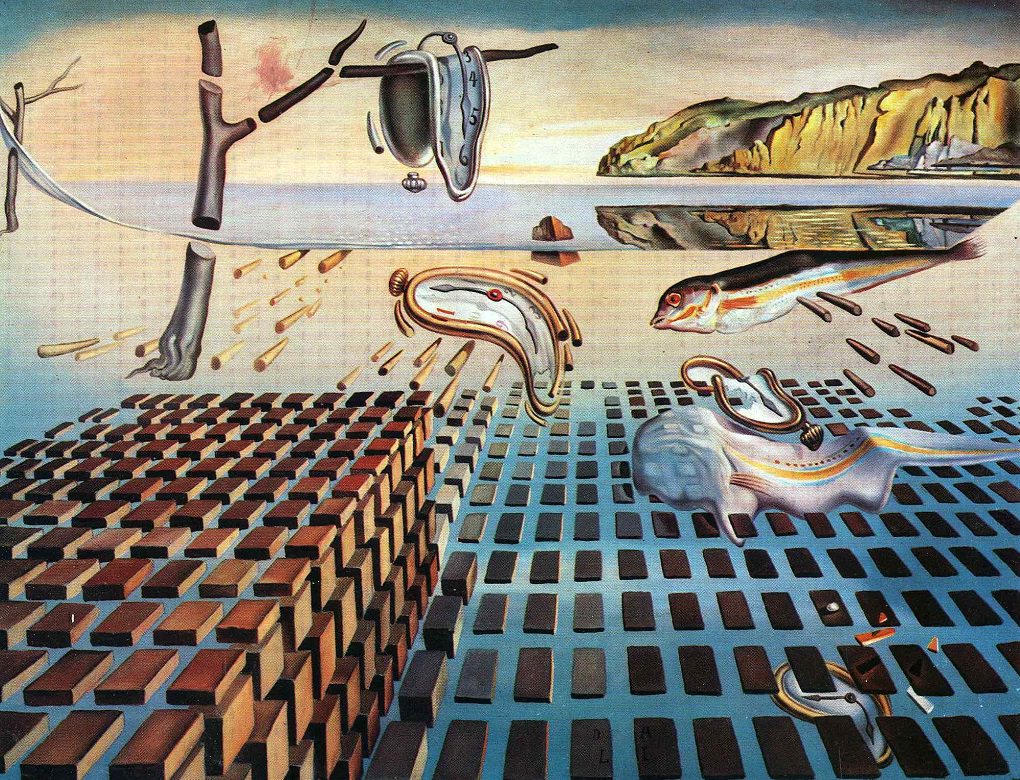 It was unexpected.
It really was.
This is where everything changed.
That's where I met my wife.
That's my old apartment.
Whoa. Look at all these new buildings.
Whoa. Our freshman-year dorm is still using the same furniture.
Whoa. They banned tobacco on campus, and we used to smoke right there and there and over there.
The Taco Bell with the drive-thru we used to walk through four or five deep at 3 a.m. is gone, as well as the neighboring corner gas station where we used to buy cigarettes and cheap beer. In its place is a large new commercial development with nice restaurants, a huge Barnes & Noble campus book store, and a Starbucks.
It wasn't the memories that shook me up, though there are plenty to go around.
It's the time.
While I was looking over there, the world kept changing over here.
People were walking in and out of new buildings that weren't supposed to be there. They either didn't know the buildings weren't supposed to be there, or had already adjusted.
Things were the same.
And things were different.
We live here in this place. And in other places the hands on the clock keep moving, and everyone living there keeps flipping calendar pages, and younger people move in and make choices and then more things change.
Things always change.
…
I was just a college student back before the world changed. Just a kid from a small town an hour and a half's drive from campus.
I didn't know where I was. A place teeming with knowledge and resources. A vast library. Thought leaders. Curious minds about that, and this, and other things.
I didn't ask very many to share knowledge with me. When they tried to share it in classes I sometimes attended, I mostly thought about the fun things I was going to do later.
Maybe if I'd read more books and asked more questions and thought more deeply back when I was a student there, I wouldn't have felt the shock.
Maybe I'd have known better.
…
Some of my friends from college still live near the city.
One is married with three kids. I've known his wife for years, but I'd never met his children.
Here's this guy I have all of these memories with. And then—bam!—my entire worldview of him changes with an overnight stay at his home.
Three girls, ages 12, 9, and 5. Kind and beautiful, all of them.
The 5-year-old is magic and missing her two front teeth, and I wanted to clone her so I could have one, but don't tell the 9-year-old because she's great too, and knows many things about a couple of make-your-own-lip-syncing-music-video apps she thought I needed to have.
I told the sisters I was too shy to make lip-syncing videos, which probably sounded like a lie since their father and I were consuming beer and tequila the night before and seemed presumably less shy.
One of my friends corrected me: "You're not shy. You're self-conscious."
Hmmm. True.
But back over here are these little people who, to me, didn't even exist five seconds earlier, but now they do, and I love them, but probably not enough to make lip-syncing music videos to share on their favorite apps.
…
I was 18 when I went to college, but since I could barely remember the first four years of my life, it's kind of like being 14.
And now 14 more years have passed.
I don't know where the time and memories go. Like something we drop into a bottomless pit to eventually forget a little bit how things look and feel as they fall further and further away.
…
Walking through the center of campus on a hot, summer day, there were very few people around. Some incoming freshmen and their parents visiting for orientation. I took photos of this and that. I stopped in various places to sit and soak it in.
All of the familiarity to reacquaint myself with.
And all of the strange and new to get to know.
…
I would never have stopped to read an inscription back when I was a student there. In the center of campus was a small monument displaying the university seal. On the side was a quote from the university president back in the 1930s when the campus first opened.
I don't have the quote.
But it talked about the students. It talked about me.
How this place was supposed to help students go on to do things in this world. Something about light. About hope. About truth.
After all of my wasted time and personal failings, what would the collective brain trust think about me?
Proud? Embarrassed? Indifferent?
I don't think they'd care. I don't think it would matter if they did. These are just the things I think about.
Because I'm not shy. Just self-conscious.
But not so much then. Not in that different time and place and life all those years ago.
Whoa. That's where we used to throw the best keg parties.
Whoa. Our favorite old bars are now someone's favorite new bars.
Whoa. That's where I used to write with a pen and a notebook.
This is where I dreamed about tomorrow.
This is where yesterday became today.
This is where everything changed.
It really was.
It was unexpected.