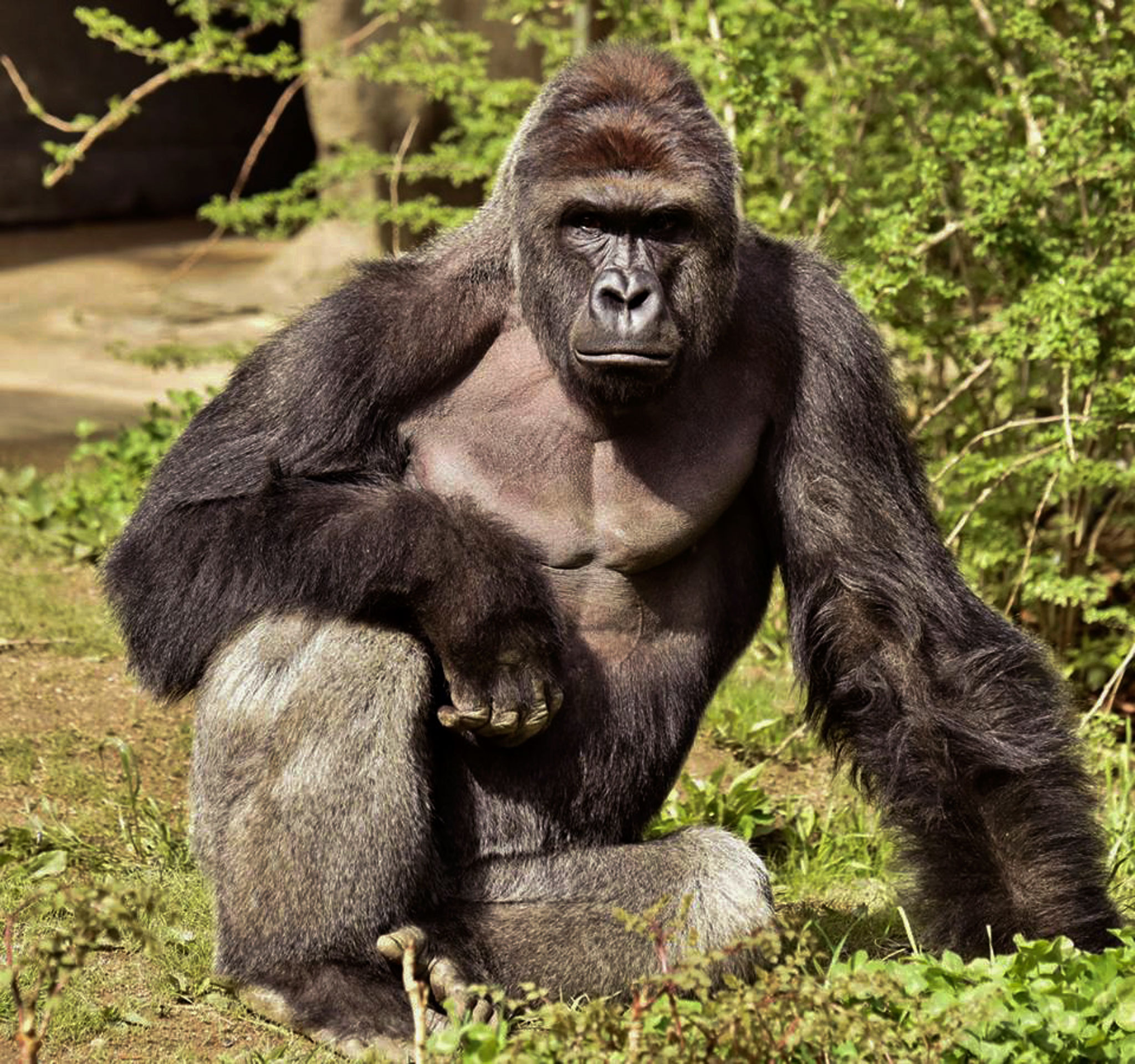 By now you probably know the story: A four-year-old boy crawled through some bushes and fell 15 feet to the bottom of a gorilla exhibit at the Cincinnati Zoo.
A 17-year-old, 419-pound male western lowland silverback gorilla (an endangered species) named Harambe emerges from a cave to find the little boy (whose name is Isaiah).
Eyewitnesses recorded it on their phones of course because that's what we do now, which is somehow both awesome and horrible.
The male gorilla appears to help Isaiah to his feet. In the video, you can hear people screaming and freaking out. Harmabe's like: Ugh. STFU, humans. Then, as gorillas do with their infants, he pulls him by the leg through the gorilla enclosure. In normal gorilla terms, it's all pretty innocuous. At the Cincinnati Zoo, with a small human child involved, it's terrifying.
Zoo staff hurriedly evaluated the situation, and quickly determined they'd have to put Harambe down to save the child. Tranquilizing 419-pound gorillas is apparently NOT a speedy process. Attempting to would have jeopardized Isaiah's life as Harambe could have spazzed out pretty hard after being shot with tranq darts, zoo officials said. A rifle shot ended Harambe's life. Tragically. That's not in question.
Then the internet did what it always does when things like this happen. It internet-screamed. It internet-screamed in Facebook comments, on Twitter, and in the comments under news articles posted all over the world.
Harambe, the gorilla, is dead despite doing nothing wrong. Many people, if not most, are wondering whether Isaiah's parents should be held accountable for Harambe's death.
And at this point, I'm in lockstep agreement with the planet.
OMG, I'm so glad the boy's okay!
OMG, that's horrible they had to shoot the gorilla!
OMG, how did a little boy seriously get INSIDE a gorilla exhibit at the zoo with no adult able to stop him?!
But then the conversation took a turn.
People were questioning whether a human child's life was worth killing an innocent gorilla.
Some suggested that because there are 7.4 billion people and gorillas are facing extinction, that maybe the gorilla's life is actually more valuable than the boy's.
Others countered that humans have souls and animals do not, sparking further debate about faith and religion, as some people argued the concept of souls was a made-up fairytale, while others argued that animals do have souls that are more pure than most humans' will ever be.
Hmm. Heavy things here.
Heavy things which beg the question: How do we rank living things?
Do People Matter Most?
No need to beat around the bush. That is THE question.
Does a little boy matter more than a gorilla?
I was married to someone who would cry when an animal died tragically in a movie (even one we weren't attached to as part of the story), but wouldn't bat an eye when a person died in the same story.
I thought it was weird.
But the older I got and the more people I met and the more things I read, the more I realized there were super-hardcore animal lovers who aren't shy about telling you they'd likely rescue a dog over a person if faced with the choice.
There are people who simply like and care about animals more than they do other people.
That was a foreign concept to me for years because of my upbringing. Let's talk about that, because our individual upbringings are totally responsible for shaping our thoughts on such things.
Growing Up Me
I was raised Catholic in a small Ohio town where most people were politically conservative.
While I was never a farmer nor a hunter, both farming and hunting were a common way of life where I'm from.
We are taught that God created all things. The Bible is typically where the philosophical buck stops. In other words—whatever the Bible says is true, and everyone else is wrong. But since the original text was written in Hebrew and Aramaic (Old Testament) and Greek (New Testament), even the Bible itself is debated intensely.
Husbands and wives don't understand one another while speaking the same language and standing in the same room.
It's little wonder that meaning and intent is difficult to decipher in words written thousands of years ago in ancient tongues and using ancient cultural references and communication styles.
But there's not a ton of ambiguity in the very first chapter of Genesis—the first book of the Bible.
Then God said, "Let us make mankind in our image, in our likeness, so that they may rule over the fish in the sea and the birds in the sky, over the livestock and all the wild animals, and over all the creatures that move along the ground."
And then my ancestors taught that to their kids, who taught it to their kids, who taught it to their kids, who several generations later, taught it to my grandparents, who taught my parents, who taught me.
I never even questioned it.
Here's what me, and I assume, most people with a similar upbringing believe: God made people and they matter most because they have souls and an intrinsic value that all other life forms don't have. You can see it in our ability to reason, and create, and love, and display kindness, and to conceive of these important concepts. We can understand the difference between right and wrong and choose accordingly.
We are called to be good stewards of the Earth, but at the end of the day, non-human animals are a lesser life form, which is why we eat beef, pork and chicken; keep pets; allow hunting; aren't criminally charged for killing deer, raccoons, opossums, skunks, squirrels, or even dogs and cats with our cars; and aren't considered cruel for caging or leashing animals as we would for doing so to humans.
I assumed EVERYONE, regardless of a belief in God, sort of thought and felt along those same lines, save a few outliers who are really passionate about animal stewardship and live accordingly.
Growing up, I foolishly assumed people with differing viewpoints were wrong, which is why it took me so long to achieve any semblance of maturity and wisdom.
Now, I see differing viewpoints as an opportunity to pause and reflect.
…
Do I believe—generally speaking—that humans are more important than animals, because a bunch of selfish and misguided humans kept telling the story over and over again, and everyone blindly believed it, so I blindly believed it, even though it might be wrong?
Did people selfishly and cruelly decide one day to dominate other life forms, and because we have the intelligence to reason and communicate as we do, we simply gave ourselves moral license to enslave animals for labor, entertainment and food?
These are fair questions everyone should ask themselves.
Humans vs. Non-Human Animals
Anthropocentrism is the belief that human beings are the central or most significant species on the planet (in the sense that they are considered to have a moral status or value higher than that of all other organisms).
Biocentrism is the belief that all living things possess inherent value, and that nature doesn't exist simply for human consumption.
…
As I think about those two concepts, I'd tell you that I was 100-percent in the Anthropocentrism camp in my youth, and have slowly adopted what I'd call environmental sensitivities as I've aged.
As a little boy, I didn't think anything of people flicking cigarette butts out of their car windows. That's just what people did! And back when I used to smoke, that's where all of mine went too. But then I moved to Florida as a young adult where I discovered the Gulf Coast's beaches to be among the more beautiful things I'd ever seen. Sometimes when I was on the beach, I'd see discarded cigarette butts and think the people who put them there were assholes.
Then, because I was still a smoker back then, I realized: Whoa. I'm an asshole, too. And then I stopped flicking them out of car windows, and made sure I found garbage cans to put them in.
There were certain areas in and around Tampa Bay where manatee would congregate in warmer waters. High-speed boaters would sometimes run over their heads and backs, causing severe injury or death to the slow-moving manatees.
After a lifetime of paying little attention to things like littering or wildlife protection, I finally felt the tug: I want to protect these things, even though it means restricting human behavior.
But, where do I draw the line?
…
I don't remember when it happened, but at some point in adulthood I realized I was fundamentally against hunting for sport.
What that means is, I would feel uncomfortable killing an animal simply because I wanted to hunt for entertainment purposes. I would probably feel okay about it if I was doing it for food, but since I have supermarkets and whatnot readily available, it seems unnecessary.
Which raises another question: Are animals bred and butchered for grocery sales treated more humanely than animals which are hunted in the wild?
…
I don't like to write things and not tell people what I believe and why from a moral and ethical standpoint.
I thought I would discover something about myself in the writing process here. But I haven't.
These are big and important questions.
Am I more important than an animal because I'm mentally capable of pondering this very question?
If I AM more important than animals, does that mean people more intellectually capable than me are more important than me?
Does that mean less-educated people matter less than me?
Are animals just as valuable as humans?
Are all animals equally valuable? Why do I care about manatee more than I do about goldfish and sparrows?
Are endangered species more important than abundant animals? Where do we draw the line? Between gorillas and sewer rats?
Are our pet dogs and cats and other animals more important than the animals we commonly eat? Which animals are most important? Who gets to decide? How many people have to agree to make it true? Whose opinion ranks highest?
Are insects just as valuable as animals?
Are plants just as valuable as insects?
Is cattle and poultry farming ethically wrong?
Should I avoid killing bugs in my house?
Is eating animals morally reprehensible?
If so, is eating plants morally reprehensible?
HOW wrong is killing an animal?
What if an animal is killed by another animal? Is it okay then? If so or if not: Why?
…
I read people openly question whether the life of a four-year-old boy was worth killing a gorilla for.
Maybe they wouldn't have thought that about an alligator or rattlesnake or wild boar. I don't know.
All I know is, ever since I saw SEVERAL people openly question the value of a human child's life, I can't stop asking the question.
How do we rank life?