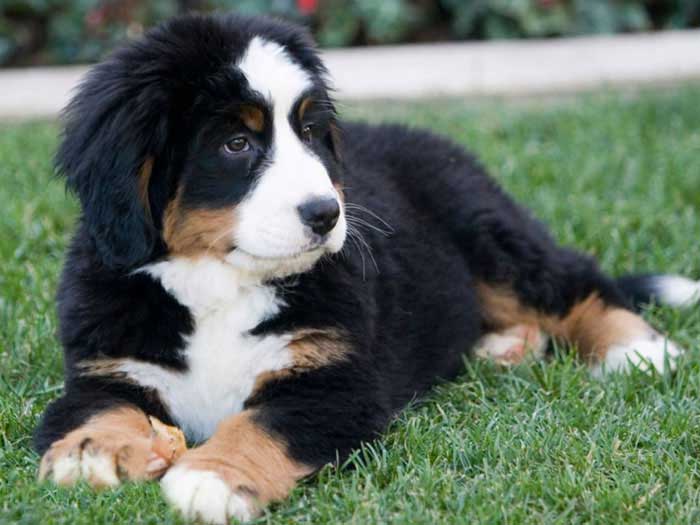 I don't want a dog.
It's National Dog Day, so it's probably not the most popular thing to think or say. But it's true.
I like dogs. Most of the time. Seriously.
Sort of like people who only enjoy small children on a case-by-case basis. That's a position I can get behind. (Giggity.)
I really do like dogs.
In fact, I DO want a dog in Bizarro Dog World™ where the things I don't like about dog ownership aren't true.
This is my friend's dog, and I'm a little bit obsessed with him.
His name is Chewie. He's a labradoodle. He's smart. Friendly. Relatively well behaved (he's a puppy, and all puppies are like: "You're going to need to repeat that 11 more times and give me a treat before I listen. Because I'm totally a puppy. Sorry.") Doesn't shed, despite all that long, awesome hair. And is ridiculously cute.
I live alone when my son isn't home. Many people have suggested I get a dog ever since I became single more than two years ago.
"You should get a dog."
"But I don't want a dog."
"Why not? Don't you like dogs? You have a good house and yard for it."
"Of course I like dogs. What kind of person do you think I am?"
"Then what's the problem?"
I'm glad you asked.
…
It turns out, I don't live in Bizarro Dog World. Bummer.
Here's the thing, People With Normal Brains: After I exhaust 96 percent of my daily energy making sure my son is properly cared for, and that I stay employed, the remaining 4 percent has to cover everything else, like chores and errands and cleaning and feeding myself and keeping my two low-maintenance pets alive (one very bad cat my ex-wife talked me into getting 12 years ago, and a Betta fish swimming in an old flower vase that I'm pretty sure is immortal).
When I say I have ADHD, I don't just mean I'm a little bit forgetful or that my life feels frantic because I'm a single dad half the time.
I mean, as a matter of course, it's not the slightest bit weird for me to experience life like regular people experience emergencies.
I am perfectly capable of loving and feeding and caring for a dog.
But I'd have to use that remaining 4 percent of my daily energy to do so, which means I'd have to start coping with narcolepsy, and honestly?—I have enough problems.
Reasons I Should Not Have a Dog
They require food and water, which isn't a problem, but it is work.
They require attention, which wouldn't be hard when I'm home, but I'm often not. The amount of walking and poop cleanup required to be a good dog owner would leave me passed out on sidewalks in a puddle of my own vomit that my very handsome but misbehaved dog was licking up.
They require care on vacations. You can't leave town like you can with bad cats and immortal fish and have someone feed and water them for you. That requires planning (and money). I am a very bad planner.
They introduce things like drool, foul smells, bonus poop and pee, noise, and property damage to your life. My second grader has that covered, thank you very much.
But you know what I think the shittiest part would be?
That on average you only get about 10 years with them. Just a decade. You build a bond approaching the one you have with family. The dogs are faithful and loving and never disappoint you (in the same way a non-second-grade-aged human can), and then one day they get sick or are simply too old to carry on.
And it's time to say goodbye.
I was talking to my friend Kevin about his lifelong experience as a dog owner.
His last dog had to be put down, and he told me he—a 40-something tough guy who is the furthest thing from wimpy—cried in the fetal position on the floor of the vet's office and held her paw while they put her down.
I remember looking at him and saying "Yeah. I don't need any of that in my life. I've got enough problems."
…
I like dogs. Generally.
I really like certain dogs I know. Specifically.
And I'm guessing I'd quickly grow to love the one I'd nurture from puppyhood through his or her life.
I'm certain I'm missing out. Not unlike how I feel about adults with no children.
But in the interest of not randomly passing out on dog walks in my neighborhood.
Of not inadvertently doing a bad job caring for a beautiful living mammal.
Of not finding new ways to spend enormous amounts of money.
Of not inviting new chores and property damage and loud noises and foul smells.
Of not one day feeling crippling loss I invited by knowing the dog-lifespan math.
I think I'm gonna have to pass.
I like the idea of dog ownership. But I don't think I like the real-world execution of it.
And I'm already so good at owning immortal fish. I figure: Why mess with a good thing?