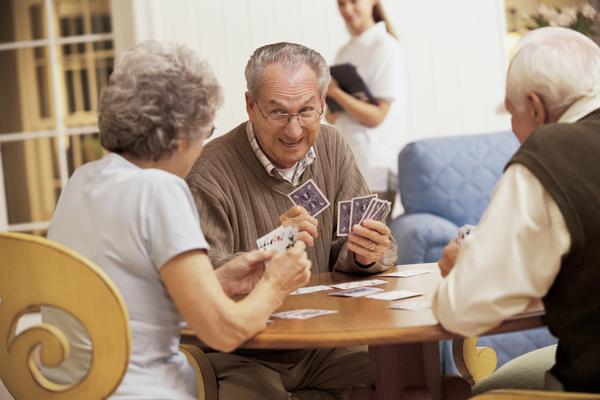 The conversation began innocently enough, with me talking about Marathon, Fla. in the Keys as my favorite retirement location (subject to change, of course).
Then, through the sheer power of alcohol consumption, someone pointed out that there is a LOT of sex happening at retirement centers and assisted-living facilities, as if it might be something to look forward to.
I can't verify this retirement home sex claim, but it seems plausible enough, and its veracity doesn't matter for the purpose of this discussion.
…
Right up until that very moment, I'd never imagined elderly sex. You know how your brain can't really process your own parents doing it sometimes (unless you're one of the walk-in-during kids?) How it often seems people were immaculately conceived because no way did those two people ever have sex!!!?
My grandparents had eight children and I feel confident saying they couldn't have possibly had sex eight times because they're my grandparents and grandparents don't have sex! Duh!
So, yeah. That. Wednesday night is pretty much the first time I ever thought about two older people doing it.
According to the American Health Care Association, the highest percentage of retirement home and assisted living residents are 85 years old or older (54 percent); 27 percent are 75-84; 9 percent are between 65-74, and 11 percent are under 65.
Do you think it's like high school and college, where the older boys get excited about the new crop of freshmen? I bet it is.
Eugene and Stan are tearing up the shuffleboard courts and enjoying afternoon chess and checkers matches as guys in their 80s, and when the new 65-year-olds walk in, they probably lose their collective minds and take bets over who will be first to get to second base with that one "in the salmon-colored blouse."
Maybe not. But probably.
…
One of the girls in our group suggested I might enjoy that, TOTALLY discounting the possibility of me meeting someone in the next 40-whatever years who might want to have a relationship with me and stick around the entire time. I was mildly offended until I forgot about it five seconds later when she said this: "But you really have to worry about STDs."
Since I was drinking, I blurted: "Will we really care at that point?" thoughtlessly suggesting like an asshole that someone over [insert age of choice here] wouldn't care if they contracted a sexually transmitted disease because they're already old and it doesn't matter.
That's probably the worst thing I've done this week, and certainly the most ageist thing I've said since that time I wrote about age discrepancy between two people dating and how I think it matters more than most people do.
Given that I have no experience with STDs, and that I don't have the first clue how I'm going to feel in my seventies or eighties should I be fortunate enough to live that long, I don't think I'm in any position to make a call either way.
I know I'm single now with a predominantly inactive sex life and it's totally not fun most of the time.
So, assuming I don't morph into the made-up version of older people I invented in my head and become biologically asexual or just totally disinterested, I'm probably going to want to hook up with the fly 65-year-old Betties after the 6 p.m. showing of "Something's Gotta Give" in the common room.
Maybe I'm 79, with high cholesterol and a bum hip. Maybe I don't hear so well from decades of listening to music too loud.
But there will be no mistaking: "Matt. I really want you right now. But I need to be honest with you about something. I have (insert STD of choice here, which could totally be some mutated freaky one in 2058)."
And maybe I'm in a major dry spell. Like, years of nothing. Statistically speaking, I'm more likely to die tomorrow than have another shot like this.
And the choice is: Have sex (yayyyyyyyyyyyy!) and possibly contract an STD at 79 years old with constant medical treatment and supervision? Or. Politely decline the invitation because I don't want to spend however long I have left scratching myself during shuffleboard tournaments?
Tough choice!
I'm not entirely sure what I'd do, but my best guess is I would, because I have a long history of making bad decisions, and maybe I'd want to brag to my old-guy friends about it, assuming I didn't die during.
…
What I mostly care about is what you think about all this.
Have you ever thought about retirement-home sex before?
Are you imagining it right now in technicolor? You totally are.
Do you think it's true that STDs are a problem in retirement communities?
How old is so old, where you're just like: Screw it! I don't care about my health or the comfort of my privates!? I'm getting some.
Dying to know.