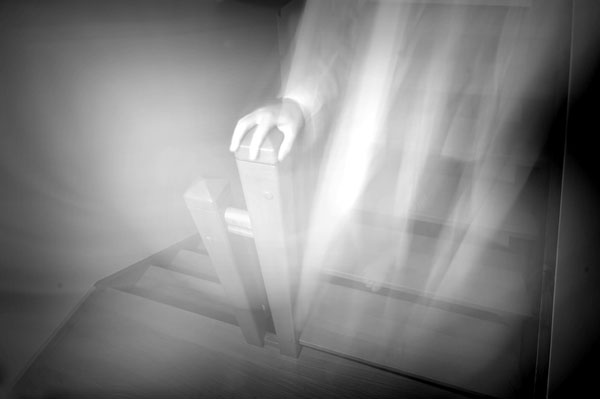 On Tuesday, I came home late at night to an empty house and heard footsteps coming from my upstairs bedroom even though no one else was home.
It was scary.
I've lived in my house more than nine years and have never heard anything like that. It shook me up so much that I grabbed my shoes and keys and left without turning anything off. I thought there might be an intruder.
I wrote about it in my last post, acknowledging it can only be one of three things: 1. An intruder. 2. A ghost. 3. Nothing.
Yesterday morning, I got a comment on that post from someone who has never before commented on this blog. She didn't mince words.
"Do you have a deceased uncle whose birthday is around this time? I sense he is on your father's side and you knew him quite well in life. Just say hello, happy birthday, and I am pleased that you still think of me," she wrote.
When I was a senior in high school, my father's only brother was killed in a hit-and-run car accident on Interstate 94 between Milwaukee and Chicago. He was 37. His birthday was in April. I've mentioned the incident in a few posts without going into detail. It's something that's crossed my mind more than usual lately.
Maybe that's why he decided to visit.
…
I don't believe in ghosts.
But people who think they have all the answers are maybe a little bit foolish, so I'm always open to new ideas and the strong possibility that I can't really be sure of anything, ever.
I've seen lots of ghost shows on TV. I've heard lots of ghost stories. I've heard many stories from people I absolutely trust that could more easily be explained as a haunting than anything else.
I don't mean "I don't believe in ghosts" like: No way! There's no such thing! I simply mean I've never, not even once, seen anything that appeared radically supernatural or ghosty.
Until now.
…
I texted my psychic friend (I'm serious) yesterday because she visited Wednesday when I told her this story. When I told her that it had to be nothing, an intruder, or a ghost, she said: "Do you really want to know?"
This is the second time she's asked me that in my house, and I always say no because I live alone and don't like being scared.
But after getting that blog comment, I texted it to her and asked: "Penny for your thoughts?"
She replied: "He tapped me on the shoulder as soon as I sat on your couch but I didn't say anything because it would freak you out."
I know what some of you are thinking.
It's because I don't believe in psychics either.
Not because I think it's impossible, but simply because I always am a little skeptical of supernatural things I don't witness for myself. I really mean that more as a past-tense thing, because being friends with someone with this girl's intuitive abilities has forced me to reconsider my position on all of that.
So, quick recap: A total stranger sensed it was my dead uncle and offered enough plausible detail for me to consider it possible.
My friend who was ACTUALLY in my house and has unique spiritual gifts corroborated.
There was only one conclusion for me: My uncle's ghost is hanging out in my bedroom.
My Ghost Uncle
I don't mean for this to sound irreverent, because I love and respect this man. But there are all these obvious questions that pop up when you learn the ghost of your deceased uncle might be hanging out in your bedroom.
What, pray tell, might you have witnessed in there, Uncle Dave?
If you accept the premise that the spirits of the dead can observe what we do undetected in private, it's really not that hard to get over your own uncle doing the same thing.
And once I got past that, I started wondering how long he might stay and to what extent there might be subtle signs of his presence or even some interaction.
I don't believe in any of this, but maybe it will happen anyway! Who can say?
Of all the people I've known who have died, my uncle Dave is easily in the top five of the Most Welcomed Ghosts in My House list. Not kidding. It didn't scare me at all, and a small part of me was even enjoying the idea of feeling his presence once in a while.
Uncle Dave was awesome.
We never got to drink beer together because I was 17 when he died, but maybe now we'd kind of be able to!, I thought. I'm not making that up.
And Just Like That… He Was Gone
The blog commenter who first called to my attention the fact that my uncle was responsible for the footsteps I heard Tuesday night left another comment this morning.
"He is gone now," she said.
Huh. I felt something akin to disappointment.
And I didn't even get a chance to say goodbye. Not unlike my senior year of high school when I got the phone call about the accident.
It was a road-rage death. Another driver intentionally ran my uncle and his fiancée off the road while they were driving to a Chicago Bears football game. Their pickup truck flipped over, trapping my uncle, but not his fiancée in the vehicle. She had been sleeping, but was able to crawl to safety.
My uncle remained lodged in the vehicle. Because of how he was situated, circulation to his brain was cut off for longer than living beings can handle. His mind was gone. His body quickly followed.
His murderer fled the scene in, according to witnesses interviewed by police, a white Pontiac Grand Prix. He was never found.
It was my first experience with an out-of-nowhere death. They're the worst kind.
Rest in peace, Uncle Dave.
I'm glad you stopped in.
You're welcome anytime.