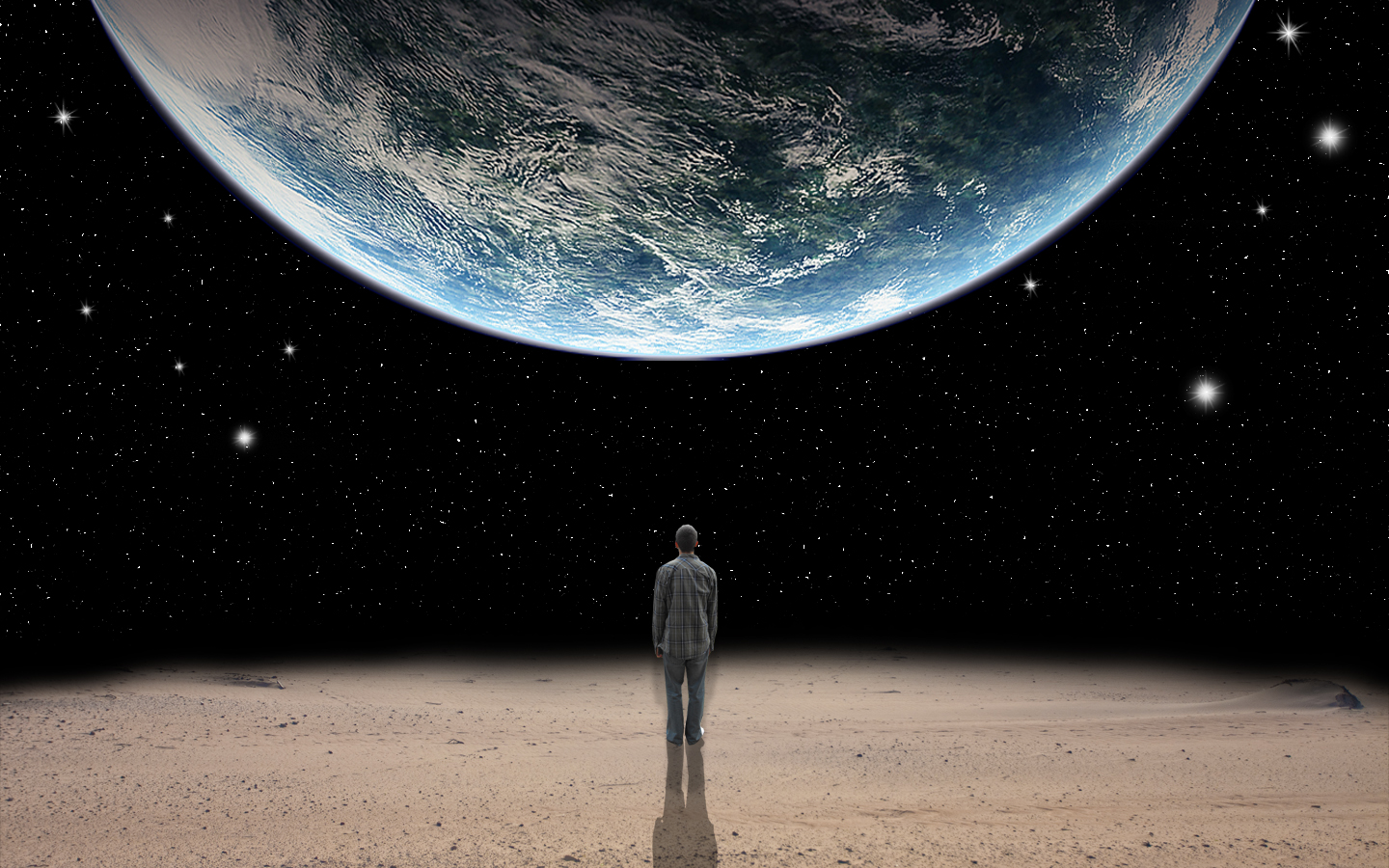 Maybe it's different when all you know is hopelessness.
When warlords kidnap your children and force them to murder.
When mosquito bites or severe weather or missile attacks annihilate your village.
When all you ever know is poverty and illness and violence and death.
Maybe then, life is so bleak that you never really care whether you live or die. Maybe death and an eternity of nothingness sounds like sweet relief when nothing good ever happens anyway.
…
That's not how it was for me.
Even though my earliest memories are living in a trailer park.
Even though my parents divorced when I was 4 and I didn't get to see my dad very much because he lived 500 miles away.
Even though we never had a lot of money to do a lot of things other kids I knew were doing growing up.
Everything was great. I didn't just feel loved. I felt special. I think it's because my mom and grandparents were trying to compensate for my parents' divorce by telling me how great I was all the time. Over and over again, my family would recount the story to me and anyone who would listen about how I wasn't even supposed to be here.
The doctors told my parents I wasn't going to make it on the day of my birth in 1979. The nurses took to calling me "the Miracle Baby."
The unlikely human.
That's me, I guess. I can't remember much before about age 4, so I've never been particularly moved by the story.
I was showered with love and affection from my mother's rather large extended family. There was no shortage of attention.
"Do you know how special you are, Matt?" my grandmother liked to ask me.
When you're a child, you believe everything you hear, especially from parents and other trusted adults.
…
They told me things. My parents and other adults. And they could never lie or be wrong because when you're little, it seems like they're never wrong.
We believe fantastic stories.
Santa Claus. Delivering presents to every little boy and girl in the world in one night. Magic.
The Easter Bunny. I never imagined an actual bunny. More like a guy in a large bunny outfit. And that somehow didn't give me nightmares.
The Tooth Fairy. I pictured someone small and Tinkerbell-like. But she had full-size money.
Mythical beings. I believed all of them to exist at varying points in my life.
When you accept these things on faith, and you grow up going to Sunday school classes followed by 12 years of Catholic school, it's really not that hard to believe that Moses parted the Red Sea, or that Jonah survived inside a whale for three days, or that the entire world was once flooded and everyone died except for Noah and his family who survived on a really large hand-built boat with a bunch of animals they rescued.
When you're a kid, you just think: Sure! Noah and his incestuous family repopulated the Earth! Makes sense to me!
I used to get uncomfortable when I'd hear people ask questions that challenged any of my beliefs. You're supposed to just BELIEVE! Like me! Trust me! I'm right! My parents told me and they're never wrong!
Then my uncle died in a hit-and-run car accident and his murderer was never found.
Then I was a student leader on a Christian retreat in high school when total chaos erupted because my friend was accused of raping my other friend in one of the dorm rooms. So, either I'm friends with a rapist, or I'm friends with someone who lies about being raped.
Then my mom left my stepdad after 20 years.
Then we lost my father-in-law and my wife was never the same.
Then she stopped being my wife because I apparently wasn't THAT special, grandma.
Then I sort of stopped caring whether I died because—honestly? Fuck this.
…
It's totally unsettling when all the stories you ever believed about life and yourself turn out to be wrong.
Not lies.
Not fake.
But, wrong.
You find out secrets about people you know and then you can never think of them the same and you wish you didn't know the secrets.
Your friends get divorced and everything feels a little bit tainted and broken after that.
People die. And you use to think: I'm sad that you're gone, but I hope you have an amazing time in heaven and that I get to see you someday.
But now, you just think: I hope they're there, but what if they're not?
What if this is all there is?, and you scare yourself because now you know that you don't know. Now, people talk about heaven, and in the back of your mind, you secretly think: I want you to be right, but I don't want you to know how unsure I feel about that.
…
The loss of innocence that happens, usually incrementally, between childhood and adulthood is a quandary. Better to have everyone go through the shock-and-awe process? Or maybe, should we be doing a better job of preparing children for some of life's harsh realities?
Protect and preserve their innocence for as long as possible? Let kids be kids? Or try to make it so the adult transition is less of a brutal mind job?
You have to be an adult before you learn there are no easy answers.
…
The sun shone through the gorgeous stained-glass window. St. Matthew's name is at the bottom. There's a purple flower I can't identify just above the Star of David.
The priest was speaking from the pulpit. About faith.
Per the Gospel reading, Christ had resurrected from the dead. But Thomas was doubting the story his friends and fellow Christ followers were telling him because people just don't come back from the dead. Doubting Thomas needed to see for himself.
Per the story, Jesus shows up. Lets Thomas touch him. See his wounds. Hear him speak. And, of course, Thomas believes now. Physical evidence of the greatest miracle ever told.
I use to feel sorry for Thomas because he couldn't have faith like me. But now, I just totally get him. A sobering and depressing realization.
"Blessed are they who did not see, and yet believed," Jesus said to Thomas and all within earshot.
But now I'm sitting in the pew, no longer knowing what I use to know.
I'm not saying I don't believe it. I'm saying: I don't know. And I need it to be okay with everyone that I don't know because that's what's true, and truth shouldn't need defended.
The priest talked about how when people don't eat intelligently and don't take care of their physical bodies, they tend to get sick and die.
When you do eat smartly and build your body up, you tend to feel youthful and vibrant and prolong your life.
Then he transitioned to matters of faith.
"This is why we PRACTICE our faith," he said. We always get better at things when we practice them.
The only way to have a strong, youthful, vibrant, unwavering faith? To practice it, he said. When you neglect your spiritual health, your faith erodes, he said.
Withers away into nothingness like our dead bodies in the ground.
…
I was reading a space encyclopedia for kids with my son. A pretty thorough explanation of our solar system and what we currently know about the universe.
As best as science can tell us, everything we know to be physical matter—that is STUFF, like planets and stars and comets; all physical objects—makes up about 5 percent of the known universe. That's it. Five percent.
"26.8% of matter is 'dark', we know it's there because on large, cosmic, scales stuff moves around faster than it should and because the way that galaxies strew themselves across space is consistent with the existence of vast amounts of slow-moving gravitating 'stuff' that never turns into stars or planets or anything, just stays as diffuse, invisible, incredibly antisocial particles," wrote Caleb Scharf, director of Columbia University's Astrobiology Center, in Scientific American.
We don't really know anything about those particles, either.
The largest percentage of stuff in the universe is called "dark energy."
"Something is causing the expansion of the universe to accelerate. It didn't used to. Until about 5 or 6 billion years ago the stretching of space following the Big Bang was in decline, but then something started to counter that, another unseen component, perhaps a type of vacuum energy density that fills up space as space itself grows. What exactly is it? We do not know. We have lots of ideas though, which is great, always good to have ideas about 68.3% of the universe," Scharf wrote.
…
It's possible that life is meaningless and that how we spend our time and how we treat others doesn't matter.
But it doesn't feel that way. No matter how right or wrong my parents were, it very much feels to me like our choices matter.
I look around and see an astounding amount of beauty. Spring has sprung where I live. Color and life returning as it does each year. Rebirth.
A cycle that feels entirely too intricate to me to have just happened by chance.
I really look.
I don't see random chaos.
I see order.
I see creativity.
I see design.
Scharf said it all.
What EXACTLY is it? We don't know. We have lots of ideas, though. Which is great. It's always good to have ideas about the universe. About all that stuff we can't explain.
Hello, God. It's me, Matt.